Photography
66 Beautiful Small Cities & Towns In Europe. Your Photostream. Tag Galaxy. LIFE - Your World in Pictures. Travel Photos From TrekEarth. Hundreds of Tourist Photos Weaved into One (18 total) Saint Basil's Cathedral, Moscow Ready to embark on an adventure?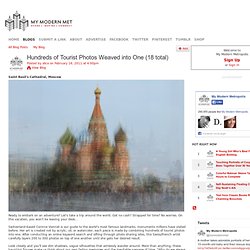 Let's take a trip around the world. Got no cash? Strapped for time? No worries. Spectacular Shots from the Sky (20 photos) While studying architecture at Harvard University's Graduate School of Design, Alex MacLean took a course on community planning that would ultimately change the course of his destiny.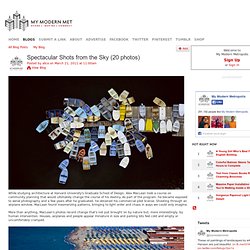 As part of the program, he became exposed to aerial photography and a few years after he graduated, he obtained his commercial pilot license. Shooting through an airplane window, MacLean found mesmerizing patterns, bringing to light order and chaos in ways we could only imagine. More than anything, MacLean's photos record change that's not just brought on by nature but, more interestingly, by human intervention.
Houses, airplanes and people appear miniature in size and parking lots feel cold and empty or uncomfortably cramped. Photos. 25 Mind-Blowing Aerial Photographs Around the World. Rano Kau volcano in Rapa Nui National Park, Easter Island, Chile – Photograph by YANN ARTHUS BERTRAND For me, the allure of aerial photography is the unique perspective it gives.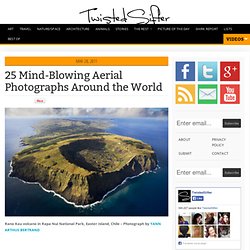 The world feels so different when viewed from above. It always gives me a newfound appreciation for this pale blue dot we call home. In my opinion, there is no better aerial photographer than Yann Arthus Bertrand. His volume of work is incomparable, and he has an incredible eye for the interesting and provocative.
---