Modern Expression
first image dentsu: paint sound sculptures the creative studio dentsu, teamed up with photographer linden gledhill to create this series of paint sculptures using sound vibrations. the series was part of a campaign for canon's pixma ink printer brand. the photographs and videos begin by wrapping a membrane around a small speaker. ink drops were placed on this membrane and the speaker was turned on. once it began to vibrate the ink begins to jump up and down. high-speed video cameras and still cameras were used to capture this including circling around the sculptures to see them from all angles. experimenting with different sounds and frequencies created the various pieces.
Motoi Yamamoto has to be the most patient man in the world. A Japanese artist, Yamamoto uses salt to create monumental floor paintings, each so absurdly detailed, it makes A Sunday Afternoon on the Island of La Grande Jatte look like child's play.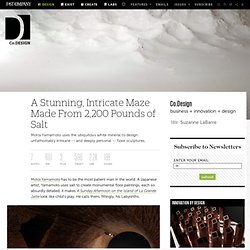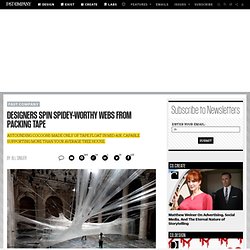 Packing tape has gotten MacGyver out of many a jam, but he never managed to make an entire home out of the stuff. So he could probably learn something from Viennese/Croatian design collective For Use/Numen. The team uses nothing but packing tape to create huge, self-supporting cocoons that visitors could climb inside and explore.
Using multiple layers of clear glass, Canada based David Spriggs and Chinese born Xia Xiaowan , transform flat artwork into 3D sculptures.