Modern Expression
Top 10 examples of brilliant shadow art. Book Of Art. A Stunning, Intricate Maze Made From 2,200 Pounds of Salt | Co.Design. Motoi Yamamoto has to be the most patient man in the world.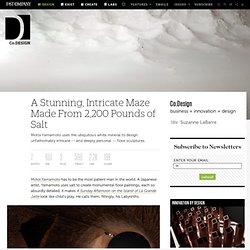 A Japanese artist, Yamamoto uses salt to create monumental floor paintings, each so absurdly detailed, it makes A Sunday Afternoon on the Island of La Grande Jatte look like child's play. He calls them, fittingly, his Labyrinths. Yamamoto's latest labyrinth creeps out from a brick tunnel at the Fondation Espace Ecureuil, a gallery in France. He made it -- as he makes all these installations -- by sprinkling salt on the floor through a plastic bottle used for machine oil, starting at the back of the tunnel, then moving forward to avoid stepping on the designs he's already drawn.
The whole thing took 50 hours over the course of five days and a whopping 2,200 pounds of salt. Duct Tape Spider Web. Packing tape has gotten MacGyver out of many a jam, but he never managed to make an entire home out of the stuff.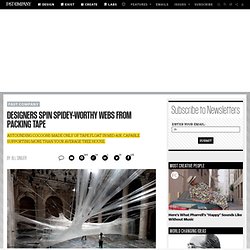 So he could probably learn something from Viennese/Croatian design collective For Use/Numen. The team uses nothing but packing tape to create huge, self-supporting cocoons that visitors could climb inside and explore. Installed three times in the past year, the next deployment will be next week from June 9–13 at DMY Berlin's International Design Fair, which is now in its 8th year.
The installations, which look like the work of horrifyingly large arachnids, grew in scale and scope as the year progressed, first deployed inside a small Croatian gallery, then an abandoned attic during October's Vienna Design Week. At the last installation inside Odeon, a former stock exchange building in Vienna, the group used nearly 117,000 feet and 100 pounds of tape.
Spray Paint Genius. 3D Glass Panes. Using multiple layers of clear glass, Canada based David Spriggs and Chinese born Xia Xiaowan, transform flat artwork into 3D sculptures.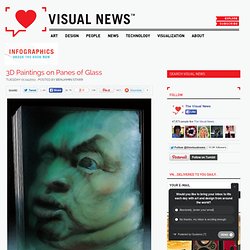 Viewers are treated to different shifting perspectives of the works based on where they stand in the art space. Spriggs work revolves around powerful explosive imagery, often resembling storms, cosmic blasts or firework like explosions. Xiawan's "spatial paintings," which often feature distorted figures, are drawn individually using colored pencil on tinted glass. Sidewalk Chalk Genius.
---