Design e Arquitectura
Dornob | Modern Home, Interior & Furniture Designs & DIY Ideas. ART & DESIGN | TwistedSifter. Apr 16, 2014 This Guy Takes Photos of Buildings and then Uses the Sky as His Canvas In an ongoing series entitled Sky Art, artist Thomas Lamadieu aka Roots Art, takes photos of buildings and cityscapes wherever he travels.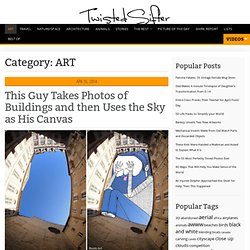 Many of his images point skyward using a fisheye lens. He then uses the sky in each photo as his canvas, filling it with illustrations that incorporate the sky's natural colour. To… Www.joefentonart.com. Espaço de arquitectura - portal de arquitectura - concursos de arquitectura - projectos de arquitectura - bolsa de emprego de arquitectura - notícias de arquitectura - directório de empresas - - página inicial. Industrial design courses ? designboom. ArchDaily | Broadcasting Architecture Worldwide. CONTEMPORIST. Luxury Bespoke Furniture, Homes, Kitchens, Contemporary Interiors & Travel.
---