The american scholar
Emanuel Swedenborg. Emanuel Swedenborg ( Swedenborg had a prolific career as an inventor and scientist.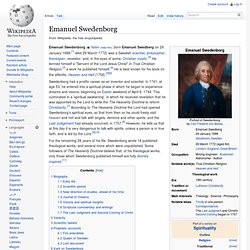 In 1741, at age 53, he entered into a spiritual phase in which he began to experience dreams and visions, beginning on Easter weekend of April 6, 1744. This culminated in a 'spiritual awakening', in which he received revelation that he was appointed by the Lord to write the The Heavenly Doctrine to reform Christianity.[7] According to The Heavenly Doctrine the Lord had opened Swedenborg's spiritual eyes, so that from then on he could freely visit heaven and hell and talk with angels, demons and other spirits; and the Last Judgement had already occurred, in 1757.[8] However, he tells us that at this day it is very dangerous to talk with spirits, unless a person is in true faith, and is led by the Lord.[9][10] For the remaining 28 years of his life, Swedenborg wrote 18 published theological works, and several more which were unpublished.
THE MACHINE STOPS ... E.M. Forster. Imagine, if you can, a small room, hexagonal in shape, like the cell of a bee.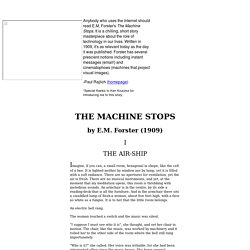 It is lighted neither by window nor by lamp, yet it is filled with a soft radiance. There are no apertures for ventilation, yet the air is fresh. There are no musical instruments, and yet, at the moment that my meditation opens, this room is throbbing with melodious sounds. An armchair is in the centre, by its side a reading-desk-that is all the furniture.
And in the armchair there sits a swaddled lump of flesh-a woman, about five feet high, with a face as white as a fungus. The Machine Stops. "The Machine Stops" is a science fiction short story (12,300 words) by E.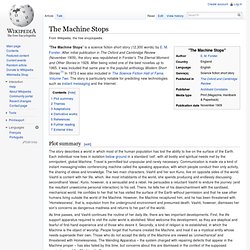 M. Forster. Plotinus. Biography[edit] Plotinus had an inherent distrust of materiality (an attitude common to Platonism), holding to the view that phenomena were a poor image or mimicry (mimesis) of something "higher and intelligible" [VI.I] which was the "truer part of genuine Being".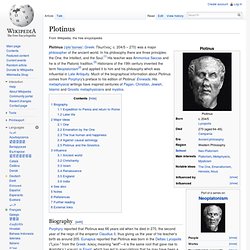 This distrust extended to the body, including his own; it is reported by Porphyry that at one point he refused to have his portrait painted, presumably for much the same reasons of dislike. The American Scholar. Texts : Nature: Addresses/Lectures : Addresses : THE AMERICAN SCHOLAR from Addresses, published as part of Nature; Addresses and Lectures Ralph Waldo Emerson An Oration delivered before the Phi Beta Kappa Society, at Cambridge, August 31, 1837 Mr.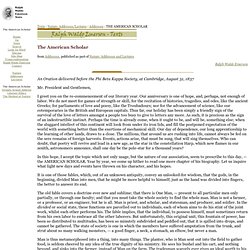 ---