Research
20 Hz on Vimeo
CreativeApplications.Net reports innovation and catalogues projects, tools and platforms at the intersection of art, media and technology. Read more here or contact å ä î ¯ ñ Search 'Shadowplay' shows an experimental interaction paradigm built with the Projector Camera Toolkit, developed during Guest Research Project v.1 at YCAM Interlab by Kyle McDonald. The videos below demonstrate 'shadowplay' experiments, built around the idea of using two projectors that are perfectly aligned.
ShadowPlay by Kyle McDonald (@kcimc) - Experimental interaction paradigm at YCAM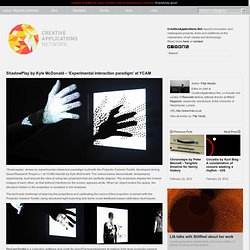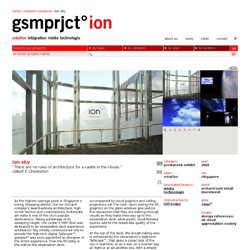 ion sky - gsmprjct°
accompanied by cloud graphics and ceiling projections set the tone. Upon exiting the lift, graphics on the glass windows give visitors the impression that they are walking through clouds as they make their way up to the observation deck, while poetic cloud-themed quotes add to the dream-like quality of the experience. At the top of the deck, the breath-taking view is enhanced by the observatory's high-tech Tellscope ™, that gives a closer look of the city in real-time, or as it was on a sunnier day, at night or at an another era.
Black liquid magnetic sculpture
Turning Ring tutorial with Plan(回転リング)by shikaiderman
List of tallest buildings in the world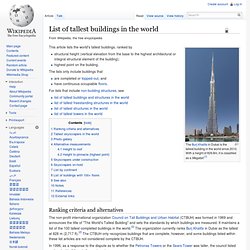 These are lists of skyscrapers , ranked by structural height (vertical elevation from the base to the highest architectural or integral structural element of the building); highest point on the building. These lists only include buildings that: are completed or topped-out , and have continuous occupiable floors ( high-rise buildings). For lists that include non-building structures , see