Teacher Tools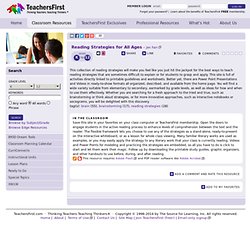 This collection of reading strategies will make you feel like you just hit the jackpot for the best ways to teach reading strategies that are sometimes difficult to explain or for students to grasp and apply. This site is full of activities directly linked to printable guidelines and worksheets. Better yet, there are Power Point Presentations and Videos in ready-to-show formats all organized, described, and available from the home page. You will find a wide variety suitable from elementary to secondary, earmarked by grade levels, as well as ideas for how and when to use them effectively. Whether you are searching for a fresh approach to the tried and true, such as brainstorming or think aloud strategies, or for more innovative approaches, such as interactive notebooks or sociograms, you will be delighted with this discovery.
Reading Strategies for All Ages
Education Oasis - Teaching Resources for Educators
5: Your teacher is not a mind-reader | RecapResource | 60second Recap
Class Tools
Just this morning I had an excellent experience using an exciting interactive site called Class Tools which allows you to create games, activities, and diagrams in Flash (without knowing a thing about Flash!). While covering an eighth grade social studies class, I informed students that they would be creating review games for an upcoming test. They were less than enthusiastic (and those of you who are familiar with the typical enthusiasm level of eighth graders will know that causing them to be even less excited was something of a real feat). Hoping to rescue the moment, I asked if some of them would like to create a game online. Even this was met with grudging acceptance, but they agreed, perhaps considering it at least a momentary reprieve from creating another stale board game with markers and construction paper). Well, in about twenty minutes time, I had some very excited eighth graders on my hands.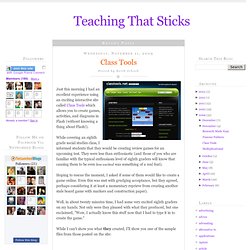 32-2
TED: Ideas worth spreading Search results for "education" 51-60 of 38,479 results Geoff Mulgan - TED Speaker Profile ... of the Young Foundation, a center for social innovation, social enterprise and public policy that pioneers ideas in fields such as aging, education and poverty reduction.
Search
Free Puzzlemaker
webyarns.com: stories for the web
(NOTE: Great additional suggestions are being left in the comments section of this post) It can sometimes be useful to be able to embed a document so it can be easily read and shared on a blog or website. There are many simple tools that make this possible, and I thought I'd create a quick list of them.
The Best — And Easiest –Tools To Use For Embedding A Document