Teacher Tools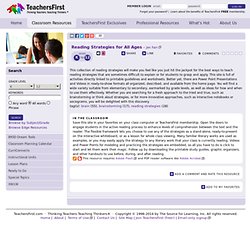 This collection of reading strategies will make you feel like you just hit the jackpot for the best ways to teach reading strategies that are sometimes difficult to explain or for students to grasp and apply. This site is full of activities directly linked to printable guidelines and worksheets. Better yet, there are Power Point Presentations and Videos in ready-to-show formats all organized, described, and available from the home page. You will find a wide variety suitable from elementary to secondary, earmarked by grade levels, as well as ideas for how and when to use them effectively. Whether you are searching for a fresh approach to the tried and true, such as brainstorming or think aloud strategies, or for more innovative approaches, such as interactive notebooks or sociograms, you will be delighted with this discovery.
Reading Strategies for All Ages
Education Oasis - Teaching Resources for Educators
Lord of the Flies by William Golding Coaltown Jesus by Ron Koertge Steinbeck's American Dream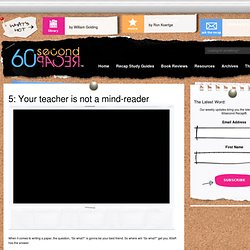 5: Your teacher is not a mind-reader | RecapResource | 60second Recap
Sochi Dogs Arrive in America Stray dogs, spared from a citywide cull in Sochi, Russia, travel to the U.S. for new homes. How an Injured Snowy Owl Got New Feathers Avian physiologists at the Raptor Center, University of Minnesota, specialize in replacing broken plumage. Infanticide Is Part of Life, Biologists Say Infanticide by males in the wild is a winning strategy in life's biggest sweepstakes: reproductive success. But what prompts a mother in a zoo to eat her babies? No Real Animals Aboard Hollywood Noah's Ark No live lions or tigers or bears appear in Darren Aronofsky's epic film, Noah—for reasons both political and practical.Friday Climate Change Shrinks Salamanders Amphibians are responding to warmer, drier conditions, says new study.
Class Tools
Just this morning I had an excellent experience using an exciting interactive site called Class Tools which allows you to create games, activities, and diagrams in Flash (without knowing a thing about Flash!). While covering an eighth grade social studies class, I informed students that they would be creating review games for an upcoming test. They were less than enthusiastic (and those of you who are familiar with the typical enthusiasm level of eighth graders will know that causing them to be even less excited was something of a real feat). Hoping to rescue the moment, I asked if some of them would like to create a game online. Even this was met with grudging acceptance, but they agreed, perhaps considering it at least a momentary reprieve from creating another stale board game with markers and construction paper). Well, in about twenty minutes time, I had some very excited eighth graders on my hands.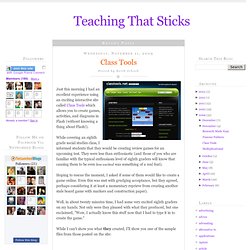 Log In | My Passes | Sign Up Literature Bible Poetry Shakespeare Mythology Bestsellers Dr. Seuss Pre-Algebra Algebra Algebra II Geometry Biology US History Flashcards DMV Careers SAT ACT AP Exams En Español Essay Lab Videos Literary Critics Shmoop Shtuff Advertisement The Epic of Gilgamesh Step over, Homer.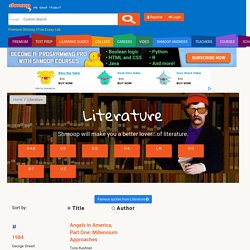 32-2
Search
Free Puzzlemaker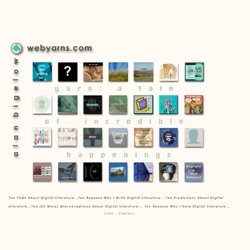 Join the Mailing List Mythwatch.org - True myths from around the world...and your backyard (2010) He said, She said - a round for two voices (2010) This is not a Poem - A toy, a game, and a poem (2010) My Nervous Breakdown - Lost in the Labyrinth (2010)
webyarns.com: stories for the web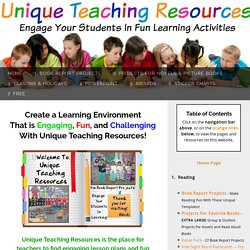 - Cheeseburger Templates (shown above) - 25+ Book Report Templates - Charlie & the Choc. Factory - The Giraffe & the Pelly & Me - The Enormous Crocodile - ESIO TROT - Character Body Project (shown above) - 25+ Book Report Projects
The American Heritage ® Dictionary invites you to create a self-portrait using your words. The words that tell the world who you are. That make you, you. It's easy to do, whether you decide to link to places like Facebook for words you've already written or write something new specifically for your portrait. Either way, you'll create a unique image that can be shared and saved and will remind everyone that You Are Your Words. Image Tips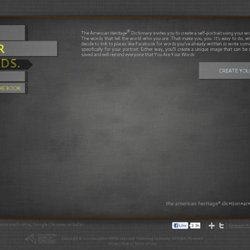 (NOTE: Great additional suggestions are being left in the comments section of this post) It can sometimes be useful to be able to embed a document so it can be easily read and shared on a blog or website. There are many simple tools that make this possible, and I thought I'd create a quick list of them.
The Best — And Easiest –Tools To Use For Embedding A Document