Edtech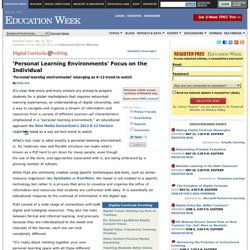 'Personal Learning Environments' Focus on the Individual
Published Online: May 20, 2013 Published in Print: May 22, 2013, as Customized Spaces Widening 'Personal learning environments' emerging as K-12 trend to watch Premium article access courtesy of Edweek.org. It's clear that more and more schools are aiming to prepare students for a global marketplace that requires networked learning experiences, an understanding of digital citizenship, and a way to navigate and organize a stream of information and resources from a variety of different sources—all characteristics emphasized in a "personal learning environment," an educational approach the New Media Consortium's 2012 K-12 Horizon report
Expressing our Gratitude VocabularySpellingCity appreciates teachers and parents who recommend our site and mobile apps to colleagues and friends, share us on Facebook, follow us on Twitter, and other social media. Thanks to all teachers who have shared their best classroom practices using VocabularySpellingCity via written online reviews, speaking at conferences and posting on our forum. We especially appreciate the thoughtful input you give us to help guide our product development to better serve you and your students. The growth of VocabularySpellingCity through your use and support has helped our team develop Science4Us.com, a science curriculum for Kindergarten, first, and second grade.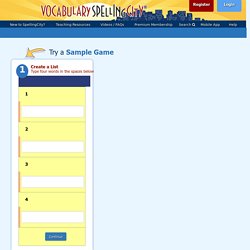 The Teacher's Guide To Choosing The Best Digital Content
Silk - Collaboratively Create Digital Portfolios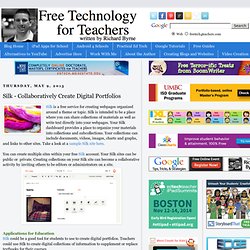 Silk is a free service for creating webpages organized around a theme or topic. Silk is intended to be a place where you can share collections of materials as well as write text directly into your webpages. Your Silk dashboard provides a place to organize your materials into collections and subcollections. Your collections can include documents, videos, images, charts and graphs, and links to other sites. Take a look at a sample Silk site here.
Create iPad and Android Magazines on Flipboard on the Web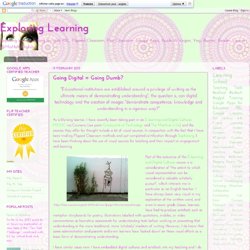 "Educational institutions are established around a privilege of writing as the ultimate means of demonstrating understanding"; the question is, can digital technology and the creation of images "demonstrate competence, knowledge and understanding in a rigorous way?" As a life-long learner, I have recently been taking part in an E-learning and Digital Cultures MOOC via Coursera (see posts Graveyards of Technology and The Machine is Us ) and the sources they offer for thought include a lot of visual sources. In conjunction with the fact that I have been trialling Flipped Classroom methods and just completed certification through Sophia.org , I have been thinking about the use of visual sources for teaching and their impact on engagement and learning. Part of the outcomes of the E-learning and Digital Cultures course is a consideration of "the extent to which visual representation can be considered a valuable scholarly pursuit", which interests me in particular as an English teacher.
Going Digital = Going Dumb?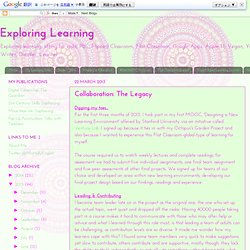 Collaboration: The Legacy
Dipping my toes... For the first three months of 2013, I took part in my first MOOC, 'Designing a New Learning Environment' offered by Stanford University via an initiative called Venture Lab. I signed up because it ties in with my Octopus's Garden Project and also because I wanted to experience this Flat Classroom-global-type of learning for myself. The course required us to watch weekly lectures and complete readings; for assessment we had to submit five individual assignments, one final team assignment and five peer assessments of other final projects. We signed up for teams of our choice and developed an area within new learning environments; developing our final project design based on our findings, readings and experience.
Edmodo is a tool I use with my learners, as discussed in my blog about COMMUNICATION. None of my learners had used it before, and neither had I, although my PBLU course is run through it so I know what it is like to be a learner; I know it from the 'other side'. Immediately upon signing up, my learners became highly active and were engaging with each other during and outside class times. It is a great way to communicate immediately with a group, it allows all members the opportunity to respond to each others' questions; it allows them to be able to help each other even if I have not had a chance to respond. Without it, the amount of emails flying back and forth would have become impractical for most learners who were not yet used to being online for educational purposes.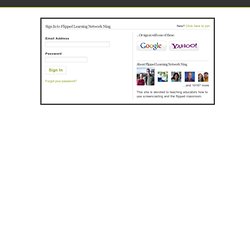 Going Mobile: Edmodo
Dipping my toes... For the first three months of 2013, I took part in my first MOOC, 'Designing a New Learning Environment' offered by Stanford University via an initiative called Venture Lab. I signed up because it ties in with my Octopus's Garden Project and also because I wanted to experience this Flat Classroom-global-type of learning for myself.
Collaboration: The Legacy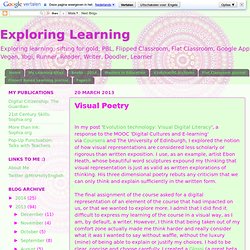 In my post 'Evolution technology: Visual Digital Literacy', a response to the MOOC 'Digital Cultures and E-learning' via Coursera and The University of Edinburgh, I explored the notion of how visual representations are considered less scholarly or rigorous than written exposition. I use, as an example, artist Ebon Heath, whose beautiful word sculptures expound my thinking that visual representation is just as valid as written explorations of thinking. His three dimensional poetry rebuts any criticism that we can only think and explain sufficiently in the written form. The final assignment of the course asked for a digital representation of an element of the course that had impacted on us, or that we wanted to explore more. I admit that I did find it difficult to express my learning of the course in a visual way, as I am, by default, a writer.
Visual Poetry
witter / glossi : Cool creators this week: ...
Photos du journal | Facebook
Make Magazines
Visual Poetry
MrsHollyEnglish : @MrsHollyEnglish: Wish we could
How Fast Is Twitter Growing?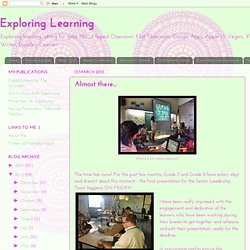 The time has come! For the past few months, Grade 7 and Grade 8 have eaten, slept and dreamt about this moment - the final presentation for the Senior Leadership Team happens ON FRIDAY! I have been really impressed with the engagement and dedication of the learners who have been working during their breaks to get together and rehearse and edit their presentation, ready for the deadline. In preparation and to ensure the presentation can be the best possible showcase for all their hard work, learners presented their final ideas to five volunteers made up of teachers, parents and the head of primary, who kindly gave up their free time to support and help us. This afternoon, our 'soundboard' came along to watch the final presentation and give some critical feedback via a Google Form developed from our co-constructed rubric. All Octopus's Garden Project presenters were really nervous as they have worked really hard and it was the first time they had showed anyone else their work.
Almost there...
MrsHollyEnglish : What does it mean to be truly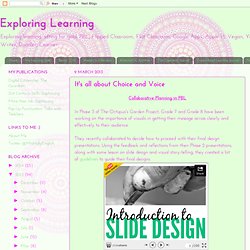 It's all about Choice and Voice
Collaborative Planning in PBL In Phase 3 of The Octopus's Garden Project, Grade 7 and Grade 8 have been working on the importance of visuals in getting their message across clearly and effectively to their audience. They recently collaborated to decide how to proceed with their final design presentations. Using the feedback and reflections from their Phase 2 presentations, along with some lesson on slide design and visual story-telling, they created a list of guidelines to guide their final designs. Lots of critical thinking happened as learners made important decisions about how teams would be formed, how the presentation would work, what would be included and the order each section would occur in. Learners took part in a poll to decide on team formation for this Phase and then, using the guidelines and learning from the slides above, worked on planning out their section of the final design presentation.
"England and America are two countries separated by the same language." George Bernard Shaw (87) This is true also of teaching; global classrooms and non-global classrooms are two educational settings separated by the same communication systems. The world today requires us to have "a whole new set of communication literacies" (92); we need to educate learners in these technologies because "communications-savvy people are our best inoculation against the disease of inadvertent misunderstandings caused by technology glitches and nuances." (66) See also my blog post, 'Getting our wires crossed.' "Creating an effective PLN is an essential 21st-century pull technology for students" (89) My inaugural Project-Based Learning unit is written as the capstone for my PBLU Teaching Certification course.
COMMUNICATION
IT Blog Posts - exploring learning
While Apple products (*cough* iPad *cough*) are known for their integration in classrooms, Google's offerings give up little here. In fact, the sheer diversity of Google products might make them a more natural fit in the classroom in lieu of the iPad's gravity. Below we've listed 25 ways teachers can get started using Google in the classroom. Let us know on our Google+ page if we've missed anything. Google In The Classroom: 25 Ways Google Can Help You Become A Better Teacher 1.
It's all about Choice and Voice
COMMUNICATION
Managing the Octopus
For the Project Based Learning Teacher Certification course I am undertaking with PBLU, I recently had to submit an assignment outlining and reflecting upon the management of the project. This report focuses on on the formation and organisation of teams; use of strategies for conflict resolution and decision-making and the different tools that can be used to support the teams. TEAM GROUPINGSTeams were formed through close consultation with both the Learning Support (LS) and English Language Support (ELS) departments. After much discussion and deliberation about possible groupings, it was decided that the best option was to divide those with specific learning needs equally out amongst teams and to provide stronger learners in each team. LS and ELS teachers have also been in supporting learners in this challenging process and we meet regularly to discuss the progress.
5 Apps and Sites for Creating Animations
Managing the Octopus
I teach. I think.: 20% Project: Teaching a Generation to use Facebook
ThingLink Interactive Image Contest | For K-12
A drop in the ocean...
Want to bring computer programming to your school? | Code.org
Digital Fluency
Habits of Learning
Blubbr- Great Tool to Create Quizzes from YouTube Videos
Evolution technology: Visual Digital Literacy
A drop in the ocean...
MrsHollyEnglish : Flipped Teacher Certified :)
What is human? What is humanity?
Habits of Learning
Evolution technology: Visual Digital Literacy
Silent Noise - Glossi by mrsholly - Glossi.com
What is human? What is humanity?
Spark Your Students' Imaginations With Wonderopolis
8 Great Tools for Teachers to Add Interactive Animations to Videos
Blubbr- Great Tool to Create Quizzes from YouTube Videos
Infographic: The History of Education - Getting Smart by Caroline Vander Ark Davis - EdTech, education, History, teachers
Go Mobile: Edmodo
Video Creation in the Classroom - Tools & Tips
Go Mobile: Edmodo
70 Skype Lessons For Active Learning, Sorted By Topic
What have we learned? - The Octopus's Garden
Educational Technology and Mobile Learning: educational posters
Going Digital = Going Dumb?
MrsHollyEnglish : Digital Literacy Continuum
CONNECTION
The Machine is Us...
The Machine is Us...
Graveyards of technology
How Many Teachers Use Technology in the Classroom?
Graveyards of technology
Who's Teaching Who? « Principal Greg Miller
Communicating a Concept With Instagram
Interactive Vocabulary with Go Animate
Learn more about Flat Classroom! Connect your students globally.
Digital Learning Day :: Splash
Teachers use Twitter as their preferred CPD tool
Pearls of Wisdom
The "Flipped" Classroom and Transforming Education
How Technology Is Empowering The Learners
Integrating Tech: Biomes Postcard
Integrating Tech: Story elements with Toontastic
Teacher's Guide on The Use of Google Sites in The Classroom ~ Educational Technology and Mobile Learning
using google forms in the classroom