RECIPES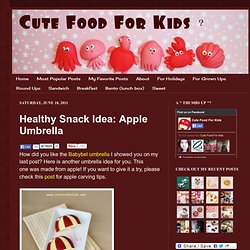 How did you like the Babybel umbrella I showed you on my last post?
Healthy Snack Idea: Apple Umbrella
Food, Drink, and Recipes on TasteSpotting
Inspiring whimsical sweets & savory dishes
Tutorials
Cupcakes
I don't know about you but I am always looking for the best, most amazing cupcake recipes on the Internet, in cookbooks, and magazines. These little bites of sweet cake and creamy frosting are addictive but as soon as I find something delicious I am off to find a better recipe. Just about three years ago I wrote a blog post that made it to the first page of Digg in less than 24 hours.
50 Best Cupcake Recipes on the Internet « Cake « Dessert «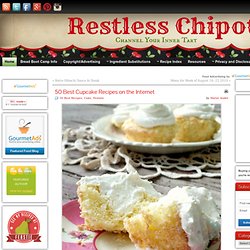 You call that that a sandwich cookie? THIS is a sandwich cookie.
PB&J Cookies/Fairy Bread Biscuits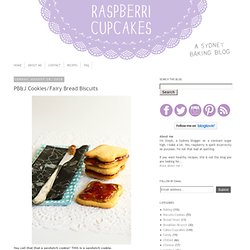 Gingerbread Cupcakes
Baked Gingerbread Mini Donuts
Hellooo mini donuts. Hellooo gingerbread scents. Hellooo Justin Beiber Christmas album.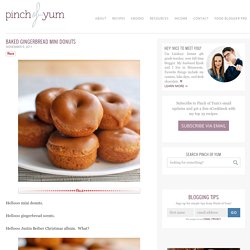 To make the gingerbread cake: Heat oven to 350 degrees.
Poached Pears with Gingerbread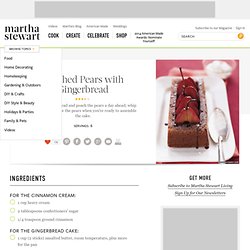 Basic Butter Cookie Dough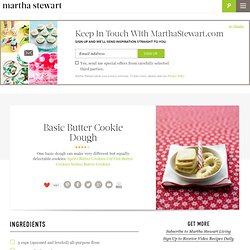 3 cups (spooned and leveled) all-purpose flour 1 cup confectioners' sugar 1 cup (2 sticks) cold unsalted butter, cut in pieces 1/2 teaspoon salt 4 large egg yolks 1 teaspoon vanilla extract Egg wash, (optional): 1 large egg white, beaten with 2 teaspoons water Decorating sugar and sprinkles, (optional) Place flour, sugar, butter, and salt in the bowl of a food processor; process until mixture is the texture of coarse meal.
Gingerbread-Cookie Trees
1 cup (2 sticks) unsalted butter, softened 1 cup packed dark-brown sugar 1 large egg, room temperature 1/2 cup dark unsulfured molasses 2 1/4 teaspoons ground cinnamon 2 teaspoons ground ginger 1 teaspoon ground allspice 1 teaspoon baking soda 1/4 teaspoon salt 4 cups all-purpose flour, plus more for work surface Cream Cheese Frosting Confectioners' sugar, for dusting Put butter and sugar into the bowl of an electric mixer fitted with the paddle attachment.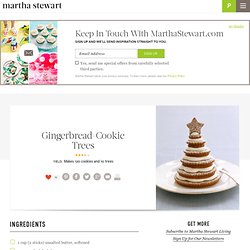 Chocolate-Peppermint Cake
Pumpkin Bars with Old-Fashioned Caramel Frosting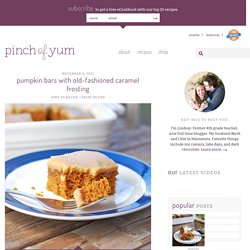 Once upon a time, I made a caramel frosting using a recipe from 1980. This is a true story, by the way. I only tell true stories.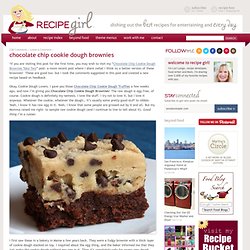 Chocolate Chip Cookie Dough Brownies
Chocolate Chip Cookie Dough Brownies
Holiday Entertaining: Christmas Cookie Recipes - Martha Stewart
Lovely Salted Caramel Sauce
Another whisk shot.
Soft Caramel Fudge recipe
Soft Caramel Fudge
Salted Caramel Sauce + Printable Labels
Salted Caramel Sauce
Melt-in-your-mouth Homemade Cheese Crackers! « In the kitchen with Kath
By Kath Dedon a Cheese crackers!
Recipe #1446
Cherry Ripe Bites recipe
Dark and Stormy Rum Balls recipe
Chocolate Christmas Balls recipe
what goes into making chocolate bowls
Recipe Index
The Perfect Chocolate Chip Cookie
Fudge Crinkles A Great 4 Ingredient Cake Mix Cookie) Recipe - Food.com - 32614
Holiday Icebox Cookies
Taste Station | It's All About Food, Drinks and Everything in Between