RECIPES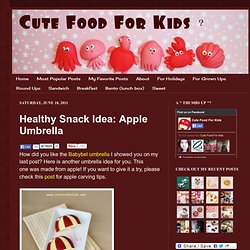 How did you like the Babybel umbrella I showed you on my last post? Here is another umbrella idea for you. This one was made from apple! If you want to give it a try, please check this post for apple carving tips.
Healthy Snack Idea: Apple Umbrella
Food, Drink, and Recipes on TasteSpotting
Inspiring whimsical sweets & savory dishes Home Recipes My Fave Basics
Tutorials
Cupcakes
I don't know about you but I am always looking for the best, most amazing cupcake recipes on the Internet, in cookbooks, and magazines. These little bites of sweet cake and creamy frosting are addictive but as soon as I find something delicious I am off to find a better recipe. Just about three years ago I wrote a blog post that made it to the first page of Digg in less than 24 hours.
50 Best Cupcake Recipes on the Internet « Cake « Dessert «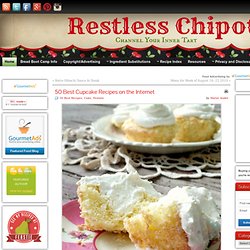 You call that that a sandwich cookie? THIS is a sandwich cookie. I don't know if it's been done before, but this very simple idea had to be done as soon as it came to me. Sugar cookies shaped into teeny tiny bread slices and made to look like sanwiches? The possibilities were endless...and so darn cute! My initial plans for BLT cookies were put on hold for something a bit simpler, so I could first check that the cookies would look enough like bread slices.
PB&J Cookies/Fairy Bread Biscuits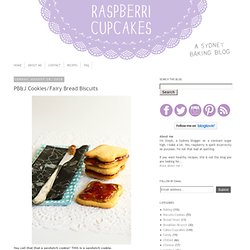 Gingerbread Cupcakes
Baked Gingerbread Mini Donuts
Hellooo mini donuts. Hellooo gingerbread scents. Hellooo Justin Beiber Christmas album.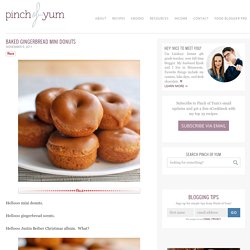 To make the gingerbread cake: Heat oven to 350 degrees. Butter a 8 3/4-by-4 1/4-by-2 3/4-inch loaf pan, and set aside. In the bowl of an electric mixer fitted with the paddle attachment, cream butter and both sugars on medium speed until light and fluffy, 2 to 4 minutes. Add vanilla, and mix. Add eggs, one at a time, mixing well after each addition.
Poached Pears with Gingerbread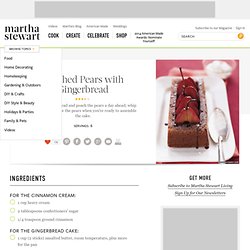 Basic Butter Cookie Dough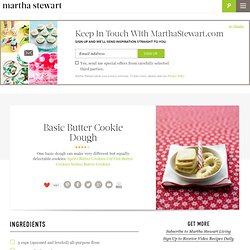 3 cups (spooned and leveled) all-purpose flour 1 cup confectioners' sugar 1 cup (2 sticks) cold unsalted butter, cut in pieces 1/2 teaspoon salt 4 large egg yolks 1 teaspoon vanilla extract Egg wash, (optional): 1 large egg white, beaten with 2 teaspoons water Decorating sugar and sprinkles, (optional) Place flour, sugar, butter, and salt in the bowl of a food processor; process until mixture is the texture of coarse meal. In a small bowl, lightly beat egg yolks and vanilla; with motor running, add to food processor. Process just until a dough forms. Everyday Food, December 2005
Gingerbread-Cookie Trees
1 cup (2 sticks) unsalted butter, softened 1 cup packed dark-brown sugar 1 large egg, room temperature 1/2 cup dark unsulfured molasses 2 1/4 teaspoons ground cinnamon 2 teaspoons ground ginger 1 teaspoon ground allspice 1 teaspoon baking soda 1/4 teaspoon salt 4 cups all-purpose flour, plus more for work surface Cream Cheese Frosting Confectioners' sugar, for dusting Put butter and sugar into the bowl of an electric mixer fitted with the paddle attachment. Mix on medium-high speed until pale and fluffy. Mix in egg, then molasses, spices, baking soda, and salt. Reduce speed to low. Gradually mix in flour.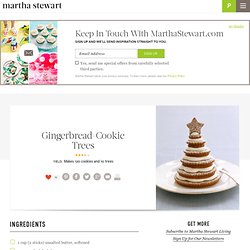 Chocolate-Peppermint Cake
Pumpkin Bars with Old-Fashioned Caramel Frosting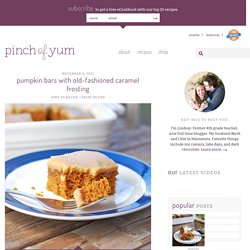 Once upon a time, I made a caramel frosting using a recipe from 1980. This is a true story, by the way. I only tell true stories.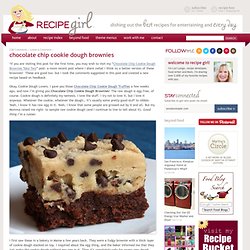 Chocolate Chip Cookie Dough Brownies
Chocolate Chip Cookie Dough Brownies *If you are visiting this post for the first time, you may wish to visit my "Chocolate Chip Cookie Dough Brownies Take Two" post- a more recent post where I share (what I think is) a better version of these brownies! These are good too- but I took the comments suggested in this post and created a new recipe based on feedback. Okay, Cookie Dough Lovers. I gave you those Chocolate Chip Cookie Dough Truffles a few weeks ago, and now I'm giving you Chocolate Chip Cookie Dough Brownies!
Holiday Entertaining: Christmas Cookie Recipes - Martha Stewart
Lovely Salted Caramel Sauce
Another whisk shot. Whisks are that magical utensil that I'm gathering quite the obsession for. I found a few old whisks while looking at antique shops on a trip and they were all so unique. One was shaped like a heart, the others like eggs.
Soft Caramel Fudge recipe
Soft Caramel Fudge Recipe #8083 Submitted by: SJCARV Serves: 12 Preparation time: 15 to 30 minutes
Salted Caramel Sauce + Printable Labels I can cook, and I can bake, and I used to be a teacher… but I'm not always the craftiest of people. So I'm pretty proud that I successfully made some (cute) jars of Salted Caramel Sauce to give away as holiday gifts this year. This stuff should really be called Salted Caramel Crack. It's a good thing that I made small jars of the stuff because once you open this baby, you're going to want to eat the whole jar, and then (if no one is looking) you might be tempted to lick out the inside of the jar too.
Salted Caramel Sauce
Melt-in-your-mouth Homemade Cheese Crackers! « In the kitchen with Kath
By Kath Dedon a Cheese crackers!
Recipe #1446 Submitted by: mum2two Serves: 50 Preparation time: more than 30 minutes
Cherry Ripe Bites recipe
Dark and Stormy Rum Balls recipe
Chocolate Christmas Balls recipe
what goes into making chocolate bowls
Recipe Index
The Perfect Chocolate Chip Cookie
Fudge Crinkles A Great 4 Ingredient Cake Mix Cookie) Recipe - Food.com - 32614
Holiday Icebox Cookies
Taste Station | It's All About Food, Drinks and Everything in Between