Poe
The Raven by Edgar Allen Poe read by Vincent Price. Edgar Allan Poe. Edgar Allan Poe (1809-1849), American poet, critic, short story writer, and author of such macabre works as "The Fall of the House of Usher" (1840); I looked upon the scene before me - upon the mere house, and the simple landscape features of the domain - upon the bleak walls - upon the vacant eye-like windows - upon a few rank sedges - and upon a few white trunks of decayed trees - with an utter depression of soul which I can compare to no earthly sensation more properly than to the after-dream of the reveller upon opium - the bitter lapse into everyday life - the hideous dropping off of the veil.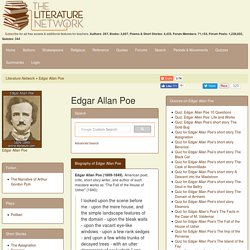 There was an iciness, a sinking, a sickening of the heart - an unredeemed dreariness of thought which no goading of the imagination could torture into aught of the sublime. What was it - I paused to think - what was it that so unnerved me in the contemplation of the House of Usher? Edgar Allan Poe Museum : Poe's life, legacy, and Works : Richmond, Virginia. Poe: About the Man. Poe: About the Man Who was Edgar Allan Poe?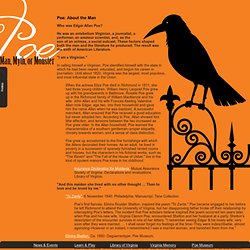 He was an antebellum Virginian, a journalist, a performer, an amateur scientist, and, as the son of an actress, a social outcast. These factors shaped both the man and the literature he produced. The result was the birth of American Literature.
---