AVR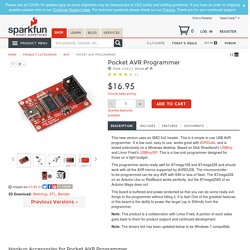 Pocket AVR Programmer
Replacement: PGM-09825 . The new version uses an SMD 5x2 header instead of a through-hole version. Description: This is a simple to use USB AVR programmer.
Resources for getting started with AVRs
This is a short list of resources for getting started with AVR microcontrollers. It's intended as a supplement to intro AVR classes that we have given. We intend to periodically update this list; leave your suggestions for additions in the comments, please. (Last update: October 2012)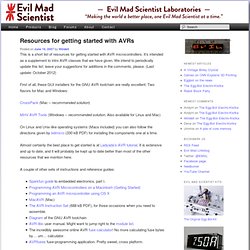 PonyProg Documentation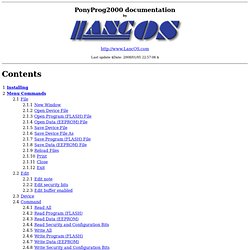 PonyProg2000 documentation by http://www.LancOS.com Last update $Date: 2008/01/05 22:57:06 $
http://www.bizztronix.net/
Beginner's introduction to AVR assembler language
This is (going to be) a easy tutorial for starting out with basic AVR programming, and also a reference collection so that it sits in one place on the site Comments? Suggestions? Post to the forum ! <- In progress, click on a link to the left
AVR Tutorial
AVR Programmer + Info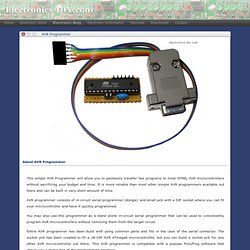 AVR Programmer
To be able to send hex file from your computer to AVR microcontroller you will need to download and install PonyProg2000 . After the installation, the first thing you will need to do is configure PonyProg to work with our AVR Programmer. To do this go to "Setup" menu and select "Interface Setup".