Graphics
Teacher Tap: Public Domain, Copyright Free, Open Source, and Student Use Images and Media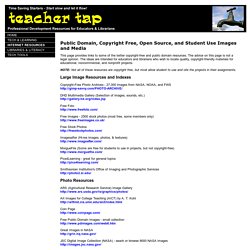 This page provides links to some of the better copyright-free and public domain resources. The advice on this page is not a legal opinion. The ideas are intended for educators and librarians who wish to locate quality, copyright-friendly materials for educational, noncommercial, and nonprofit projects. NOTE: Not all of these resources are copyright free, but most allow student to use and cite the projects in their assignments.
PublicDomainPictures.net is a repository for free public domain images. Download high quality HD photos or upload your own. Make money from your hobby, gain popularity and improve your photographic and graphic skills. If you intend to use an image you find here for commercial use, please be aware that some photos do require a model or property release. Pictures featuring products should be used with care.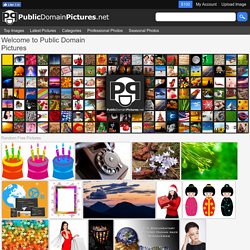 ide@s - teacher-reviewed, standards-aligned lessons, interactive tools, video, high-quality digital images, and other resources for use in curriculum development and classroom instruction
FreeFoto.com is made up of 132549 images with 183 sections organized into 3640 categories. FreeFoto.com is the largest collection of free photographs on the Internet (link back and attribution required). See FREE USE RULES.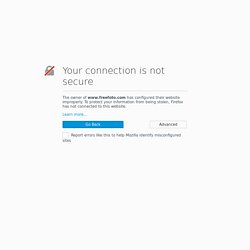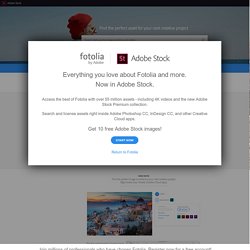 No Day restrictions Download photos and vectors anytime you want. Rollover Downloads Keep all your unused downloads for next month when you autorenew
Thousands of photos taken by U.S. Government employees as part of their official duty are free of copyright and free to use. Based on my extensive review of government photo libraries, the best collections below.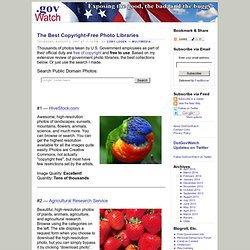 The Best Copyright-Free Photo Libraries: - DotGovWatch Exposing the good, the bad, and the buggy - A Blog Monitoring U.S. Federal, State, and Local Government Websites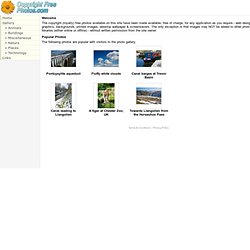 Copyright Free Photos.com (all photos copyright and royalty free)
The copyright (royalty) free photos available on this site have been made available, free of charge, for any application as you require - web design, graphics, backgrounds, printed images, desktop wallpaper & screensavers. The only exception is that images may NOT be added to other photo libraries (either online or offline) - without written permission from the site owner. The following photos are popular with visitors to the photo gallery. Terms & Conditions - Privacy Policy