Graphics
Teacher Tap: Public Domain, Copyright Free, Open Source, and Student Use Images and Media. This page provides links to some of the better copyright-free and public domain resources.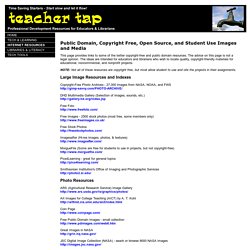 The advice on this page is not a legal opinion. The ideas are intended for educators and librarians who wish to locate quality, copyright-friendly materials for educational, noncommercial, and nonprofit projects. NOTE: Not all of these resources are copyright free, but most allow student to use and cite the projects in their assignments. Public Domain Pictures - Free Stock Photos. Pics4Learning | Free photos for education. American Memory from the Library of Congress - Home Page. Ide@s - teacher-reviewed, standards-aligned lessons, interactive tools, video, high-quality digital images, and other resources for use in curriculum development and classroom instruction.
FreeStockPhotos.com. Free Pictures - FreeFoto.com. Stock Photos | Royalty Free Subscription Stock Photos | PhotoXpress. Copyrightfriendly - home. The Best Copyright-Free Photo Libraries: - DotGovWatch Exposing the good, the bad, and the buggy - A Blog Monitoring U.S. Federal, State, and Local Government Websites.
Thousands of photos taken by U.S.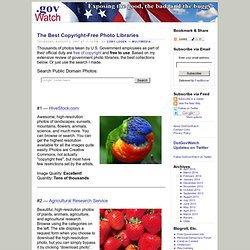 Government employees as part of their official duty are free of copyright and free to use. Based on my extensive review of government photo libraries, the best collections below. Copyright Free Photos.com (all photos copyright and royalty free) Compfight / A Flickr Search Tool.
---