Animation
Xtranormal. Simple to use The educator tool lets you create as many student setups as you'd like.
The rest is easy for all ages -- if you can type, you can make movies! Synfig. "...That was the original idea from day one - the elimination of the tweening process.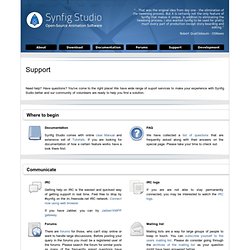 But it is certainly not the only feature of Synfig that makes it unique. In addition to eliminating the tweening process, I also wanted Synfig to be used for pretty much every part of production except story-boarding and editing." Robert Quattlebaum - OSNews Need help? Have questions? Animation Physics. Animation for kids - Create animation online with FluxTime Studio. Pencil - a traditional 2D animation software.
---