My Social Media
Internet Marketing Software Products. Tools to Boost Your Social Media Productivity » SocialOomph.com. The Real Life Social Network v2. Social Media Monitoring and Analysis Made Easy | RowFeeder. Techmeme. 29 Essential Social Media Resources You May Have MIssed. We're back with a cause-themed weekend roundup in anticipation of the Mashable Social Good Summit this Monday, September 20.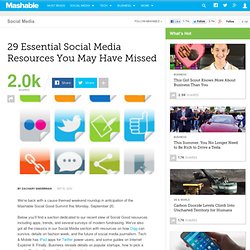 Below you'll find a section dedicated to our recent slew of Social Good resources including apps, trends, and several surveys of modern fundraising. We've also got all the classics in our Social Media section with resources on how Digg can survive, details on fashion week, and the future of social media journalism. Tech & Mobile has iPad apps for Twitter power users, and some guides on Internet Explorer 9. Finally, Business reveals details on popular startups, how to pick a great office location, and how to hire a designer. Facebook to Change How You Process Friend Requests. On Facebook, you have two options for processing friend requests — confirm or ignore.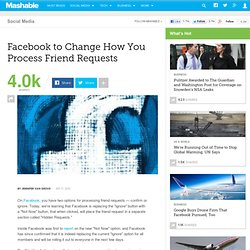 Today, we're learning that Facebook is replacing the "Ignore" button with a "Not Now" button, that when clicked, will place the friend request in a separate section called "Hidden Requests. "Inside Facebook was first to report on the new "Not Now" option, and Facebook has since confirmed that it is indeed replacing the current "Ignore" option for all members and will be rolling it out to everyone in the next few days. The "Not Now" alternation will change how you process friend requests moving forward. You can continue to confirm requests as usual, but if you're not interested in friending a wannabe connection, you'll now need to click the "Not Now" button. That action will not ignore the request, but hide it, relegating it instead to a new "Hidden Requests" menu for future processing.
5 Winning Social Media Campaigns to Learn From. Companies are starting to broaden what they consider online advertising, and are opting to run some amazing social media campaigns.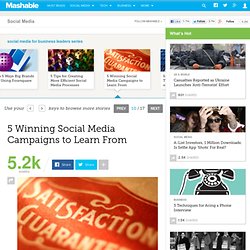 Rather than slapping a banner ad on a site, social media campaigns take full advantage of the web's unique properties like interactivity, community-building, and the ability to specialize local offers. Making a social media campaign work sometimes requires a certain je ne sais quoi. We looked into some successful campaigns from the past year to figure out what they did right and what lessons they can provide. We know we left out some brilliant social media campaigns, especially for niche and small-scale markets. Social Media: The New Battleground for Politics.
Geoff Livingston co-founded Zoetica to focus on cause-related work, and released an award-winning book on new media Now is Gone in 2007.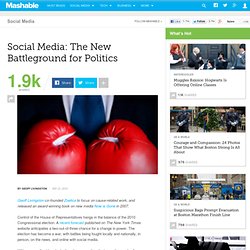 Control of the House of Representatives hangs in the balance of the 2010 Congressional election. A recent forecast published on The New York Times website anticipates a two-out-of-three chance for a change in power. The election has become a war, with battles being fought locally and nationally, in person, on the news, and online with social media. With new media at hand, elections become a time for innovation, and online engagement can lead to enormous influence.
---