Favorite Movies
Scott Pilgrim vs. the World (2010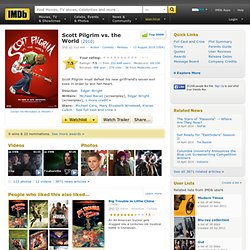 Edit Storyline Scott Pilgrim plays in a band which aspires to success. He dates Knives Chau, a high-school girl five years younger, and he hasn't recovered from being dumped by his former girlfriend, now a success with her own band.
Goofs Throughout the movie Paul calls Peter "Tom", and Peter calls Paul "Jerry". These are references to the Tom & Jerry cartoons. They also refer to each other as 'Beavis' and 'Butthead', another cartoon reference.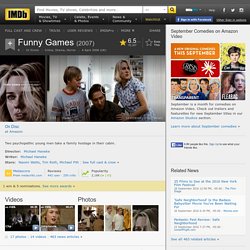 Funny Games U.S. (2007
Edit Storyline Dom Cobb is a skilled thief, the absolute best in the dangerous art of extraction, stealing valuable secrets from deep within the subconscious during the dream state, when the mind is at its most vulnerable. Cobb's rare ability has made him a coveted player in this treacherous new world of corporate espionage, but it has also made him an international fugitive and cost him everything he has ever loved.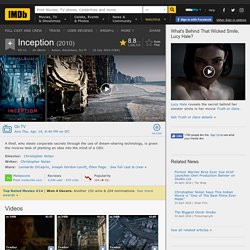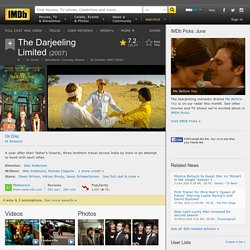 Edit Storyline A year after the accidental death of their father, three brothers -- each suffering from depression - meet for a train trip across India. Francis, the eldest, has organized it. The brothers argue, sulk, resent each other, and fight.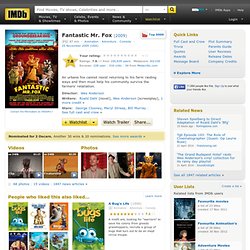 Edit Storyline It is the story of one Mr.
Fantastic Mr. Fox (2009
Edit Storyline This story follows a teenage rock hopper penguin named Cody Maverick from his hometown of Shiverpool, Antarctica, where all of the other penguins think he's nothing but a surfing fool, to the "Big Z Memorial Surf Off" on Pen Gu Island. Young Cody is determined to win the most important competition in the world of penguin surfing in honor of "Big Z," a deceased surfing legend whom he has idolized since childhood. But the waves in Pen Gu are different than in Shiverpool, and the competition is steep.
Les rois de la glisse (2007