Harlem Remaissance
The Harlem Renaissance Aaron Douglas, Idylls of the Deep South, 1934 Between 1920-1930 an unprecedented outburst of creative activity among African-Americans occurred in all fields of art. This African-American cultural movement became known as "The New Negro Movement" and later as the Harlem Renaissance. Harlem attracted a prosperous and stylish black middle class from which sprang an extraordinary artistic center.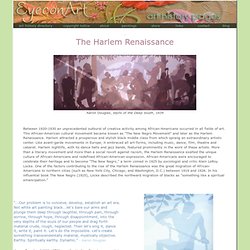 Eyeconart: The Harlem Renaissance
Welcome to AfroPoets.Net Famous Black Writers... Here you will find links to famous African-American poets such as Maya Angelou, Nikki Giovanni, Langston Hughes, etc... At each Poet site, you will be able to read over their Biography, Poems, and even check out their picture....
black writers, black authors, famous black writers, african american writers, harlem renaissance, harlem renaissance poets, harlem renaissance poems, famous african american authors, black famous poets, harlem renaissance writers, harlem renaissance poetr