Lessons
Educreations. uTIPu » Home. Studyladder, online english literacy & mathematics. Kids activity games, worksheets and lesson plans. LectureScribe. This website serves as the current distribution point for LectureScribe, a program for easily producing animated "whiteboard lectures" from a tablet PC or electronic whiteboard.
LectureScribe is written by Brian C. Dean, an assistant professor of computer science at Clemson Univeristy. Audio Bug Alert: The latest versions of Adobe's Flash player managed to break the audio playback for LectureScribe-generated files (and also for several other prominent applications, e.g., Camtasia) by making playback sound garbled, with periodic squawks and other artifacts. I'm not terribly thrilled with Adobe for their reluctance to address this issue in a timely or transparent manner, but in the meantime I've been able to figure out a work-around, which is incorporated into the latest version of LectureScribe. Please let me know if you encounter any further audio issues. Screencast-O-Matic - Free online screen recorder for instant screen capture video sharing. ChronoZoom.
ChronoZoom is an educational tool for teachers and students who want to put historical events in perspective.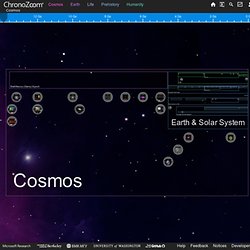 A great many resources have been created already in ChronoZoom for your enjoyment and enlightenment. Start Exploring Use ChronoZoom to get a perspective of the extensive scale of time and historical events relative to what happened around the world. Become an author yourself! Ucatio. Resources. Typing Tutor, Typing Test and Typing games at rapidtyping.com.
---