Music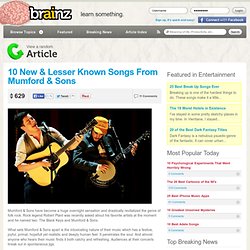 Mumford & Sons have become a huge overnight sensation and drastically revitalized the genre of folk rock. Rock legend Robert Plant was recently asked about his favorite artists at the moment and he named two: The Black Keys and Mumford & Sons. What sets Mumford & Sons apart is the intoxicating nature of their music which has a festive, joyful, primal, hopefull yet realistic and deeply human feel. It penetrates the soul. And almost anyone who hears their music finds it both catchy and refreshing.
New! If you like Otomata, check out my new instrument Circuli by clicking here! Update: Click here to get Otomata for your iPhone / iPod / iPad!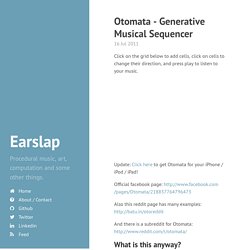 April 3 2013 STREAM: Deerhunter - Monomania "Monomania" seems like the moment where Deerhunter , clearly one of the best bands of the era at this point, enters their '90s Sonic Youth phase where things become crunchier, scuzzier and every move is a grand comment on rock spectacle.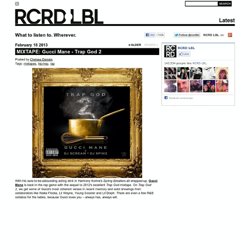 thedownplayer.com | free new music & mp3 downloads brought to you daily with love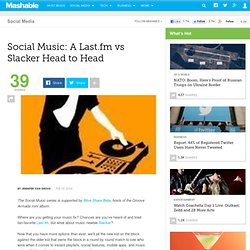 Social Music: A Last.fm vs Slacker Head to Head
The Social Music series is supported by Blive Share Beta, hosts of the Groove Armada mini album. Where are you getting your music fix? Chances are you've heard of and tried fan-favorite Last.fm, but what about music newbie Slacker?
Social Music: Top 5 Sites to Build a Playlist
The Social Music series is supported by BLive Share, a platform for online music sharing and host of the Groove Armada mini album. Ah, the perfect playlist. In the quest to find a musical oasis where track after track is a pleasant reprieve from the surrounding world, even the best of efforts are often thwarted by limited song selection, an overly complicated user interface, or the lack of insight into upcoming songs. So we've scoured the web to find only the best musical offerings and we've put together a list of five sites that make playlist building a joy.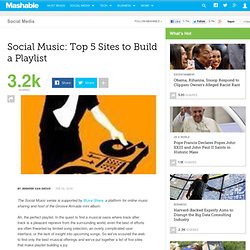 S 30 Must-Hear Albums of 2011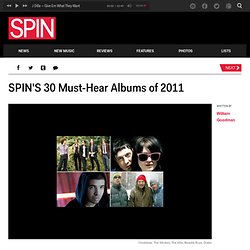 Already, 2011 is shaping up to be another big year in music. To see what's in store, check out the latest on upcoming albums from 30 SPIN artists that matter, including the Strokes, the Beastie Boys, the Kills, Drake, Lady Gaga, and more! PJ HARVEYThe English songstress teamed up with longtime collaborators John Parrish and U2 producer Flood for Let England Shake, a collection of melodic tunes that tackle the vagaries of war, past and present. The record was recorded live in a Dorset, England, church - and Harvey's songs have a stomping, rhythmic vitality that was missing in her more restrained recent releases.
Interview Magazine - Music
Dear Pandora Visitor, We are deeply, deeply sorry to say that due to licensing constraints, we can no longer allow access to Pandora for listeners located outside of the U.S., Australia and New Zealand. We will continue to work diligently to realize the vision of a truly global Pandora, but for the time being we are required to restrict its use. We are very sad to have to do this, but there is no other alternative.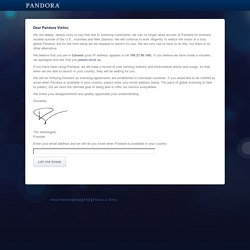 emotional internet radio - music for my mood and activities - StumbleUpon