British_Literature
The Canterbury Tales--The General Prologue Audio
Click play button to listen to Mark Rylance reciting the invocation to the muse from Paradise Lost and Sonnet XXII. Listen to NPR broadcast of Morgan Curator Declan Kiely discussing Paradise Lost » Composition
John Milton's Paradise Lost The Morgan Library & Museum Online Exhibitions -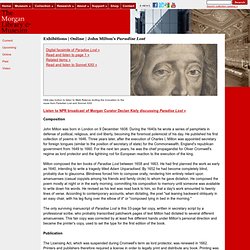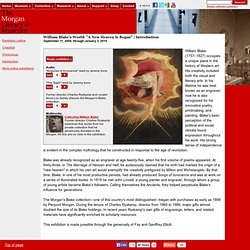 William Blake's World: "A New Heaven Is Begun" | IntroductionSeptember 11, 2009, through January 3, 2010 William Blake (1757–1827) occupies a unique place in the history of Western art. His creativity included both the visual and literary arts. In his lifetime he was best known as an engraver; now he is also recognized for his innovative poetry, printmaking, and painting. Blake's keen perception of the political and social climate found expression throughout his work. His strong sense of independence is evident in the complex mythology that he constructed in response to the age of revolution.
William Blake's World: "A New Heaven Is Begun" The Morgan Library & Museum Online Exhibitions -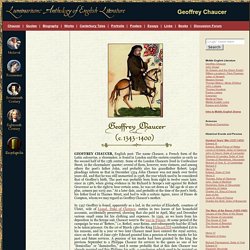 GEOFFREY CHAUCER, English poet. The name Chaucer, a French form of the Latin calcearius, a shoemaker, is found in London and the eastern counties as early as the second half of the 13th century. Some of the London Chaucers lived in Cordwainer Street, in the shoemakers' quarter; several of them, however, were vintners, and among others the poet's father John, and probably also his grandfather Robert. Legal pleadings inform us that in December 1324 John Chaucer was not much over twelve years old, and that he was still unmarried in 1328, the year which used to be considered that of Geoffrey's birth. The poet was probably born from eight to twelve years later, since in 1386, when giving evidence in Sir Richard le Scrope's suit against Sir Robert Grosvenor as to the right to bear certain arms, he was set down as "del age de xl ans et plus, armeez par xxvij ans."
The Life of Geoffrey Chaucer (c. 1343-1400) [Chaucer Biography]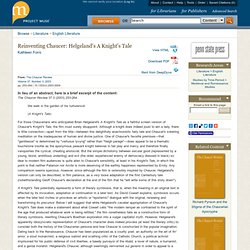 In lieu of an abstract, here is a brief excerpt of the content: The Chaucer Review 37.3 (2003) 253-264 We walk in the garden of his turbulence! (A Knight's Tale) For those Chaucerians who anticipated Brian Helgeland's A Knight's Tale as a faithful screen version of Chaucer's Knight's Tale, the film must surely disappoint.
The Chaucer Review - Reinventing Chaucer: Helgeland's A Knight's Tale
E211 Guide to Chaucer Pronunciation
E211: British Literature to 1760 Pronouncing Chaucer's English Alfred Drake | Uni Hall 329 | W 3-4 | ajdrake@ajdrake.com Linda Georgianna, UCI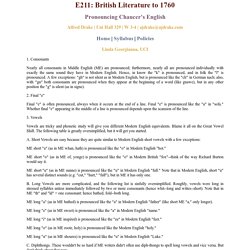 Did Climate Inspire the Birth of a Monster?
<i>Frankenstein</i> Quiz
William Blake's Notebook--Silverlight
Taking Liberties - Star Items - William Blake'snotebook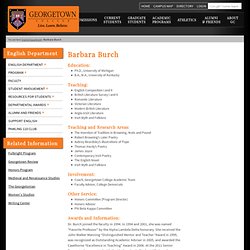 The Rime of the Ancient Mariner Questions
Education: Ph.D., University of MichiganB.A., M.A., University of Kentucky Teaching: English Composition I and IIBritish Literature Survey I and IIRomantic LiteratureVictorian LiteratureModern British LiteratureAnglo-Irish LiteratureIrish Myth and Folklore Teaching and Research Areas: The Invention of Tradition in Browning, Yeats and PoundRobert Browning's Later PoetryAubrey Beardsley's illustrations of PopeThomas Hardy's PoetryJames JoyceContemporary Irish PoetryThe English NovelIrish Myth and Folklore
Film Network - Films - The Periwig Maker--based upon Defoe's Journal
Legacies - Myths and Legends - England - Derby - Living with the plague - Article Page 1
The Victorian Prose Archive, Alfred J. Drake
Witchcraft Documents [15th Century]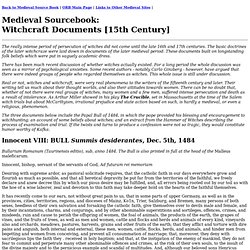 Back to Medieval Source Book | ORB Main Page | Links to Other Medieval Sites | The really intense period of persecution of witches did not come until the late 16th and 17th centuries. The basic doctrines of the later witchcraze were laid down in documents of the later medieval period. These documents built on longstanding folk beliefs which were put in vaguely academic dress. There has been much recent discussion of whether witches actually existed. For a long period the whole discussion was seen as a mirror of psychological anxieties.
Geoffrey Chaucer (1342-1400) "The Canterbury Tales" (in middle english and modern english)
Chaucer Wiki
Baragona's Chaucer Page - Primarily for Students of EN413 This website is a link on the Chaucer Metapage. Here are some World Wide Web and Internet resources for the study of Chaucer
Chaucer 341 Course Page @ Virginia Military Institute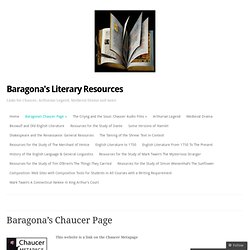 Modern Chaucer: Street Talk and a Dance Beat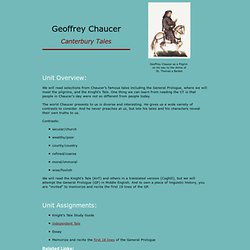 Pronunciation Help First 18 lines of the General Prologue Whan that Aprille with his shoores soote Wan thot A'prill with his sure-es so-tuh The drought of March hath perced to the roote The drewgt of March hath pear-said to the row-tuh And bathed every vein in swich liquor And ba-thed every vane in sweech lee-coor
The Canterbury Tales Prologue--whan that aprille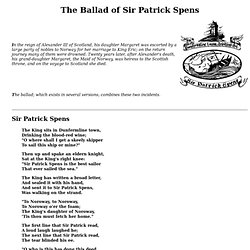 The King sits in Dunfermline town, Drinking the blood-red wine; "O where shall I get a skeely skipper To sail this ship or mine?" Then up and spake an eldern knight, Sat at the King's right knee: "Sir Patrick Spens is the best sailor That ever sailed the sea." The King has written a broad letter, And sealed it with his hand, And sent it to Sir Patrick Spens, Was walking on the strand. "To Noroway, to Noroway, To Noroway o'er the foam; The King's daughter of Noroway, 'Tis thou must fetch her home."
The Ballad of Sir Patrick Spens
It fell about the Martinmas time, And a gay time it was then, When our goodwife got puddings to make, And she 's boil'd them in the pan. The wind sae cauld blew south and north, And blew into the floor; Quoth our goodman to our goodwife, 'Gae out and bar the door.' 'My hand is in my hussyskap, Goodman, as ye may see, An' it shou'dna be barr'd this hundred year, It 's no be barr'd for me.'
Get Up and Bar the Door [image 435x500 pixels]
20. Get Up and Bar the Door. Traditional Ballads. 1909-14. English Poetry I: From Chaucer to Gray. The Harvard Classics
The Norton Anthology of English Literature: Archive
History - Conquest Trail
History - Ages of English Timeline
History - Anglo-Saxons
Anglo-Saxon is the language that was spoken more than a thousand years ago in the southern part of what is now England.
h2g2 - Anglo-Saxon (Old English)
Turning the Pages™, the British Library
Council on Library Resources Commission on Preservation and Access Preliminary Results Electronic Beowulf: British Library The original thousand-year-old manuscript of Beowulfs epic combats has been digitized by high resolution cameras.
Electronic Beowulf-Digital Collections Inventory
Resources for the Study of Beowulf
Beowulf at the British Library
Beowulf: sole surviving manuscriptBritish Library Cotton MS Vitellius A.XV, f.132Copyright © The British Library BoardA high-quality version of this image can be purchased from British Library Images Online. For more information email imagesonline@bl.uk What is Beowulf? Beowulf is the longest epic poem in Old English, the language spoken in Anglo-Saxon England before the Norman Conquest. More than 3,000 lines long, Beowulf relates the exploits of its eponymous hero, and his successive battles with a monster, named Grendel, with Grendel's revengeful mother, and with a dragon which was guarding a hoard of treasure.
Beowulf Study Guide
Primary History - Anglo Saxons - Who were they?
History - Viking Quest
Anglo Saxons
History - Overview: Anglo-Saxons, 410 to 800
Venom, To Thy Work, Buddy - Clips
HAMLET (FACEBOOK NEWS FEED EDITION). Written by Sarah Schmelling.
Stick Figure Hamlet - The Greatest Work of Literature in Human History... Now With Pictures
What's Shakespeare to Us, and We to Him? Plenty
Bronte, Blake, Wilde – read their hand-written manuscripts online | Education
South Park Does Hamlet's death scene
Meet Mr. Shakespeare