Desserts
Irish Car Bomb Cupcakes. The last time I had an Irish Car Bomb was senior year of college.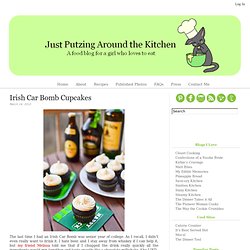 As I recall, I didn't even really want to drink it. I hate beer, and I stay away from whiskey if I can help it, but my friend Melissa told me that if I chugged the drink really quickly all the ingredients would mix together and taste exactly like a chocolate milkshake. She LIED. The Car Bomb was nothing like a chocolate milkshake. As I choked down the thick fizzy brew, all I could taste was the bitter yeastiness of Guinness, the burn of cheap whiskey (Canadian Mist), and the faintest hint of sweetness from the generic cream liqueur we bought instead of real Baileys. Double Dark Chocolate Cookies – The Healthy Version! Remember how I said, not too long ago, that I had an incredible irresistible craving for one of these decadent cookies, right here?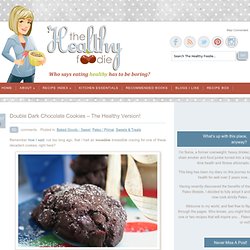 Now of course, making the original version was completely out of the question, ESPECIALLY during Lent. But I had to have one at all costs. Recreating them was going to be quite the challenge! Quick Pumpkin Cinnamon Rolls. Quick Pumpkin Cinnamon Rolls Sweet rolls are a favorite around our house and these Quick Pumpkin Cinnamon Rolls were no exception.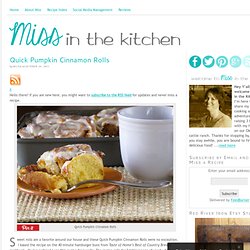 I based the recipe on the 40 minute hamburger buns from Taste of Home's Best of Country Breads cookbook. You've noticed I use this recipe frequently. Candy Corn Macaroons. "Trick or Treat" What kind of a question is that?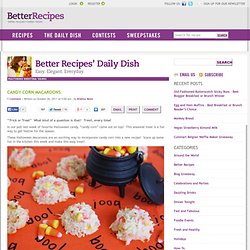 Treat, every time! In our poll last week of favorite Halloween candy, "candy corn" came out on top! This seasonal treat is a fun way to get festive for the season. These Halloween Macaroons are an exciting way to incorporate candy corn into a new recipe! Scare up some fun in the kitchen this week and make this easy treat!
SWEET POTATO BROWN SUGAR CINNAMON ROLLS. Today is sweet potato day.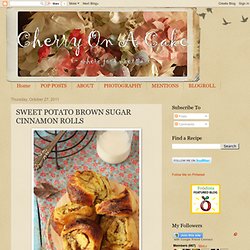 I've just made some sweet potato cinnamon rolls that are the moistest, softest, cushiony-est, sweet potatoe-iest buns I've ever made. This recipe is one that I concocted. There was a lot of vacillating between cake, buns or onde-onde. But finally ...a decision. And more importantly ....action. Homemade Pumpkin Pop Tarts. Friday, October 28, 2011 Homemade Pumpkin Pop Tarts Homemade pop tarts are easy to make and you can fill them with whatever you want and shape them and decorate them however you want.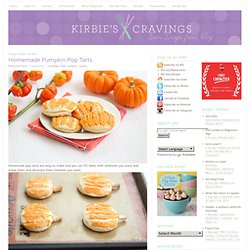 So I decided to make pumpkin shaped pop tarts, and fill them with a pumpkin butter. Fake Food Free: South African Hertzoggies. When I think about all the countries in this world, I realize that I have prepared cuisine from very few.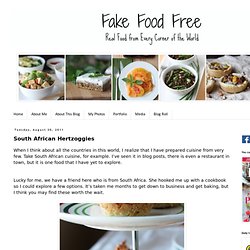 Take South African cuisine, for example. I've seen it in blog posts, there is even a restaurant in town, but it is one food that I have yet to explore. Lucky for me, we have a friend here who is from South Africa. She hooked me up with a cookbook so I could explore a few options. It's taken me months to get down to business and get baking, but I think you may find these worth the wait.
Nutella Filled Pretzel Bites | Kirbie's Cravings | A San Diego food blog sharing restaurant reviews and recipes. Thursday, August 18, 2011 Yes, I played around with my jar of Nutella again.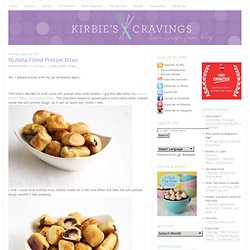 This time I decided to stuff some soft pretzel bites with nutella. Chocolate Covered Pretzles & One in the Oven! Well some of you may have noticed that my blog has slowed down considerably over the last few months.
If there was ever a good excuse, this is it... I'm pregnant! Cream Puffs | Cream Puffs Recipe. I first fell in love with cream puffs when I was in primary school.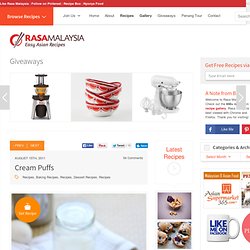 In my class, there was this boy whose father owned a popular bakery shop and their specialty was cream puffs. Every year, the bakery would sponsor their cream puffs to the students at the school; we would bring back a box filled with the sweet, puffy, custardy cream puffs. I just loved them and couldn't get enough, and secretly wished that one day I would own a bakery with endless supply of cream puffs!
Lemon Cardamom Churros with Spicy Chocolate Sauce….. With my sister in town and Thanksgiving around, I am sure having a week filled with emotions and fun and anxiety and goose bums. Long night chats, beautiful drives and two sisters giggling over anything and everything is the highlight of this week. This Thanksgiving I am thankful for all the love I am blessed with, my family, my friends and you all, Thank you for making my life so blessed and beautiful!! Orasnice. Dugo sam razmišljala kakav uvod za ovu poslasticu da napišem.
Šta god da kažem, neću moći rečima da dočaram veličinu ovog kolača. Ne znam ni koliko slike mogu da pomognu, ovo je nešto što mora da se proba, a verujem da ga je većina vas probala. Mislim, ipak su to Orasnice! Svaki istinski oraholjubac mora da ih ima smeštene među top 3 kolača sa orasima. Orasnice su kolač koji ima tu specifičnu crtu tradicionalnosti, miris starih vremena, a mnogo vas će ih sigurno vezati za vreme Božića. Choco sticks. Ever tried the Cadbury fingers? They are long and thin cookies shaped like a skinny finger, coated in chocolate (a childhood favorite). These are made with some LU cookies, but any butter cookie will work. The cookies are crushed and the resulting "flour" is used in lieu of regular flour in this recipe. These are fun to make, especially when coated with different things like chopped nuts or sugar crystals.
Carrot Cake Oat Macaroons. By Lauren Zembron, on August 1st, 2011 I'm not quite sure how I went so long without a macaroon fix, but I decided it was high time to create another variation to what just might be my favorite cookie recipe. For this go-around I went with a carrot cake flavor profile, using grated carrots, chopped pecans, and a trifecta of warm spices: cinnamon, ginger, and nutmeg. As with the other macaroons, these cookies are soft and chewy on the inside with a crisp crust on the outside. In other words, they are the texture that all cookies should be!
Macarons from Sadaharu AOKI, Paris. My friend claire went to paris again to visit her fiancé's family and i got more sadaharu AOKI's macarons this time yay!! This is my third time having them this year (so lucky) and not just that, i got to try three cakes from there as well! Claire said she got me different flavors this time but i couldn't really tell since they looked pretty similar from previously.
How to Make White Chocolate in Less Than 5 Minutes. Chuckwagon Apple Fritters | Scarletta Bakes.
Brownies
Cakes. Cinnamon. Cupcakes. Cookies.
---