Computer/phone
We're all decluttering our closets and basements in celebration of spring, but it's time for a break. Kick back on the couch, pull up your Android phone, and act like you're still being productive by giving it some spring cleaning of its own. Reclaim Drive and SD Card Space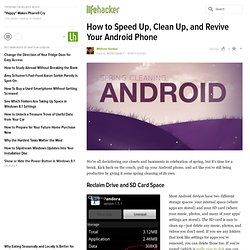 How to Speed Up, Clean Up, and Revive Your Android Phone
If you're using BitTorrent without taking special measures to hide your activity, it's just a matter of time before your ISP throttles your connection, sends you an ominous letter, or worst case, your ISP gets a subpoena from a lawyer asking for your identity for a file-sharing law suit. Here's how to set up a simple proxy to keep your torrenting safe and anonymous. Title image by Daisy Geng . We've talked about how to boost your BitTorrent privacy before , but those measures aren't quite enough anymore to keep you anonymous, because copyright holders are getting more vigilant at tracking down people who share their content. Heck, you don't even need to be doing anything illegal, either.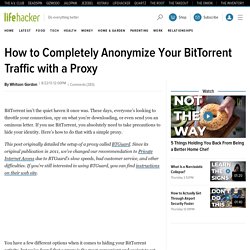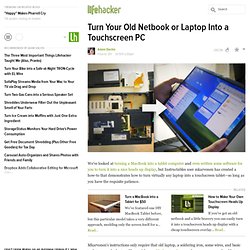 Turn Your Old Netbook or Laptop Into a Touchscreen PC
We've looked at turning a MacBook into a tablet computer and even written some software for you to turn it into a nice heads up display , but Instructables user mkarvonen has created a how-to that demonstrates how to turn virtually any laptop into a touchscreen tablet—so long as you have the requisite patience. Mkarvonen's instructions only require that old laptop, a soldering iron, some wires, and basic tools to open the laptop. If you pick up solderless touchscreen , however, you may be able to avoid the soldering altogether (If you prefer). You can take things easy if you want, but the instructions also show you the harder way that involves creating a very polished end product.
Windows/Android: If you're looking to root your phone but don't want to pore over complicated instructions, a new program called Unlock Root claims to root a ton of different phones with ease. The problem with Android rooting is that every phone is different, which means you need to find the right method for your particular device. We're constantly building and updating our Android rooting guide , but Unlock Root is about as simple as they come: install the USB drivers for your phone from the manufacturer's web site, plug in your phone, turn on USB debugging, and hit the big green "Root" button. It claims to root around 250 devices from a ton of manufacturers. It can also unroot them with the click of a button, which is something not a lot of other root apps do.
Unlock Root Roots Nearly 250 Android Devices in One Click [UPDATED]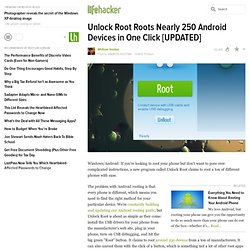 You may have heard about how flashing a new ROM can improve your Android experience, but flashing a new kernel is one of the best ways to improve your phone's performance, battery life, and even add some saucy new features. Whether you know anything about either, here's what you need to know to make it happen. What Is a Kernel? A kernel in an operating system—in this case Android—is the component responsible for helping your applications communicate with your hardware.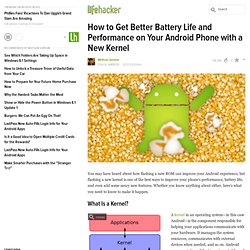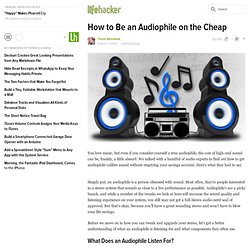 You love music, but even if you consider yourself a true audiophile, the cost of high-end sound can be, frankly, a little absurd. We talked with a handful of audio experts to find out how to get audiophile-calibre sound without emptying your savings account. Here's what they had to say. Simply put, an audiophile is a person obsessed with sound. Most often, they're people interested in a stereo system that sounds as close to a live performance as possible.
How to Be an Audiophile on the Cheap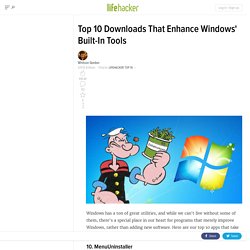 Windows has a ton of great utilities, and while we can't live without some of them, there's a special place in our heart for programs that merely improve Windows, rather than adding new software. Here are our top 10 apps that take Windows' built-in tools and make them better. 10. MenuUninstaller
Top 10 Downloads That Enhance Windows' Built-In Tools
Sick of mailto: links in your browser opening Outlook or Mail.app whenever you click them? You can tackle this problem with extensions or through other means, but Googler and HTML5 guru Paul Irish offers a simple, no-add-ons-required approach . Here's how it works: Open Gmail in Chrome. Press Ctrl+Shift+J (Windows) or Cmd+Opt+J (Mac) to open Chrome's built-in JavaScript console.
Set Gmail as Your Browser's Default Email Client with a Simple Hack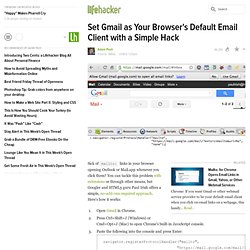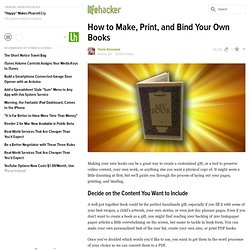 Making your own books can be a great way to create a customized gift, or a tool to preserve online content, your own work, or anything else you want a physical copy of. It might seem a little daunting at first, but we'll guide you through the process of laying out your pages, printing, and binding. Decide on the Content You Want to Include A well put together book could be the perfect handmade gift, especially if you fill it with some of your best recipes, a child's artwork, your own stories, or even just day planner pages. Even if you don't want to create a book as a gift, you might find reading your backlog of 200 Instapaper paper articles a little overwhelming on the screen, but easier to tackle in book form. You can make your own personalized best of the year list, create your own zine, or print PDF books.