Chinese food
General Tso's Chicken. My friend Peng has been bugging me to make General Tso's chicken for several months now.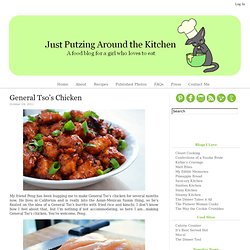 He lives in California and is really into the Asian-Mexican fusion thing, so he's fixated on the idea of a General Tso's burrito with fried rice and kimchi. I don't know how I feel about that, but I'm nothing if not accommodating, so here I am…making General Tso's chicken. You're welcome, Peng. Orange Chicken « Crustabakes. Today, i embrace my chinese roots in chinese cooking.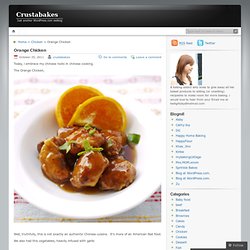 The Orange Chicken, Well, truthfully, this is not exactly an authentic Chinese cuisine. Spicy Honey Chicken. Malaysian cuisine consists of three main flavors: Malay, Chinese, and Indian.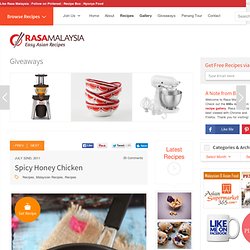 I have said it many times, but I love Malay cooking and only wished that I could eat more Malay dishes. Today, I have invited my friend Zurin from Cherry on a Cake to guest post and she shares my favorite Malay recipe with us: Spicy Honey Chicken. Cherry on a Cake is a delicious food blog with many baking and savory recipes. General Tso's Chicken, Two Recipes. This recipe for General Tso's chicken has been the most popular on this site since I first posted it in 2009.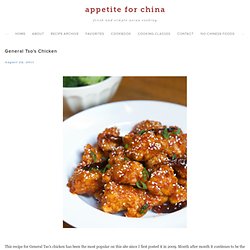 Month after month it continues to be the most viewed and searched for recipe here. I love that so many of you, presumably, have visited on a mission to replicate this tasty dish from a favorite take-out. Over the past few months, I've been testing and retesting this recipe for my cookbook, and want to share a new revised version. La Petite Vancouver: Jacky Yu's Mouth-watering Sichuan Spicy Chicken 金牌口水雞. I got two copies of Jacky Yu's cookbook in my recent trip to Hong Kong.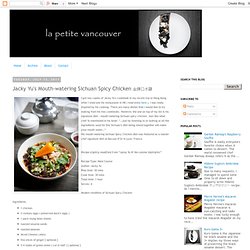 After I tried one his restaurants in HK ( read entry here ), I was really inspired by his cooking. There are many dishes that I would like to try making from his two cookbooks. However, the one on top of my list is his signature dish : mouth-watering Sichuan spicy chicken. KUNG PAO CHICKEN. God forbid.....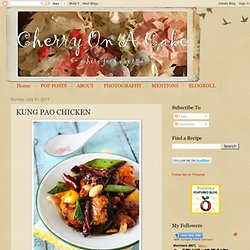 (that I would ever need to be executed). And this is all Terri's fault. Her Kung Pao Chicken was just too mouth watering to ignore. Easy Chicken Stir Fry | Jo Cooks. General Tso's Chicken. I browse food photography sites every day and the one recipe that I see most often (other than delicious baked goods) is General Tso's Chicken.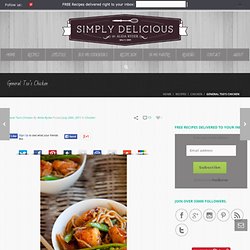 Not knowing what on earth this was, I started investigating and came to understand this as a dish with American-Chinese roots. No one is completely sure where it's originally from but it's generally accepted that this is a Westernised version of a similar Chinese dish (quite similar to Sweet & Sour Chicken). I was intrigued by the sauce you coat the chicken and vegetables in as it was clear that it would be sweet, sour and spicy…3 of my favourite flavours. The one thing I didn't like about this recipe was that the chicken is deep-fried. I saw a few 'healthy alternative' recipe but as I'd never made it before, I thought I'd just pan fry the chicken to minimise the oil usage. General Tso's Chicken | General Tso's Chicken Recipe. General Tso's Chicken is one of the most requested Chinese recipes.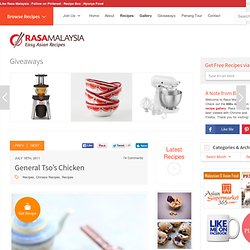 Like other popular Chinese dishes here in the United States, you can't miss General Tso's Chicken if you love Chinese food. It's always served at Chinese buffet; it's also a very popular Chinese take out item. The good news is that it's really not that hard to make it at home. General Tso's Chicken originated from Hunan, China, but from what I read, the connection of the dish to the brave Chinese general General Tso is largely a US or western reference. In any case, the authentic recipe of General Tso's chicken always calls for some dried red chilies—an important ingredient in Hunanese cooking. Sweet & Sour Chicken.
Every weekend Kelly, Cliff and myself have a big cooking fest.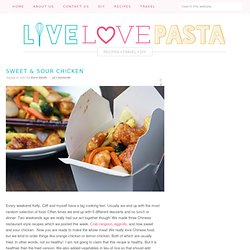 Usually we end up with the most random selection of food. Often times we end up with 5 different desserts and no lunch or dinner. Two weekends ago we really had our act together though! We made three Chinese restaurant style recipes which we posted this week. Crab rangoon, eggrolls, and now sweet and sour chicken. Chicken and Broccoli Take In | Oh Healthy Day. Dat'I Do-It Chicken Lettuce Wraps. So i promised i would post a recipe for the hot sauces i bought one of them is Dat'I Do-It hot sauce i love it!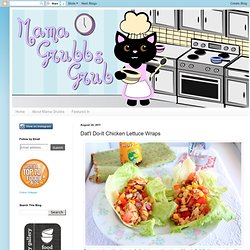 I found out about it from when i used to eat at firehouse subs its their signature hot sauce they sell in little fire hydrant bottle, i bought mine off hotsauce.com. its kind of a sweet spicy hot sauce but thick and chunky. you can use any kind of lettuce you would like i'm really picky about my lettuce i only like iceberg, lettuce boston bibb lettuce would work great with this too. 1 pound boneless chicken breasts Olive oil Kosher salt and freshly ground pepper ½ cup Dat'l do-it hot sauce 2 tablespoons soy sauce 1 teaspoon lime juice lettuce leaves, washed and separated (i used iceberg bc i don't like any other kind of lettuce)For Topping:3 cups corn 1 tablespoon canola oil Kosher salt and freshly ground pepper 1 tomato, seeded and diced 1 red onion, diced Juice of 1 lime Preheat oven to 375 degrees.
Spicy Honey Chicken.
---