Science
Type to search for People, Research Interests and Universities Searching... Join a growing community of 8,919,555 researchers Academia.edu is a place to share and follow research Share your papers See analytics on your profile and papers I don't really want to write this post, but I really need to set the record straight. Most of you dear readers know that I've been involved with the Colossian Forum for several years, as we work to develop a new way for Christians to discuss our differences over origins. This effort has led to an ongoing, in-person conversation between myself and Darrel Falk.
Todd's Blog
Star birth sparked at the Galaxy's edge Nidever, et al., NRAO/AUI/NSF and Mellinger, Leiden-Argentine-Bonn Survey, Parkes Observatory, Westerbork Observatory, Arecibo Observatory. Gas from another galaxy is hitting our own, triggering the birth of bright new stars and adding fresh luster to the Milky Way. An article by Scientific American.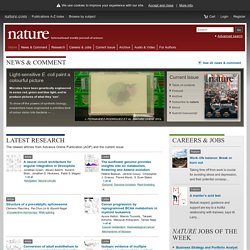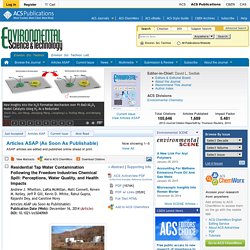 Just Accepted Manuscripts Just Accepted manuscripts are peer-reviewed and accepted for publication. They are posted online prior to technical editing, formatting for publication and author proofing. Articles ASAP (As Soon As Publishable) ASAP articles are edited and published online ahead of print.
Publications - Cookie absent
EDIACARAN
Sshhh, be vewy vewy quiet. We're hunting Awchean pwokawyotes. There is good carbon and sulphur isotope geochemical evidence that life has existed on Earth from the early Archean. This life is thought to consist of small prokaryote cells with a penchant for sulphur instead of oxygen. However, identifying actual fossil evidence is very tricky for a number of reasons.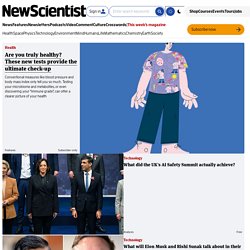 Cookies on the New Scientist website close Our website uses cookies, which are small text files that are widely used in order to make websites work more effectively.
Megafloods: What They Leave Behind South-central Idaho and the surface of Mars have an interesting geological feature in common: amphitheater-headed canyons. Researchers offer a plausible account that all these canyons were created by enormous floods. ... > full story Image Perception in the Blink of an Eye Imagine seeing a dozen pictures flash by in a fraction of a second. You might think it would be impossible to identify any images you see for such a short time.