Italian
Cruft: Lasagna Cupcakes. When Intelligentsia Coffee opened in Pasadena recently, I was intrigued the lasagna cupcakes they served.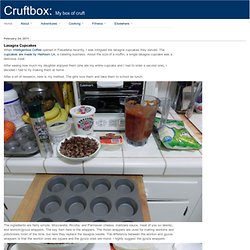 The cupcakes are made by Heirloom LA, a catering business. About the size of a muffin, a single lasagna cupcake was a delicious meal. After seeing how much my daughter enjoyed them (she ate my entire cupcake and I had to order a second one), I decided I had to try making them at home. After a bit of research, here is my method. The girls love them and take them to school as lunch. Spaghetti al Forno Recipe.
Fresh Pasta Recipes for Spring and Summer. Skillet Lasagna | Creatively Domestic - StumbleUpon. My favorite way to make Lasagna is Slow Cooker Lasagna, but an easy way to make Lasagna without all the work really appealed to me.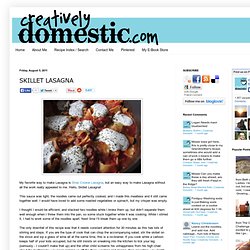 Hello, Skillet Lasagna! This sauce was light, the noodles came out perfectly cooked, and I made this meatless and it still came together well. I would have loved to add some roasted vegetables or spinach, but my crisper was empty. I thought I would be efficient, and stacked two noodles while I broke them up, but didn't separate them well enough when I threw them into the pan, so some stuck together while it was cooking. While I stirred it, I had to work some of the noodles apart. Pasta In Garlic and Olive Oil (with or without spinach) « Cooking With Baby. This is the easiest side dish on the planet.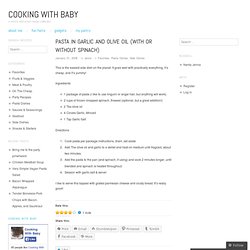 It goes well with practically everything, it's cheap, and it's yummy! Ingredients. Toasted Ravioli | Tasty Kitchen: A Happy Recipe Community! - StumbleUpon. ADORA's Box. Pepperoni Pizza Muffins Recipe. When I'm online looking for dinner inspiration, I often search for recipes that take something my family loves and make it into something new.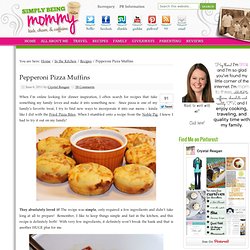 Since pizza is one of my family's favorite treat, I try to find new ways to incorporate it into our menu – kinda like I did with the Fried Pizza Bites. When I stumbled onto a recipe from the Noble Pig, I knew I had to try it out on my family! Lasagna Rolls. Most restaurant lasagnas are soupy messes.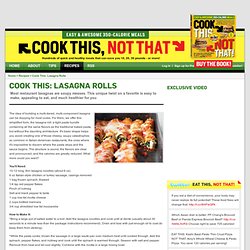 This unique twist on a favorite is easy to make, appealing to eat, and much healthier for you The idea of building a multi-tiered, multi-component lasagna can be dizzying for most cooks. For them, we offer this simplified form, the lasagna roll: a tight pasta bundle containing all the same flavors as the traditional baked pasta, but without the daunting architecture. How to Make Pizza Without Dough | « LXRCUISINE. I was getting kind of sick of ordering delivery pizza (this happens at least 2-3 times a month).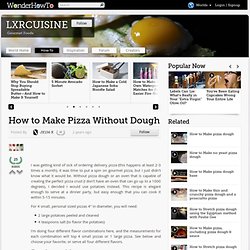 It was time to put a spin on gourmet pizza, but I just didn't know what it would be. Without pizza dough or an oven that is capable of creating the perfect pizza crust (I don't have an oven that can go up to a 1000 degrees), I decided I would use potatoes instead. This recipe is elegant enough to serve at a dinner party, but easy enough that you can cook it within 5-15 minutes. For 4 small, personal sized pizzas 4" in diameter, you will need:
---