Breakfast
I'm sick of people bitcccchhiong about this site. GET A LIFE! Cinnamon Roll Pancakes Updated 9/22/11 to Add: If you're coming here to sample these delicious Cinnamon Roll Pancakes, you just might like the latest recipe that I've posted for Pumpkin Cinnamon Roll Pancakes too.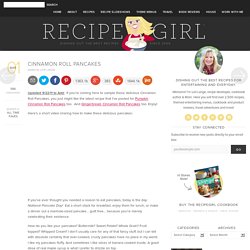 And Gingerbread- Cinnamon Roll Pancakes too. Blueberry Hill | the simple lens - StumbleUpon. So, this past week we may have done something a little crazy.
In case you can't tell, that is indeed a 10 pound bag of blueberries. Yes, that's right – 10 pounds. An acquaintance of ours recently started up a CSA , and as avid supporters of local agriculture, Andrew and I jumped at the chance to buy some of her abundant supply of blueberries. Breakfast Tacos. Corn tortillas stuffed with eggs, veggies, cheese, and salsa make a perfect start to the day Americans have been taco crazy for decades, yet most of us have never thought of the tortilla as a breakfast food.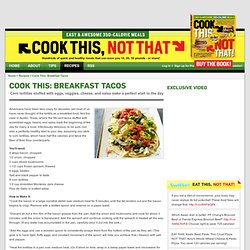 Not the case in Austin, Texas, where the 99-cent tacos stuffed with scrambled eggs, beans, and salsa mark the beginning of the day for many a local. Infectiously delicious, to be sure, but also a perfectly healthy start to your day, assuming you stick to corn tortillas, which have half the calories and twice the fiber of their flour counterparts.
Sunrise Sandwich. We are firm believers in the splendors of the original Egg McMuffin, along with many of the other ready-to-eat breakfast sandwiches that have followed in its wake.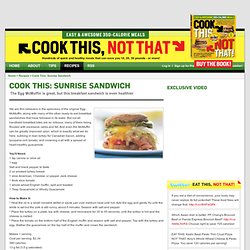 But not all handheld breakfast bites are so virtuous, many of them being flooded with excessive carbs and fat. And even the McMuffin can be greatly improved upon, which is exactly what we do here, subbing in lean turkey for Canadian bacon, adding lycopene-rich tomato, and crowning it all with a spread of heart-healthy guacamole. Pull Apart Lemon Coffee Cake. The title says "cake" but I really feel that "bread" better describes what this is.
Sweet yeasty dough cut and slathered with butter and lemon infused sugar is baked and then spread with lemon cream cheese icing. Once its iced you can just peel the slices off, no need to cut (who has time to find a knife anyways??) When I think coffee cake I think dense, moist, and sweet.. this is more soft, lemony, and sweet-ish. Bread is a better description.
Blueberry Oatmeal Crumble Bars. Blueberry Oatmeal Crumble bars with crumbly oats, plump and juicy blueberries and a hint of lemon make these crumble bars the perfect snack or dessert.
These bars are super easy to make, taste delicious and wonderful for those upcoming summer cookouts, picnics, or pot lucks. They have the picture perfect balance of fruity, tangy and crumbly. You might have noticed that these oatmeal crumble bars are similar to the Blueberry Crumble Bars that I shared with you in January, except with these the crust and crumble have crunchy oats. These crumble bars are best straight out of the refrigerator and even better topped with a scoop of vanilla ice cream! Challah French Toast Recipe : Ina Garten. Crème brûlée french toasts. Filed under the very large category of Things Pretty Much Every New Yorker Already Knew About But Was News To Me (don't bother trying to hail a cab after noon on a Friday, filthy stoops are irresistible for the chill-minded set, etc.), the City Bakery on 18th Street has some astoundingly good French toast on Sunday mornings.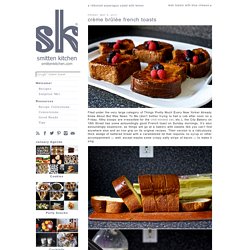 It's also astoundingly expensive, as things will go at a bakery with sweets like you can't find anywhere else and an iron grip on its original recipes. Their version is a ridiculously thick wedge of battered bread with a caramelized lid that requires no syrup or other accompaniment — well, except maybe some crispy salty strips of bacon — to make it sing. 10 Foods to Wake Up Your Workday. 8.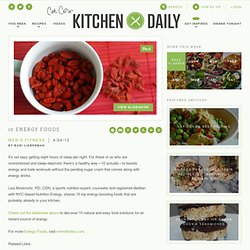 Quinoa "Quinoa is a gluten-free grain that contains more protein than any other grain or rice.
---