Recipes
Get flash to fully experience Pearltrees
I swear buttermilk is magic. I've dwelled on this before. Buttermilk seems to turn everything to gold.
New York Times Chocolate Chip Cookies
Today I had my little group meet up with some fellow mommies, and I think it was a success.
So, the staff at the school I work at decided to have a "Souper Bowl" party today, to which I decided to take my delicious Chicken Pot Pie Soup . As usual, I overdid it on the pie crust pieces that are served with the soup.
From breakfast to dessert. We left off with a breakfast recipe: Brownie Batter Pancakes . And now it's on to dessert.
Yes, really.
SO....this is the beginning of week 3 on Weight Watchers and I am enjoying big success! 6lbs gone so far and I can already feel a big difference. Here's something that has saved me AND encouraged my husband (Mr.
Makes 45 Cookie dough eaters -- you know who you are.
I am utterly addicted to coconut butter.
A few weeks ago, I wrote a post about Overnight Refrigerator Oatmeal that has been very popular with Yummy readers.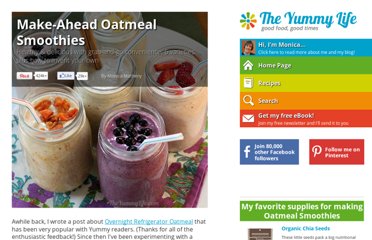 So, now that I have gone on the record and named my favorite cookbooks of all time (click here if you missed that post!)