Hydroponics
Hydroponics. NASA researcher checking hydroponic onions with Bibb lettuce to his left and radishes to the right Hydroponics is a subset of hydroculture and is a method of growing plants using mineral nutrient solutions, in water, without soil.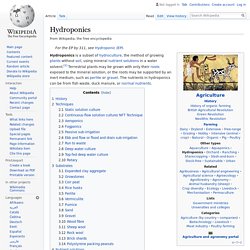 Terrestrial plants may be grown with their roots in the mineral nutrient solution only or in an inert medium, such as perlite, gravel, biochar, mineral wool, expanded clay pebbles or coconut husk. Researchers discovered in the 18th century that plants absorb essential mineral nutrients as inorganic ions in water. In natural conditions, soil acts as a mineral nutrient reservoir but the soil itself is not essential to plant growth. Hydroponic Research - Lincoln University. Floating_Hydroponics Greenhouse. A hydroponic lettuce demonstration greenhouse operation More pictures Address: 10 Pinckney Road Ithaca, NY 14850 U.S.A.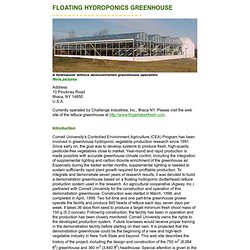 Currently operated by Challenge Industries, Inc., Ithaca NY. Please visit the web site of the lettuce greenhouse at Introduction Cornell University's Controlled Environment Agriculture (CEA) Program has been involved in greenhouse hydroponic vegetable production research since 1991. Growing Hydroponic Tomatoes Home Page. This interactive web site provides practical, accurate information on growing hydroponic tomatoes for students, hobbyists, and beginning growers.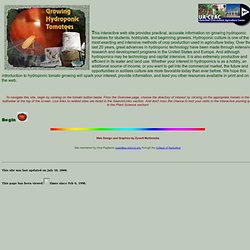 Hydroponic culture is one of the most exacting and intensive methods of crop production used in agriculture today. Over the last 20 years, great advances in hydroponic technology have been made through extensive research and development programs in the United States and Europe. And although hydroponics may be technology and capital intensive, it is also extremely productive and efficient in its water and land use. Whether your interest in hydroponics is as a hobby, an additional source of income, or you want to get into the commercial market, the future and opportunities in soilless culture are more favorable today than ever before. We hope this introduction to hydroponic tomato growing will spark your interest, provide information, and lead you other resources available in print and on the web.
Hydroponic / Greenhouse Crops - Small Farms / Alternative Enterprises - Institute of Food and Agricultural Sciences Extension. The primary crops grown in greenhouses include: pepper, tomato, cucumber, lettuce, herbs, and strawberry.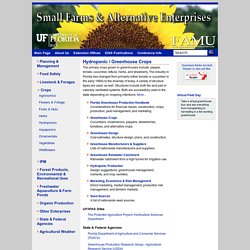 The industry in Florida has changed from primarily either tomato or cucumber in the early 1990s to the diversity of today. A variety of structure types are used, as well.
---