Environment artists
Paul Svoboda - Environment Artist. Portfolio of Damian Lazarski. Tor Frick - 3D artist. Gallery. Tim Spanjer | 3D Environment Artist. Rory Jones | Environment Artist | index. Orb - game environment stuff. Thanks for the comments!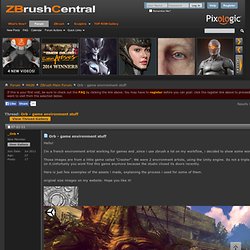 Sickness: Do you mind if I ask ow you created the samless tileable geometry/textures? I did the tilable geometry, using 3dsmax, importing my mesh decimated, and duplicating it on max on both sides, that way i can see where my texture tile and crop my texture after the baking. (you can see this process on the wall for ex)Sebcesoir: pourriez vous expliquer comment vous avez procédé pour les dunes de sables? For the sand, i used multiple sand textures composed in photoshop to make them tile, then i used crazybump, to generate me a displace map from that texture.
This technique only gives me a tilable base for my sculpt. P O R T F O L I O - Art of Marc-Antoine Hamelin, Environment Artist. Baolong zhang. Wireframeworlds. Mikeogden.carbonmade. Alan Van Ryzin - Freelance Game Artist - Weapons. FAFArt.
Traviseverett3d.com - 3D Environmental Artist. Artwork | Portfolio of Stephen Jameson. David Schultz – Environment Artist. Sam Roberts - Environment Artist. Michelle Laumann. Daniel Thiger - Senior Environment Artist. Scott Homer – 3d Environment Artist Portfolio.
The portfolio of Eric Kozlowsky. Bram Eulaers - portfolio. Meshcrafter- Portfolio of Nathanial Castronovo. Gallery. Portfolio of Simon Fuchs. Gallery. Wireframeworlds. Portfolio of William J Kowach - Environment Artist. The Portfolio of Toren Lehrmann, 3D Artist. Ichii3d.com (Richard Gardner, Environment Artist) Mike Fudge. Portfolio of Martin Teichmann.
Stefan Morrell // DIGITAL ART & DESIGN. Bobby Rice. The art of Kevin Johnstone. 3DRebar - Gallery. Evan Yovanovich's Environment Art Portfolio.
---