Jeux vidéos
Le cerveau un peu fritté de notre cher professeur brickdingue a créé des objets extraordinaires dans Brick-Force : une pieuvre tueuse qui porte un chapeau, un fusil citrouille et un bazooka de Noël. On dirait que ces dernières créations sont tombées dans un pot de peinture. Mais bon, elles sont hyper efficaces ! Si tu aimes les couleurs, la folie et les trucs extraordinaires, ne rate pas cette offre.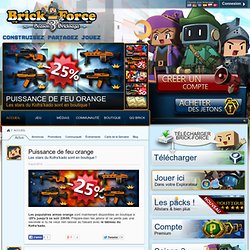 Build, Share and Play
Brick Force
Brick Force
Minecraft
Minecraft is a game about breaking and placing blocks. At first, people built structures to protect against nocturnal monsters, but as the game grew players worked together to create wonderful, imaginative things. It can also be about adventuring with friends or watching the sun rise over a blocky ocean. It's pretty.
Minecraft.fr | Communauté Française Minecraft
Incredible structures have been created within Minecraft. Why can't we take those virtual creations, and bring them into the real world? This is our attempt to create a bridge between Minecraft and the real world, via 3D Printers.
Minecraft.Print()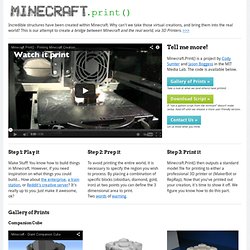 [WIP][Minecraft] Map AC2 - 02/07/2011 - Assassin's Creed : Brotherhood sur JeuxVideo
Minecraft seed
Minecraft Seeds | Sharing the best Minecraft Seeds
Minecraft Wiki - The ultimate resource for all things Minecraft
is a sandbox construction game, inspired by Infiniminer, Dwarf Fortress and Dungeon Keeper, created by Markus Persson, the founder of Mojang AB. The game involves players placing and breaking various types of blocks in a three-dimensional environment. The player takes on an avatar that can break and place blocks, forming fantastic structures, creations, and artwork, on multiplayer servers and singleplayer worlds across multiple game modes. Minecraft is available to all players for €19.95 (US$26.95, £17.95). Singleplayer and multiplayer, when purchased, can be played in the user's web browser, or using the downloadable launcher.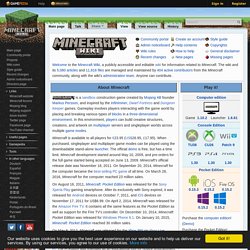 [CODE COULEUR] Palette de couleurs #1
[Released on June 1st, Swedish time... HAPPY BIRTHDAY NOTCH!] Hey kids! Tired of skin creators/editors for Minecraft that totally suck?
Skincraft