Divers
Paris Déchiffré
High-Tech : Les ados envoient 2500 SMS par mois
Recevez nos newsletters : VIDÉO - Cette année, le nombre de SMS échangés a encore augmenté de 23%. Les adolescents restent les principaux utilisateurs, avec 83 textos par jour en moyenne.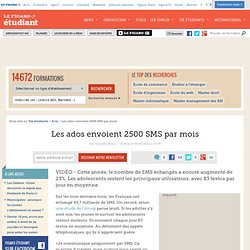 Un écran à encre électronique au dos de votre iPhone :)
Hop !
Grilled Cheese Recipes
Charles Philip Shanghai
New York Tee
#3. Kim Peek Remembers Everything By the time Kim Peek passed away in 2009, he had perfectly memorized 12,000 books, simultaneously making him both the best and the worst person to be stuck next to on a bus.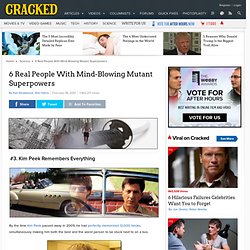 6 Real People With Mind-Blowing Mutant Superpowers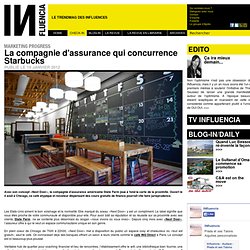 Innovations - La compagnie d'assurance qui concurrence Starbucks
Publié le 19 janvier 2012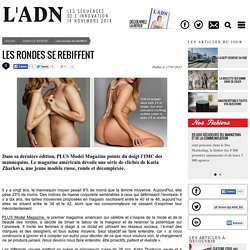 Les rondes se rebiffent
Il y a vingt ans, le mannequin moyen pesait 8% de moins que la femme moyenne. Aujourd'hui, elle pèse 23% de moins. Des indices de masse corporelle semblables à ceux qui définissent l'anorexie.
Spotify: la prochaine révolution musicale? - Média Biz -
fermer [x] Cet article provient de l'édition papier du magazine.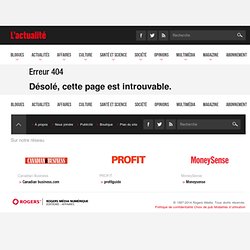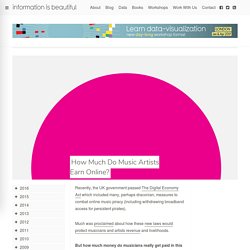 How Much Do Music Artists Earn Online?
Recently, the UK government passed The Digital Economy Act which included many, perhaps draconian, measures to combat online music piracy (including withdrawing broadband access for persistent pirates). Much was proclaimed about how these new laws would protect musicians and artists revenue and livelihoods. But how much money do musicians really get paid in this new digital marketplace? This image is based on an excellent post at The Cynical Musician called The Paradise That Should Have Been about pitiful digital royalties. (Thanks to Neilon for pointing that out). I've taken his calculations and added a few more.
La communication homme-machine passe par un réseau social
MyRobots offre des fonctions de réseaux sociaux non pas à des êtres humains mais à des robots. Ces derniers pourront poster d'eux-mêmes des messages à l'attention de leur propriétaire ou s'échanger des informations.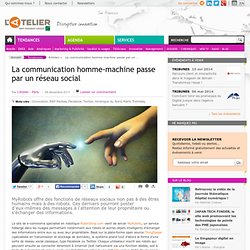 La vie, la mort et les réseaux sociaux !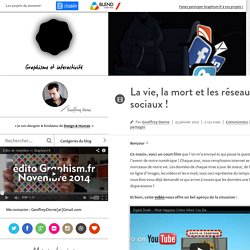 Bonjour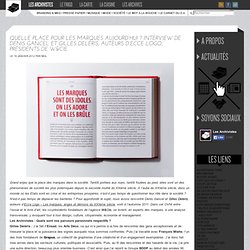 Grand enjeu que la place des marques dans la société. Tantôt portées aux nues, tantôt foulées au pied, elles sont un des phénomènes de société les plus polémiques depuis la seconde moitié du XXème siècle.
Quelle place pour les marques aujourd'hui ? Interview de Denis Gancel et Gilles Deléris, auteurs d'Ecce Logo, présidents de W&Cie
10 Misconceptions Rundown on Devour
11 cheap gifts guaranteed to impress science geeks | Crazy as a Bag of Hammers
Science comes up with a lot of awesome stuff, and you don't need a Ph.D, a secret lab, or government funding to get your hands on some of the coolest discoveries. We've got a list of 11 mostly affordable gifts that are guaranteed to blow your mind, whether or not you're a science geek. 1.