Food Recipes
Meatball Nirvana Recipe
Lemony Lemon Brownies - Becky Charms
Soft-batch style chocolate chip cookies using a few tricks to make them extra thick and soft. Nearly everyone has their favorite chocolate chip cookie recipe. Whether it's the go-to, no-failer on the back of the yellow Tollhouse bag, or the scribbled masterpiece hiding on a ripped up piece of paper in your grandmother's recipe book… everyone's got their own. The chocolate chip cookie – a household favorite, an iconic dessert staple, a timeless classic, an unbeatable and unparalleled snack, warm, cold, dunked in milk, in dough form, in baked form, in ice cream, on ice cream, small, and large – no one can resist the comfort of a chocolate chip cookie. It's been my mission for months now to find that perfect recipe. The recipe I can bake again and again for years.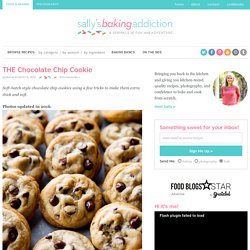 THE chocolate chip cookie.
white chocolate chip cranberry cookies.
My white chocolate chip cranberry cookies are darn near perfect. Perfect amount of sweetness, chewiness, and white chocolateyness… well, that last one is most definitely not a word, but you get the point. I brought them into work for a holiday lunch and people even asked me if they were from a bakery! I took that as a compliment. The recipe is SO very simple.
Strawberry Valentine Oreo Cookies Recipe from Robyn
If you choose to make your own southern divinity candy, keep a few things in mind. First, if it's raining don't try to make southern divinity. Next, you'll need to cook the candy to the hard ball stage. Candy has reached the hard ball stage when it will hold its shape when dropped into a cup of cold water.
Divinity Candy | Our Favorite Southern Candy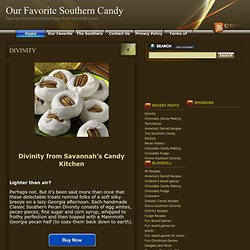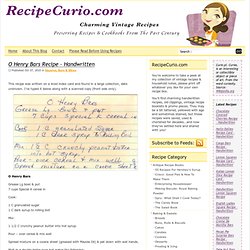 Vintage Recipes | RecipeCurio.com (5)
This recipe was written on a lined index card and found in a large collection, date unknown. There's a note in the top left corner that states it's from Dec. – Parents Mag., but no year marked. I've typed it below along with a scanned copy.
How to Roast Vegetables - Roasted Vegetables Recipes
You can roast just about anything, but vegetables especially benefit from the high, dry heat of the oven. Their flavor becomes concentrated and their natural sugars caramelize, transforming them into richly satisfying sides. For every 2 pounds of vegetables, toss with 1 tablespoon olive oil prior to roasting. Spread in a single layer, with space in between pieces, if possible, or they'll steam instead. You can roast different veggies together if their cooking times are similar.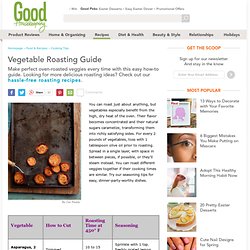 Avocado Egg Salad Wraps
Mystery Pecan Pie Recipe from Pillsbury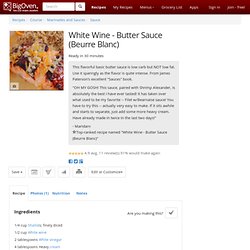 White Wine - Butter Sauce (Beurre Blanc)
1. Combine the finely chopped Shallots with the White Wine and Vinegar in a heavy-bottomed saucepan. Gently simmer the mixture until practically all the liquid has evaporated (reduced by 90%). 2. Add Heavy Cream.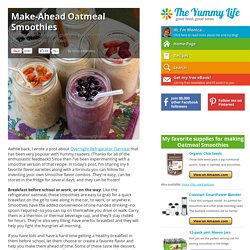 A few weeks ago, I wrote a post about Overnight Refrigerator Oatmeal that has been very popular with Yummy readers. (Thanks for all of the enthusiastic feedback!) Since then I've been experimenting with a smoothie version of that recipe. In today's post, I'm sharing my 6 favorite flavor varieties along with a formula you can follow for inventing your own smoothie flavor combos. They're easy, can be stored in the fridge for several days; and they can be frozen! Breakfast before school or work, or on the way.
Turn your family members into morning people by baking these delicious Caramel Pull-Aparts. A recipe that is sure to get everyone out of bed and ready for breakfast. 5.0 / 5 (1 vote, 1 review ) <div class="fallback"></div><div id="Recipe_rating_default_2066_text" class="rating-text"> Please <a href="/users/login">Login</a>|<a href="/users/register">Sign Up</a> to rate </div> + Add to Recipe BoxPrintServings:12 Skills:IntermediatePrep Time:5 min (not including thaw time)Bake Time:30-35 min
Caramel Pull Aparts | Rhodes Bake-N-serv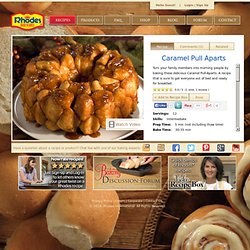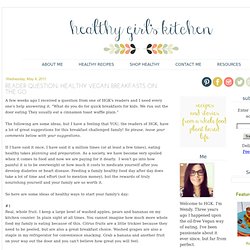 Plant-Based Nutritarian Weight Loss Recipe Blog
A few weeks ago I received a question from one of HGK's readers and I need every one's help answering it. "What do you do for quick breakfasts for kids. We run out the door eating They usually eat a cinnamon toast waffle plain." The following are some ideas, but I have a feeling that YOU, the readers of HGK, have a lot of great suggestions for this breakfast challenged family! So please, leave your comments below with your suggestions. If I have said it once, I have said it a million times (or at least a few times), eating healthy takes planning and preparation.
Stovetop Avocado Mac and Cheese My avocado obsession continues, this time with Stovetop Avocado Mac and Cheese! If you like our Creamy Avocado Pasta, you will love this decadent macaroni and cheese. It is basically the same delicious pasta, but kicked up a notch. Josh thought I was a little looney when I told him what we were having for dinner, but after one bite, he was in mac and cheese heaven.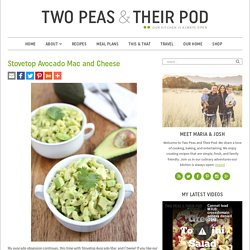 I eat a lot of salsa. A LOT. I am rather notorious for this, in fact. My friend's boyfriend once innocently asked if I had anything he could snack on — maybe some chips and salsa? My friend nearly fell on the floor laughing at the thought of me not having chips and salsa in the house.
I have been experimenting with different mug cakes every since I heard about them about a year ago. None of them have been winners. They were either too chewy, too dry, or not sweet enough. Well, I continued experimenting, and thought why not add some decadent Nutella into the mix.
I have had a week…a week that I am going to be happy to see gone. With this yucky week I learned a few life lessons: #1 If it looks crazy and talks crazy..well, it's probably crazy. #2 The Rolo McFlurry is the perfect ice cream dessert. #3 Never underestimate power in numbers.
Chocolate and Peanut Butter Bugles
Tomato sandwiches have owned me this summer. It started with my mother-in-law's visit, just before our big Independence Day family reunion. The reunion stretches across two meals, so everyone brings enough food for lunch and dinner. There are two big picnic tables covered in aluminum containers piled high with barbecue, ribs, chicken wings, burgers, hot dogs and brats. But no matter what else people had on their plates this year, no one could resist grabbing one (or two or three) of Elaine's tomato sandwiches.
The Hen Basket: Texas Roadhouse Cinnamon Honey Butter
Spiral sugar cookies
A BREAKFAST SALAD?
When the Dinner Bell Rings
Spiced Plum Butter
Circle B Kitchen - Circle B Kitchen
lemon herb egg salad $2.16 recipe / $0.54 serving
Choose the Pot
Rawified
Baked Striper Recipes
Salmon with Brown Sugar and Mustard Glaze
Caesar-Roasted Fish Recipe : Ina Garten
Make a Basic White Sauce
Lemon Honey Butter Sauce
Heavy Cream Substitute
Jambalaya Pot Pie Recipe
Cream Corn Like No Other Recipe
Old-Fashioned Corn Relish Recipe