Sonic Art
<div style="padding:5px; font-size:80%; width:300px; background-color:white; margin-left:auto; margin-right:auto; border:1px dashed gray;"> Internet Archive's<!--'--> in-browser audio player requires JavaScript to be enabled.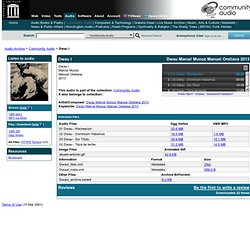 Dwau I : Dwau Marcel Munoz Manuel Orellana 2013 : Free Download & Streaming : Internet Archive
<div style="padding:5px; font-size:80%; width:300px; background-color:white; margin-left:auto; margin-right:auto; border:1px dashed gray;"> Internet Archive's<!--'--> in-browser audio player requires JavaScript to be enabled. It appears your browser does not have it turned on.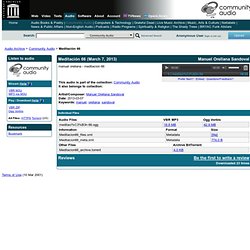 Meditación 66 : Manuel Orellana Sandoval : Free Download & Streaming : Internet Archive
Más que el ruido Improvisación con Mari Kimura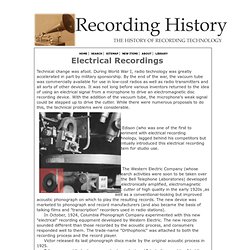 Technical change was afoot. During World War I, radio technology was greatly accelerated in part by military sponsorship. By the end of the war, the vacuum tube was commercially available for use in low-cost radios as well as radio transmitters and all sorts of other devices.
History of Phonograph Record Technology- "Electrically" Recorded Discs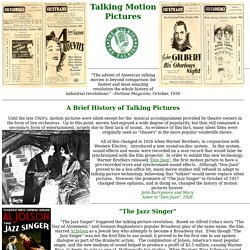 Talking Motion Pictures
Talking Motion Pictures "The advent of American talking movies is beyond comparison the fastest and most amazing revolution the whole history of industrial revolutions."
KDKA, First Commercial Radio Station - GHN: IEEE Global History Network
Sept. 29, 1920: Radio Goes Commercial
1920: The Joseph Horne department store in Pittsburgh advertises ready-made radio receivers that can pick up a local broadcast station. Commercial radio is just weeks away. Frank Conrad was assistant chief engineer of the Westinghouse Electric Company in Pittsburgh.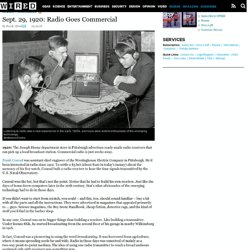 A Science Odyssey: People and Discoveries: KDKA begins to broadcast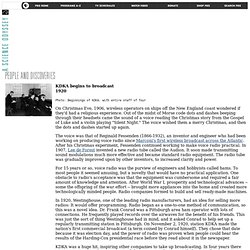 KDKA begins to broadcast1920 Photo: Beginnings of KDKA, with entire staff of four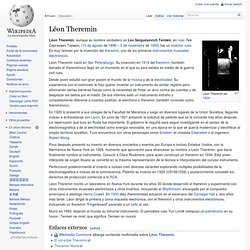 Léon Theremin
Léon Theremin en 1924.
Theremin Virtuoso Pamelia Kurstin and Pianist Pete Drungle Live in Studio 360
The Futurist Intonarumori by Russolo - 2
Mike Patton plays the Intonarumori
russolo_noise
LUIGI RUSSOLO italian futurist "SERENATA" 1924 "The Art of Noise" 1913 [ITA-ENG]
"La vida de antaño se basaba en el silencio.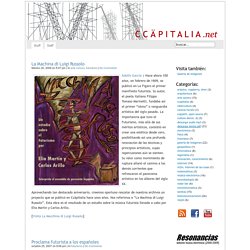 Russolo y la máquinas del ruido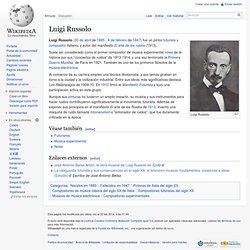 Luigi Russolo.
Luigi Russolo
MultiPhone Phonograph
Edison Multiphone "Jukebox" | Flickr: Intercambio de fotos
1939 AEG Magnetophon FT4 tape recorder playing Deutsches Tanz und Unterhaltungsorchester
1900 Emperor Franz Joseph oldest magnetic recording on Poulsen Telegraphone
Valdemar Poulsen (23 de noviembre de 1869 - 23 de julio de 1942) fue un inventor dinamarqués, más conocido por haber inventado el telegráfono, la primera máquina capaz de grabar sonido, de forma magnetica.
Valdemar Poulsen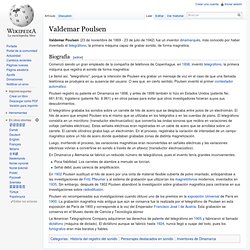 Guillermo Marconi
Guillermo Marconi (castellanización de su nombre original Guglielmo Marconi) (Bolonia, 25 de abril de 1874 - Roma, 20 de julio de 1937) fue un ingeniero eléctrico, empresario e inventor italiano, conocido como uno de los más destacados impulsores de la radio transmisión a larga distancia, por el establecimiento de la Ley de Marconi así como por el desarrollo de un sistema de telegrafía sin hilos (T.S.H.) o radiotelegrafía. Ganó el Premio Nobel de Física en 1909. Fue también uno de los inventores más reconocidos, y además del Premio Nobel, ganó la Medalla Franklin, por el Instituto Franklin, fue presidente de la Accademia de Italia y el Rey Víctor Manuel III de Italia lo nombró Marqués, con lo que pasó a recibir el trato de «Ilustrísimo Señor».
Berliner : El Gramófono
Emile Berliner (1851-1929) Inventor del Gramófono
Emile Berliner
Emile Berliner (en inglés, su verdadero nombre en alemán era Emil Berliner) (20 de mayo de 1851 - 3 de agosto de 1929) fue un inventor alemán-estadounidense del transmisor telefónico, del gramófono, de los discos de vinilo y precursor del micrófono.
unnamed pearl
Graphophone
A Columbia 'Precision' Graphophone, a cylinder model sold in France, 1901.
Phonograph
Close up of the mechanism of an Edison Amberola, manufactured circa 1915 A late 20th-century gramophone turntable and record The phonograph, also called gramophone (from the Greek: γράμμα, gramma, "letter" and φωνή, phōnē, "voice") or record player, is a device introduced in 1877 for the recording and reproduction of sound recordings.
Gramófono
35,000-year-old Flute Is First Instrument Ever
prole.info
07Epidaurus Theater07.jpg - Wikipedia, the free encyclopedia
The Mystery of Modern Acoustic in Ancient Greek Theatre Solved
New Atlantis
WORLD'S FIRST: Compact Disc Player made in 1982
Compact Disc
IBM PC
2242120938_42c450b4fe.jpg (imagen JPEG, 500 × 346 píxeles)
Fairlight | APK File Download Headquarters
Peter Gabriel and Fairlight CMI
Herbie Hancock jams with his Fairlight CMI
Fairlight CMI
Ambient