Occupy London
Scriptonite Daily: Voices from the Occupation - D15: A Grounds Eye View
In the week that TIME Magazine, made 'The Protester' its Person of the Year , the Occupy movement held Occupy Everywhere Day (D15). Occupy Everywhere day, or D15, encouraged sneaky, cheeky acts of civil disobedience around the globe, and got it. You might not have seen it on the news, but this article takes you along for a journey through the day of Occupy London, who spent the day reclaiming public spaces, and bringing festive cheer to the streets of London. One of the issues raised by the Occupy Movement is the growing erosion of public space. In places like London, there are few open, free spaces to join together as a community and remember you are just that, a community.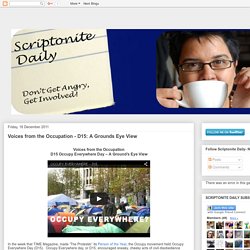 A Tale of trouble
Introduction The Space Hijackers are a group of Anarchitects which was set up at the beginning of 1999. Our group is dedicated to battling the constant oppressive encroachment onto public spaces of institutions, corporations and urban planners. We oppose the way that public space is being eroded and replaced by corporate profit making space.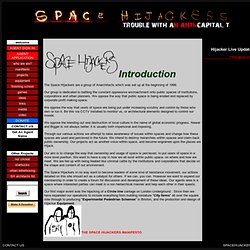 Private Public Space at City Hall
Hot on the heels of the success of our first outing , we were keen to take our No NO NO sign back into the city. The sign highlights the hypocrisy of urban public/private space - where land that appears public is actually owned by private corporations. On the surface, London is a city full of open spaces bustling with shoppers and tourists. If you scratch beneath it, you soon discover that this openness is a scam. If you're a local council, selling off land to private developers is an easy way to raise capital.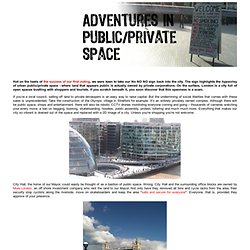 NO NO NO at the Truman Brewery Complex. Brick Lane - East London - May 2011 Following on from our previous Private/Public space projects which have focussed on the gentrification of London and the erosion of civil liberties that that entails, the Space Hijackers headed out to the Truman Brewery complex on Brick Lane to enforce the rules that are implicit, and perhaps not so implicit in such places. Stopping people from drinking, smoking, talking, loitering, laughing and even reading our sign! East London is a massive building site with regeneration projects, the olympics, the encroachment of the city and more changing the face of our city.
Untitled Document
Such a moment occurred when the Occupy Movement declared their intention to occupy the London Stock Exchange as part of a global protest against the Financial Industry. As we all know, post economic crash, the government spokes people for the banks who run this country implemented a system of austerity, cutting public services and ripping up hard won legal protections in order to feed the greedy banks. A global protest was called, and quicker than the blink of an eye, Paternoster Square public access was withdrawn. A hefty police barricade, security checks and 24 hour surveillance ensured that the only people using the square would be those who the private owners deemed worthy (un-moral) enough.
Paternoster Square, Behind Enemy Lines...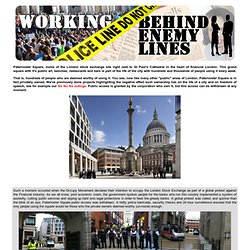 OccupyLSX has been a whisper in the street. Since October 15th, as well as regular visits to the @OccupyLSX camp at St Pauls, the @OccupyLFS at Finsbury Square, and more recently the wonderful @BankOfIdeas , I have been engaging, with others, the flood of misinformation on Twitter and other Social Media platforms, as well as promoting the Occupy Movement as a whole; blogging, discussing, following and spreading the news about various issues. Two things struck me initially, and have continued to do so: The clear public support for the Occupy Movement 's position on most of the issues; and the relative *lack* of public engagement on the methods, tactics and strategy used by the Movement worldwide. In short: They mostly agree with what we say; but they don't always approve of what we do.
The Occupy Movement : The Public Perception ...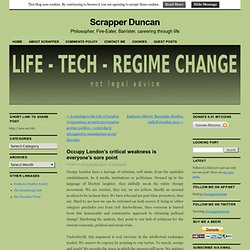 Occupy London's critical weakness is everyone's sore point | Scrapper Duncan
Occupy London faces a barrage of criticism, well made, from the capitalist establishment, be it media, institutions or politicians. Dressed up in the language of lifestyle laughter, they skilfully mock the entire Occupy movement. We are crusties, they say, we are jobless.
Business as Usual
Guidelines
Occupy LSX
Occupy LSX
Occupy LSX
Occupy London
occupy-london-3
OCCUPY LONDON. MARCH ON PARLIAMENT AND SPEAKERS 05.11.2011
Nawal El Saadawi@OCCUPY LONDON 22.11.2011
occupy london - Flickr: Search
All sizes | Occupy London
Occupy London meets city hall -this is worth watching!
Tour of Occupy London (LSX) Recorded 27/10/11
Sleepless at Occupy London Stock Exchange
Occupy: London Stock Exchange
Occupy London camp: 'We're here indefinitely'
Occupy London protest: on the steps of St Paul's cathedral
Occupy London: A Street level view: 'How clear are we all on what concencus actually is?'
Events Calendar » Tent City University
Wake Up London Sangha
The mayor of London demands a law against it to stop tent villages "erupting like boils" across the capital. If you lived like Boris, you too might be a bit paranoid about boils. The prime minister interrupts a trip to Australia to announce that the government is poised to intervene. Meantime, the Church of England is split down the aisle about whether the Christian thing is to embrace the protesters encamped on the doorstep of its cathedral – after all, St Paul was a tent-maker and Christ had a robust approach to moneychangers – or to join forces with the mammonites who run the City of London and have the protest camp evicted. Much of the mainstream media side with the establishment by dismissing them as an incoherent and unrepresentative fringe. Well-paid television interviewers sneer that the protesters are spoilt brats while grand columnists scoff that they will achieve nothing.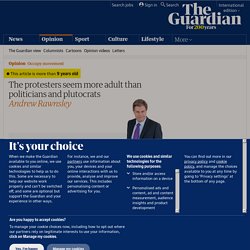 The protesters seem more adult than politicians and plutocrats | Andrew Rawnsley | Comment is free | The Observer
Occupy London: Your experiences
7 November 2011 Last updated at 12:22 ET As part of the worldwide Occupy Movement protesters have been camped outside St Paul's Cathedral in London since 15 October looking to highlight economic inequality, social injustice, corporate greed, and the lack of transparency and accountability in the City. Initially the group had wanted to occupy the area outside the London Stock Exchange which sits alongside the Cathedral, but the police stopped that from happening and so the Occupy London Stock Exchange (OLSX) protesters then turned to St Paul's Churchyard, the square in front of the cathedral, planning to set up camp. The camp now stands at around 200 tents and has attracted many photographers, from those working for the news wire agencies through to students of the medium. Photographer Ben Roberts decided to join those documenting the camp but rather than picturing the residents he took a slightly different approach to the majority of the others working there.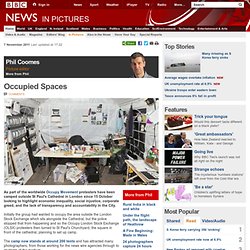 Occupied Spaces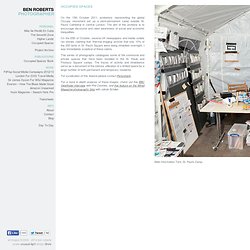 Occupied Spaces On the 15th October 2011, protestors representing the global Occupy movement set up a semi-permanent camp outside St. Paul's Cathedral in central London.
Occupied Spaces Ben Roberts
Occupy London: Traders' fears over St Paul's demo
20 October 2011 Last updated at 13:00 ET By Debabani Majumdar BBC News, London As many protesters enjoyed a lie-in in their tents in the shadow of St Paul's Cathedral, suit-clad office-goers walked past, some casting glances at the unusual tent city. While some passers-by looked on with amusement, others looked somewhat annoyed and refused to give their opinion about the site. Private security guards and Metropolitan Police officers have set up metal barricades, blocking access to Paternoster Square, which houses the London Stock Exchange.
Map reveals St Paul's protest tents are illegally placed on public highway
183151-occupy-london.jpg (JPEG Image, 950x643 pixels)
British Land Seeks Injunction to Keep 'Occupy' Protests Away
(Updates with City of London statement in eight paragraph.) Nov. 4 (Bloomberg) -- A unit of British Land Plc applied for a court order to stop Occupy London protesters camped outside St. Paul's Cathedral from moving onto its property. The lawsuit was filed at a London court Nov. 2 by Broadgate Estates Ltd., a property-management firm that runs sites including Paternoster Square, where Goldman Sachs Group Inc. and the London Stock Exchange Group Plc have offices, and Broadgate Circle, which houses UBS AG operations. Occupy London protesters, inspired by a similar campaign in the U.S. targeting Wall Street, have pitched more than 200 tents outside the cathedral and set up camp in Finsbury Square in the city's financial district. The church rescinded a threat to have them evicted on Nov. 1 and promised discussions on the issues raised by the movement.
the_occupied_times_of_london.pdf (application/pdf Object)
The singalong has been orchestrated on Twitter by St Paul's parishioners who are determined that the Occupy protesters do not stop their worship. Kathryn Rose, who organised the St Paul's-in-the-camp Flashmob Evensong, said in her blog: "A cathedral is more than architecture and establishment. Cathedrals exist to serve the local community, as well as to support parish churches in their work.
Video: Musical flashmob at St Paul's Occupy London Stock Exchange protest
Occupy London Stock Exchange protesters asked to leave by cathedral officials | UK news
St Paul's asks Occupy London protesters to leave Link to video: St Paul's asks Occupy London protesters to leave The anti-global finance protest camp set up next to St Paul's cathedral a week ago has been asked to leave by cathedral officials who said they were being forced to shut the building for safety reasons. In a statement , the dean of St Paul's, the Right Reverend Graeme Knowles, said the decision to close the cathedral – one of London's most celebrated tourist attractions – was "unprecedented in modern times", but added that there was no choice. Knowles said he had written an open letter to the Occupy the London Stock Exchange protesters requesting that they "recognise the huge issues facing us at this time and asking them to leave the vicinity of the building so that the cathedral can reopen as soon as possible".
A closer look at the St Paul's camp