Patterns
[Knitty's list of standard abbreviations can be found here ] Swirling Diagonal Rib Multiple of 6 stitches, knit in the round. Rounds 1 and 2: [K3, p3] around. Rounds 3 and 4: P1, [k3, p3] to last 5 sts, k3, p2. Rounds 5 and 6: P2, [k3, p3] to last 4 sts, k3, p1. Rounds 7 and 8: [P3, k3] around.
knitty.com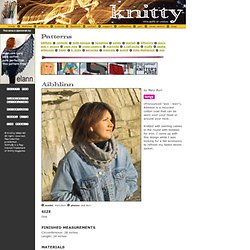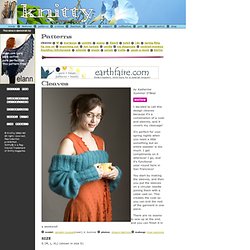 Sleeves (Make 2) Using dpns CO 24[24, 28, 28] sts. Place marker and join to begin working in the round, being careful not to twist. Round 1 : [K2, p2] to end.
knitty.com
quot;Finishing: Picking Up Stitches"
Pick up stitches using a knitting needle or crochet hook and yarn. For a neater edge, use needles or a hook one or two sizes smaller than the working needle. After the pickup is finished, change to the needle size indicated in the instructions. The right side of the work is facing, unless instructed otherwise. If the number of stitches to pick up aren't included in the instructions, measure the area of pickup, and multiply that number by the stitch gauge of the border pattern to be applied. Divide the area of pickup into quarter sections, or smaller spaces if necessary, and mark with pins or thread.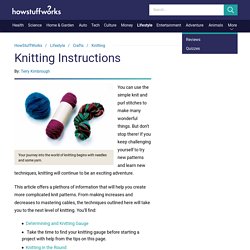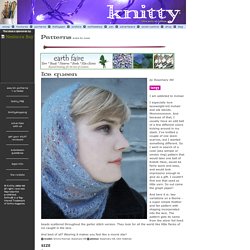 Title - Winter 2007
SK2P: Sl 1 knitwise, k2tog, pass slipped st over. T3: Sl next 3 sts to cable needle, rotate cable needle 180 degrees clockwise, k3 from cable needle. Placing Beads: As shown, Version B uses beads which have holes large enough to accommodate a small crochet hook. If you use beads with similarly large holes, beads may be placed using the technique detailed here . Scroll down to "Hooking beads as you go".
No. 19 Line Dancing The Leaflet opens up to the chart and floss colors. The back offers sources for the motifs and special instructions for stitching.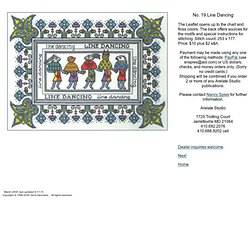 and Arelate Studio
SIDEWAYS SOCKS ADAPTATION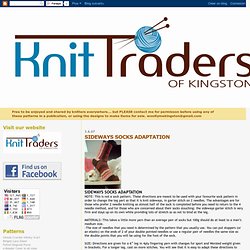 SIDEWAYS SOCKS ADAPTATION NOTE: This is not a sock pattern. These directions are meant to be used with your favourite sock pattern in order to change the leg part so that it is knit sideways, in garter stitch on 2 needles. The advantages are for those who prefer 2 needle knitting as almost half of the sock is completed before you need to return to the 4 needle method, and for those who are concerned about their socks slouching: the sideways garter stitch is very firm and stays up on its own while providing lots of stretch so as not to bind at the leg. MATERIALS:-This takes a little more yarn than an average pair of socks but 100g should do at least to a man's medium size. -The size of needles that you need is determined by the pattern that you usually use.
This is not exactly a pattern but more a way to use your favourite sock pattern and turn it into a project that can be knit on a single circular needle. As you can see from the picture, it is a bit of an odd looking way of knitting socks, or any other project whose circumference is smaller than the length of your circular needle, but it's easy and with a little patience, you may be hooked on this method that never has you worrying about double pointed needles falling from your project. To achieve the same results with this method there are probably many different ways to hold your needles, to get the stitches around the needle, to work your project to its successful completion, but this is the way that I find the easiest... Give it a try for the fun of it. - A sock pattern, -appropriate yarn for your pattern,
July 2008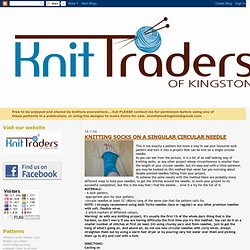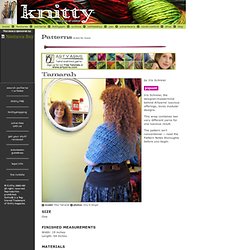 Note: Throughout this pattern, yarns are alternated every 2 rows. When switching yarns, drop the old yarn and begin working with the new yarn, carrying the yarn not in use along the side of the work. Step 1:
Fall 2006