Rugs & Mats
Rugmaker's Homestead
Looped/Woven Rag Rug
Is there sugar in syrup? Remember in the movie Elf when Papa Elf showed Buddy how Santa's sleigh works? Well, yesterday I was thinking how my Christmas spirit was rising, and then I thought, "Hmm, I wonder if I could make a Clausometer..."
Rug Mod Tutorial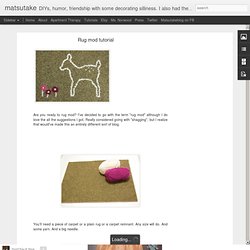 5 Unique DIY Area Rug Ideas
If you can't find the perfect rug to fit your space, unleash your creativity and make a custom one to fit your space and life perfectly. No need to settle for something that isn't right. As you can see here, the homeowners who created these set no limitations to the materials that can be used to make their rugs fun, functional, and unique to their style and personality.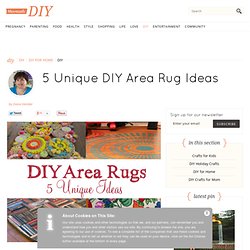 5 Unique DIY Area Rug Ideas - Momtastic
Arts & Crafts : The Art and Craft of Rug Hooking Fiber Art "Rug hooking uses a hand hook, similar in shape to a crochet hook, to form a looped pile from fabric strips or yarn on an even-weave base fabric." — RugHookingOnline.com The folk artistry in authentic rug hooking goes beyond simple latch hook rug kits you buy off the shelf in your favorite craft store. Yes, you will learn more about this beautiful form of art and craft by reading Creativity Portal's collection of rug hooking articles written by professional rug-hooking artists such as Canada's Deanne Fitzpatrick and by browsing our collection of instructional rug hooking resources where you'll find Web sites that explain hooking rug history and processes; and those that share free tips, patterns, techniques, and tutorials for your creative rug hooking research and projects. More Articles by Deanne Fitzpatrick »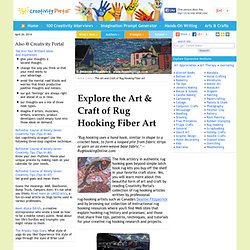 Rug-Hooking: History, How-to Tutorials
Coiled-Rag Baskets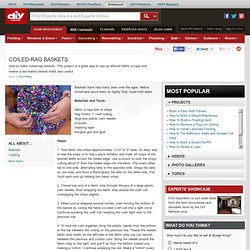 Baskets have had many uses over the ages. Native Americans wove them so tightly they could hold water.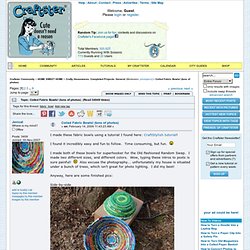 Coiled Fabric Bowls (Lots Of Photos)
I made these fabric bowls using a tutorial I found here: CraftStylish tutorial! I found it incredibly easy and fun to follow. Time consuming, but fun. I made both of these bowls for superhooker for the Old Fashioned Random Swap.
Crochet Patterns Knitting Patterns Sewing Patterns Cross Stitch Patterns Yarn Stores Search for: in: "Rugs" - 142 Free Knitting Patterns « Back to pattern categories
Free 142 Rug Knitting Patterns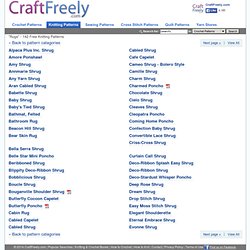 Home » $5 and Under, cheap crafts, Decor, Headline, Tutorials 31 July 2013 49,492 views 16 Comments by summer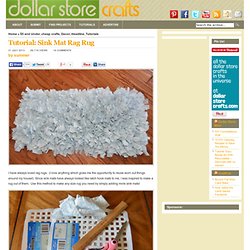 Hooked Sink Mat Rag Rug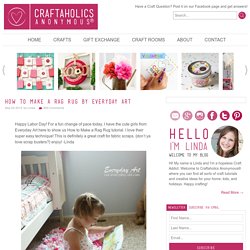 How To Make A Rag Rug Tutorial
Happy Labor Day!
Here it is, finally! My shag rug is complete. I love how it feels under my feet, and if it starts to look a little flat, I pick it up, shake it, and it fluffs right back up!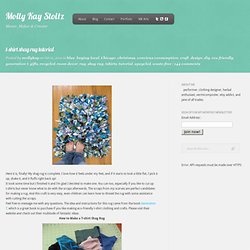 Description: To make the wood themed rug, take a plain green rug, made a couple of fabric mushrooms and hot glue them in place. Absolutely brilliant! Couldn't you also try something like this with 3D flowers? Craft Link: Woodland Inspired Rug Tutorial Read More: Rug Making or Home These rugmaking links were first posted in 2008.
Many Rug Making Tutorials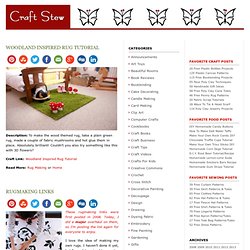 DIY Rag Rugs & Mats
Pantone – the foremost authority on color has proclaimed Honeysuckle pink as its "2011 Color of the Year". Pink is hot right now, we are seeing a whole rich spectrum of it – everywhere and more than just one hue. Look at the March issue of House Beautiful magazine and you will be enlightened to the power of pink when it comes to decorating our homes this year.
Quatrefoil Design Floor Cloth
Easy Floor Cloth From A Scrap Piece Of Vinyl Flooring
Fabric Flower Floor Cloth at Joann
Stenciled Burlap Mat
Locker-Hooked Rug at Joann
Story and photographs by Gina Jennings, Color photograph by Mary Schmalstig, Illustrations by Lisa Mestan Did you ever hear of anyone making a rug with a toothbrush? Maymee Campbell made some. So did several other women she knows about who learned how many years ago. The oval-shaped rug resembles both a braided rug and a crocheted rug.
Making Rugs With Old Toothbrushes
Toothbrush Rugs Information for making Toothbrush Rugs (Scandinavian Loop Weaving). All About Fabric - Toothbrush Rugs This article covers selecting, tearing and cutting fabric as well as ironing and joining fabric strips.
How To´s - Toothbrush Rugs