WordPress
Manage WordPress Sites from One Dashboard – ManageWP.com. Members. Members is a plugin that extends your control over your blog.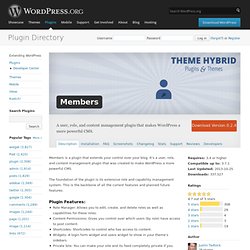 It's a user, role, and content management plugin that was created to make WordPress a more powerful CMS. The foundation of the plugin is its extensive role and capability management system. This is the backbone of all the current features and planned future features. Plugin Features: WP-Members. WP-Members™ is a plugin to make your WordPress® blog a membership driven site.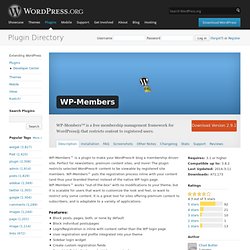 Perfect for newsletters, premium content sites, and more! The plugin restricts selected WordPress® content to be viewable by registered site members. WP-Members™ puts the registration process inline with your content (and thus your branded theme) instead of the native WP login page. WP-Members™ works "out-of-the-box" with no modifications to your theme, but it is scalable for users that want to customize the look and feel, or want to restrict only some content. It is a great tool for sites offering premium content to subscribers, and is adaptable to a variety of applications. WordPress Access Control. Now with shortcodes and post/custom-post-type support, as well as a comprehensive admin interface for setting plugin defaults WordPress Access Control is a plugin designed to integrate into membership sites where certain pages, posts and custom post types should only be available to members of the site.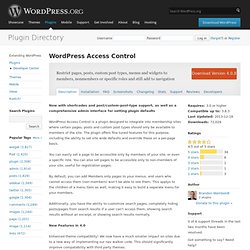 The plugin offers fine tuned features for this purpose, including the ability to set site wide defaults and override these on a per-page basis. You can easily set a page to be accessible only by members of your site, or even a specific role. Events Manager. Events Manager is a full-featured event registration plugin for WordPress based on the principles of flexibility, reliability and powerful features!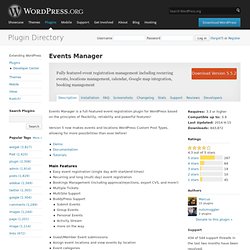 Version 5 now makes events and locations WordPress Custom Post Types, allowing for more possibilities than ever before! Main Features. Premium WordPress Themes | Elegant Themes. ThemeForest. WooThemes | Premium WordPress Themes. WordPress Plugin - Typekit Fonts for WordPress. Typekit offer a service that allows you to select from a range of hundreds of high quality fonts for your WordPress website.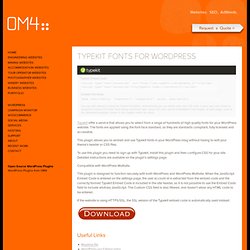 The fonts are applied using the font-face standard, so they are standards compliant, fully licensed and accessible. This plugin allows you to embed and use Typekit fonts in your WordPress blog without having to edit your theme's header or CSS files. To use this plugin you need to sign up with Typekit, install this plugin and then configure CSS for your site. Detailed instructions are available on the plugin's settings page. Compatible with WordPress Multisite.
---