Social Media
Want People to Return Your Emails? Avoid These Words [INFOGRAPHIC] Next time you write an email subject line, think twice about the words you're using.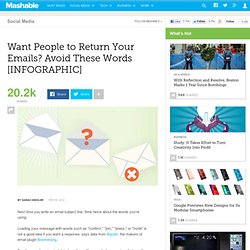 Loading your message with words such as "confirm," "join," "press," or "invite" is not a good idea if you want a response, says data from Baydin, the makers of email plugin Boomerang. Baydin recently extracted data from five million emails its users handled — either using the company's "email game" or scheduled for later via Boomerang. Mobile Screenfest - International Mobile Festivals. The Pocket Films Festival Japan.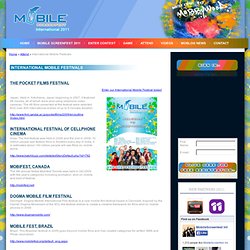 Held in Yokohama, Japan beginning in 2007, it featured 48 movies, all of which were shot using cellphone video cameras. The 48 films presented at the festival were selected from over 400 international entries of up to 5 minutes duration. JESS3. Projects. The Smartest way to surf the stream. Infographic: A Look At The Size And Shape Of The Geosocial Universe In 2011.
Thanks to Jesse Thomas of interactive design agency JESS3, we now have an updated look at the structure of the geosocial universe as it exists in anno domini 2011.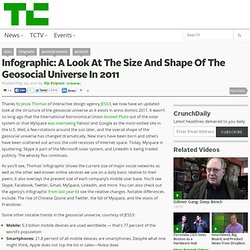 It wasn't so long ago that the International Astronomical Union booted Pluto out of the solar system or that MySpace was overtaking Yahoo! And Google as the most-visited site in the U.S. Well, a few rotations around the sun later, and the overall shape of the geosocial universe has changed dramatically. New stars have been born and others have been scattered out across the cold recesses of Internet space. Today, Myspace is sputtering, Skype is part of the Microsoft solar system, and LinkedIn is being traded publicly. Everything You Missed From the Mashable Media Summit [PICS & VIDEOS] This year's sold-out Mashable Media Summit showcased an eclectic range of content delivered by leaders in the media and technology industry.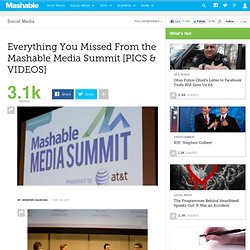 Held at The TimesCenter in New York City, the conference attracted industry professionals from around the world who came to learn about the latest trends and innovations in media, journalism and advertising. A dynamic lineup of speakers shared original and inspiring content on stage throughout the day. Mashable's senior vice president of content and executive editor, Adam Ostrow, interviewed Facebook's journalist program manager Vadim Lavrusik on how the social network's new features can help journalists.
President and chief creative officer of Grey New York, Tor Myhren, proved to be a talented storyteller as he shared the experience of losing his virginity in an analog world.
---