Productivity
Get flash to fully experience Pearltrees
<div id="noscript-padding"></div> Stack Exchange log in | chat | meta | about | faq
Wednesday 14th January 2009 Why git? Why bother using git? This is something of a loaded question. The first question this asks is: why use source control? There are various reasons, but the simplest is to keep hold of old versions, in case you need some piece of code that you've deleted, or if you've introduced a bug and need to revert a change.
This article was originally posted during the first week of 43 Folders' existence, and, pound for pound, it remains our most popular page on the site. Please be sure to also visit related pages , browse our GTD topic area , plus, of course you can search on GTD across our family of sites. I'll be talking a lot here in coming weeks about Getting Things Done , a book by David Allen whose apt subtitle is "The Art of Stress-Free Productivity." You've probably heard about it around the Global Interweb or have been buttonholed by somebody in your office who swears by GTD . (It probably takes a backseat only to the Atkins Diet in terms of the number of enthusiastic evangelists: sorry about that.) Like I did the other day with Quicksilver , I wanted to provide a gentle, geek-centric introduction to Getting Things Done , so that you can think about whether it might be right for you.
<div id="noscript-padding"></div> Stack Exchange log in | chat | meta | about | faq Personal Productivity beta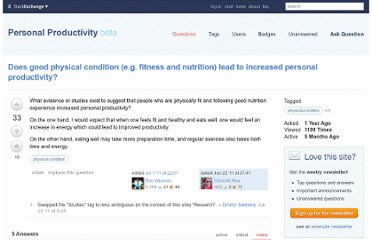 You asked about evidence and I may not provide scientific evidence, but can provide my personal notes and experience. You can consider that as a sample type of answer, because there will be many people like me in this world (I cannot be such a unique sample after all :)) I have seen many successful people, and most of them (about 80%) appear fit.
Cet article participe à l'évènement booster votre efficacité organisé par Cédric Vimeux du blog Virtuose-marketing. Si mon article vous interpelle et vous aide, votez pour lui ici . C'est le n°15.