Tutorials
thank you so much for the sweater love . i'm happy that the pockets were liked. if you'd like to try adding pockets to your knits too, here is a photo tutorial of how i've done it. ready? here we go... here is what you'll need to make your pocket(s). i've used contrasting color wool for the inside, but if you'd rather keep to all one color, then disregard the second color. for demonstration purposes i've made a swatch. before cutting into your sweater, i would suggest always making a swatch to practice on first, you'll want to determine where the pocket should be, then find the center on the sweater (swatch). it's easy to just look, but if you like you can add pins to mark the placement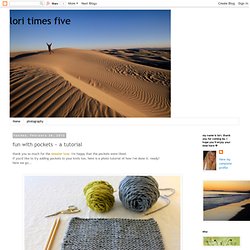 fun with pockets ~ a tutorial
First, I wanted to go over "Multiple of x stitches, plus x". This isn't an abbreviation, however it is frequently seen with stitch patterns. For example, Bee Stitch is worked over a Multiple of 2 stitches, Plus 1. So how many stitches does this mean to cast on?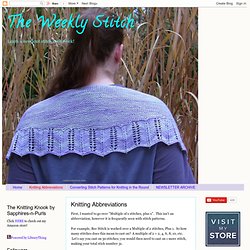 Knitting Abbreviations | The Weekly Stitch
The Knitting Fiend/ Diet Diary » Blog Archive » How to design a sleeve cap.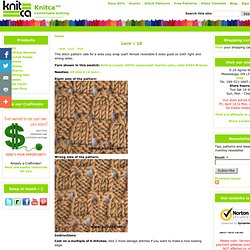 This stitch pattern calls for a wide cozy wrap scarf. Almost reversible it looks good on both right and wrong sides. Yarn shown in this swatch: Knitca Lovely 100% superwash merino yarn, color 0464 Bronze . Needles: US size 6 (4 mm) . Cast on a multiple of 6 stitches. Add 2 more selvage stitches if you want to make a nice-looking edge.
Lace :: 10 | Knitca™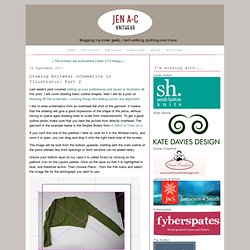 Drawing knitwear schematics in Illustrator: Part 2 - Jen Arnall-Culliford Knitwear
Last week's post covered setting up your preferences and layers in Illustrator . In this post, I will cover drawing basic outline shapes, then I will do a post on finishing off the schematic, covering things like adding curves and alignment . I like to draw schematics from an overhead flat shot of the garment.
One of the many jobs that I've done while working on A Stitch in Time 2 is drawing schematics for each of the garments. I thought it might be helpful to do a quick run-down on drawing these, as it seems to be a question that pops up from time to time on designer blogs and in the designer's group on Ravelry . I am using Adobe ® Creative Suite 5 ® (CS5) and my copy of Illustrator ® is version 15.0.0.
Drawing knitwear schematics in Illustrator: Part 1 - Jen Arnall-Culliford Knitwear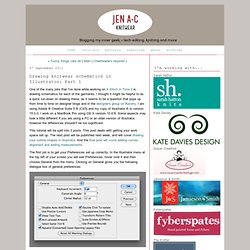 Jen Arnall-Culliford Knitwear: Technical Editing
Today's post covers refining your outline shape - adding curves and details - as well as adding measurements and aligning. This completes the series on using Illustrator to draw knitwear schematics. The first two posts in this series covered setting up preferences and layers in Illustrator , and drawing basic outline shapes .
Member Desktop
Wraps per inch method | Wool Festival
How to buy enough yarn using the Wraps Per Inch method Ahhh, you're looking at a fine skein of yarn, and don't yet have a pattern or design. It's on sale, it's calling your name.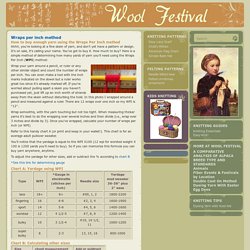 Weaving in Ends
I have some good news. And, I have some bad news. Good news first: there is no one right way to weave in your ends. So, chances are, you haven't been doing it wrong!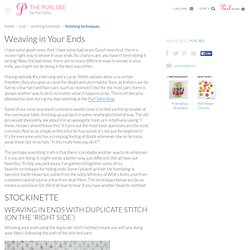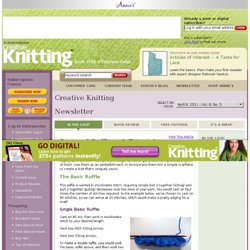 If you're looking to do some major spring stash cleaning, try making some of these easy ruffles. This tutorial will show you a few easy methods, each resulting with a slightly different look. You can make single ruffles, or get a little daring and add layers of them. Use them as an embellishment, or incorporate them into a simple scarflette to create a look that's uniquely yours.
Creative Knitting Newsletter
Videos Tutoriales DROPS
Knitting Videos
One of my favorite designs from the new winter collection is Grettir – a unisex Icelandic yoked pullover that I designed late last summer, after returning from my first-ever trip to beautiful Iceland. The Icelandic yoke is a celebrated regional aesthetic that has seen increased global popularity in recent years.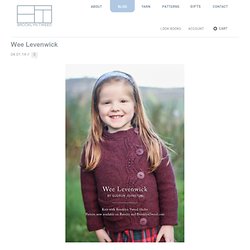 Short Rows: Shadow Wraps
O ver the last couple weeks I've reviewed the plain wrap , the yarn over wrap , the Japanese wrap , and the double stitch wrap . Finally we come to my little unvention, the shadow wrap. Thank you to Penny, Aurelia & Alice for their eagle sharp eyes! The instructions have been updated.
Knitting Videos
includes 13 illustrations, click any illustration to enlarge * For those following along with the 8-trick Pocket Hat KAL , there are no pattern instructions in today's post. Rather, this is a general post about how to make ribbing without those icky dots, a trick which will be used on the hats in a future installment. RIBBING WITH NO ICKY DOTS the interplay of texture and color Knitting contains many mysteries.
TECHknitting
knitty.com
Using 1 strand each of A, B and C held together, CO 7 sts. Work 4 rows in Seed Stitch. Next Row [RS]: K1, p1, k1, yo, k1, yo, k1, p1, k1. 9 sts.