Social Media Manager
Editor's note: A version of this article previously appeared at KISSmetrics.com. Social media is everywhere. It's in our homes, places of worship, schools and, of course, our businesses. Everywhere you look, people are using social media and are talking about it. And it seems that every week a new type of social site pops up.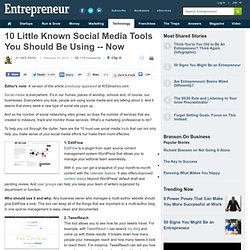 By Bliss Hanlin, Community Manager at eModeration (and Pinner extraordinaire) As Pinterest growth skyrockets , so follows the number of tools available to help us manage our content, understand our metrics, and be better pinners. Below are just a few of the tools and services now available for use with Pinterest that are especially handy for brands, marketers, and Pinterest devotees. ( Are we crazy for Pinterest? Little bit!
19 Tools for Pinterest Pros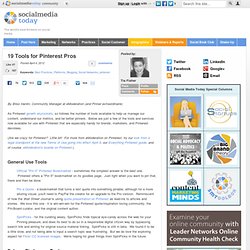 Ogni giorno spunta una novità col­le­gata a Pin­te­rest . Que­sto social, cre­sce giorno dopo giorno, inte­grando nuove dina­mi­che, stru­menti e metri­che per utenti e brand. L'ultima novità è quella delle coper­tine sulle board , che si pos­sono impo­stare in modo molto sem­plice sce­gliendo tra le imma­gini all'interno della car­tella. Assieme alle novità gra­fi­che nascono esi­genze di misu­ra­zione e per­so­na­liz­za­zione con­nesse a que­sto social. Esi­stono in que­sto senso alcuni tool molto utili in ottica con­tent cura­tion .
Pinterest e content curation: 19 tool per pinnare meglio e diversamente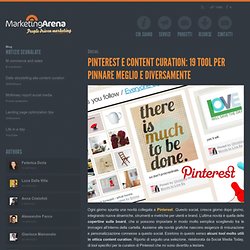 Social Media & Customer Experience Management notizie dei gruppi
Free Downloads From The Social Media Management Handbook
As part of the ongoing Mashable Awards , we're taking a closer look at each of the nomination categories .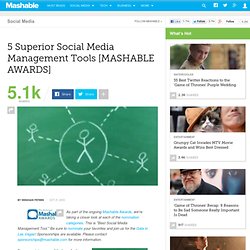 Metrics posts, articles, and infographics
Le qualità per essere un Social Media Manager |
Il Social Media Manager è una figura importante per tenere sotto controllo tutta la strategia improntata sui Social Media che si è realizzata per un bran d o un personal brand . Spesso, sbagliando, viene confusa con una figura quasi improvvisata che cerca di tenere sott'occhio tutte le fasi della strategia. Invece non è così, il Social Media Manager è un professionista che ha, anzi deve avere delle caratteristiche particolari, basilari direi, affinchè il lavoro che si realizza sia efficace. E quali sono queste qualità, queste caratteristiche ?Ci viene in aiuto un post su Social Times , a sua volta ispirato da Fundraising Success Magazine che dal libro " Social Media for Social Good : A How-To Guide for Nonprofits" traccia quelle caratteristiche che devono essere presenti per poter fare questo mestiere. Le ho adattate ed elaborate, quindi vediamo quali sono.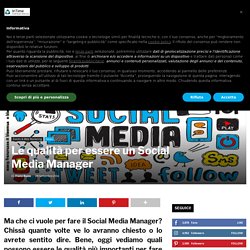 Social Media Manager: Un Lavoro Impegnativo
Un'infografica descrive la giornata "tipo" di un Social Media Manager Nell'immaginario comune, la figura del Social Media Manager è abbastanza fumosa, e spesso si ha la sensazione che sia una persona che passa tutto il tempo a propria disposizione online, fondamentalmente divertendosi. Gestire la presenza online, su Social Network , di un'azienda, però, è un lavoro decisamente complesso, e l'immagine qui a lato riassume la giornata tipica di chi ha scelto questa professione. I dati sono ovviamente generalizzati, e possono variare da persona a persona e da azienda ad azienda (primariamente relazionato alle richieste delle aziende), ma fanno comprendere la complessità e l'impegno che stanno dietro questo nuovo tipo di figura professionale. Il Social Media Manager, infatti, deve non solo garantire una presenza all'azienda sui Social Network , ma fondamentalmente dare al "pubblico" l'immagine dell'azienda che questa vuole trasmettere di sé stessa.