Visual & light novels
Unlimited Novel Failures |
Baka-Tsuki ePUB Generator || For the moment...
Seinarukana -The Spirit of Eternity Sword 2- is is a Japanese visual novel / SRPG developed by Xuse (Honjouzou) in 2007. It is the direct sequel of Eien no Aselia -The Spirit of Eternity Sword- . Seinarukana tells the tale of Nozomu, a regular high school student who is troubled by a recurring nightmare lately, and his friends. While they were preparing for the upcoming festival, their school gets attacked by strangely dressed girls bearing swords and spears.
Seinarukana - TLWiki
Fate/Hollow Ataraxia cover Bazett Fraga McRemitz, a member of the Mages' Association, wakes on the fourth day of the 5th Heaven's Feel with a new servant, Avenger, and no memory of what happened to her beforehand. Together, they set off to fight and win the war. (VNDB & Wikipedia) Latest partial release (3.1) and current progress (text only).
Fate/Hollow Ataraxia - TLWiki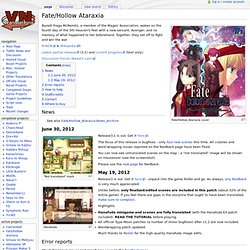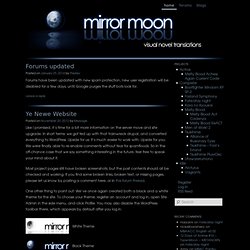 Like I promised, it's time for a bit more information on the server move and site upgrade. In short terms: we got fed up with that trainwreck drupal, and converted everything to WordPress. Upside for us: It's much easier to work with. Upside for you: We were finally able to re-enable comments without fear for spamfloods.
Katawa Shoujo is a bishoujo-style visual novel set in the fictional Yamaku High School for disabled children, located somewhere in modern Japan. Hisao Nakai, a normal boy living a normal life, has his life turned upside down when a congenital heart defect forces him to move to a new school after a long hospitalization. Despite his difficulties, Hisao is able to find friends—and perhaps love, if he plays his cards right.
Katawa Shoujo ◊ About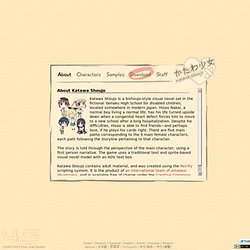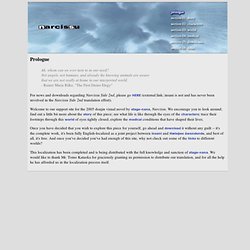 narcissu.insani.org
Ah, whom can we ever turn to in our need? Not angels, not humans, and already the knowing animals are aware that we are not really at home in our interpreted world. - Rainer Maria Rilke, "The First Duino Elegy" For news and downloads regarding Narcissu Side 2nd, please go HERE (external link; insani is not and has never been involved in the Narcissu Side 2nd translation effort). Welcome to our support site for the 2005 doujin visual novel by stage-nana, Narcissu. We encourage you to look around; find out a little bit more about the story of this piece; see what life is like through the eyes of the characters; trace their footsteps through this world of eyes tightly closed; explore the medical conditions that have shaped their lives.
Translations » Downloads
Zeiva Inc - Original Anime Games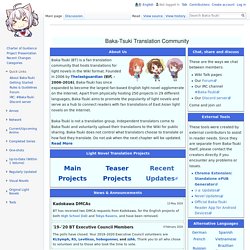 Welcome to the Baka-Tsuki Translation Community Wiki! Official Baka-Tsuki Reader App for Android Devices I'm happy to announce that Baka-Tsuki has now released a App to reader all our projects on any Android devices running version 1.6X or higher, available on the Android Market, search for "BakaReader EX". Please visit our Official Forum topic for more details! A side note For new users who have been mistakenly banned, both on the wiki and in the forum, please post in this thread and we will sort it out as quickly as possible.
Utsuro no Hako to Zero no Maria - Baka-Tsuki - Waterfox
The Utsuro no Hako to Zero no Maria series is also available in the following languages: (Note: Translation progress varies for each version.) Volume 6 Cover Utsuro no Hako to Zero no Maria (空ろの箱と零のマリア, The Empty Box and The Zeroth Maria) is a light novel series written by Eiji Mikage and illustrated by Tetsuo (formerly known as 415). While Utsuro no Hako, often abbreviated as Hakomari, is Eiji's fourth publication, it is the first to feature illustrations. A teaser for one of his earlier works can be viewed here.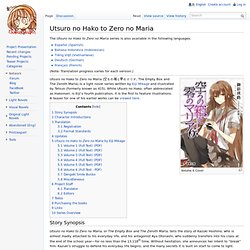 Cover Gekkou is available in the following languages: Gekkou (月光 "Moonlight") is a light novel written by Natsuki Mamiya (間宮夏生) and illustrated by Shiromiso (白味噌).
Gekkou
Fate/Zero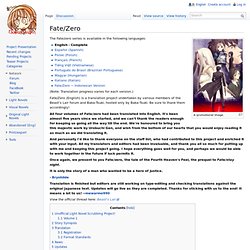 A promotional image. The Fate/zero series is available in the following languages: (Note: Translation progress varies for each version.) Fate/Zero (English) is a translation project undertaken by various members of the Beast's Lair forum and Baka-Tsuki, hosted only by Baka-Tsuki. Be sure to thank them accordingly!
Mondaiji-tachi ga isekai kara kuru soudesu yo
Volume 1 Cover Mondaiji-tachi ga Isekai Kara Kuru Sou Desu yo? (問題児たちが異世界から来るそうですよ? lit. Problem Children are Coming from Another World, Aren't They?) also known as Mondaiji (問題児) for short is a Japanese light novel series written by Tatsunoko Tarou and illustrated by Amano Yuu.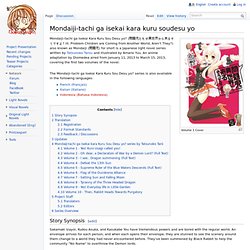 Volume 1 Cover Sword Art Online (ソードアート・オンライン, Sōdoāto Onrain) is a light novel series written by Reki Kawahara and illustrated by abec. The series has currently 13 volumes. It was written as a Web novel with the penname "Kunori Fumio" since 2002, and was published in 2009 at the same time as Accel World, in the label Dengeki Bunko.
Sword Art Online
Zero no Tsukaima
Vol.One Cover The Zero no Tsukaima series is also available in the following languages: (Note: Translation progress varies for each version.) Visit the Baka-Tsuki Project Forum to discuss this series and other information from Baka-Tsuki. Updates
Volume 1 cover Silver Cross and Draculea is a light novel series written by Totsuki Yuu (十月ユウ) and illustrated by Yasaka Minato (八坂 ミナト). Published by Fujimi Fantasia Bunko, the series has concluded with 5 volumes. Story Synopsis "Impossible... Why are you not following my orders!?
Silver Cross and Draculea
Hidan no Aria
Chrome Shelled Regios
Densetsu no Yūsha no Densetsu
Mahouka Koukou no Rettousei