Freelance
Online SEO Guide: Google Stop Words - A Comprehensive List Of Words Google Ignores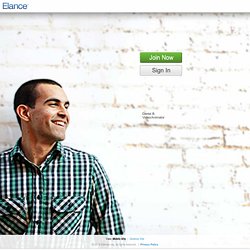 Find freelancers at the world's most-trusted online workplace. Elance is where businesses go to find, hire, collaborate with and pay leading freelancers from more than 180 countries. With a community of over 3 million freelancers and 1 million businesses, on Elance it's easy to hire a top freelancer. Find a developer, freelance designers or other talented freelancers with the most in-demand skills.
Klazema Communications: Projects
Choose from titles including Medal of Honor: Warfighter, Fallout: New Vegas Ultimate Edition, Batman: Arkham City and many more. Latest generation at the lowest price we could find. 20GB console bundled with six games, including COD: Modern Warfare 3, Halo Reach, Ghost Recon, and Madden NFL 12. Plus get up to 50 percent off printers and accessories. Save even more with this $10 off $60 code: WINTER14 $17 under the lowest price we could find.