Opt Out
Return Path - The Global Leader in Email Intelligence. LashBack | Marketing Exposed. How to delete and control cookies. For Consumers | www.aboutads.info. Make choices about interest-based ads from participating companies All advertising seeks to target the right products to the right audience, and makes possible low- or no-cost content and services.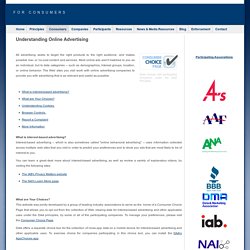 Most online ads aren't matched to you as an individual, but to data categories -- such as demographics, interest groups, location, or online behavior. Keep My Opt-Outs. Opt Out From Online Behavioral Advertising By Participating Companies (BETA) Network Advertising Initiative. Opt Out of Interest-Based Advertising NAI members are committed to transparency and choice.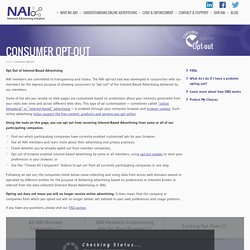 The NAI opt-out tool was developed in conjunction with our members for the express purpose of allowing consumers to "opt out" of the Interest-Based Advertising delivered by our members. Some of the ads you receive on Web pages are customized based on predictions about your interests generated from your visits over time and across different Web sites. This type of ad customization — sometimes called "online behavioral" or "interest-based" advertising — is enabled through your computer browser and browser cookies. Such online advertising helps support the free content, products and services you get online. Consumer. Legalese.
Cyberspace Privacy. NeWeb Privacy.
---