FUN STUFF
You are not currently logged on. To Log On Click Here Do you ever wonder where that paper money in your pocket has been, or where it will go next? This is the place to find out. All you need to do is enter the serial number of any Canadian Bank Note, and your current Canadian Post Code or USA ZIP code in the box below. If you are from the U.S.A, be sure to check out Where's George?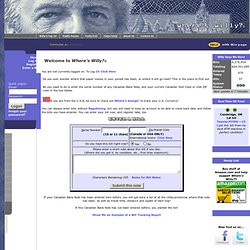 Where's Willy? ® 2.4
Hello and welcome to the EuroBillTracker.com website! EuroBillTracker (EBT) is an international non-profit volunteer project dedicated to tracking Euro notes around the world. Why should I track my notes? Because it's fun! Have you ever wondered about the story the notes in your wallet would have to tell?
EuroBillTracker - Follow your Euro notes in their tracks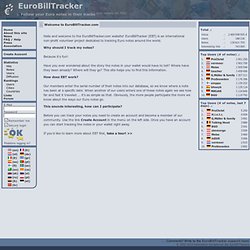 Join CurrencyPath Forgot your password? CurrencyPath enables you to track currency notes as they travel from hand to hand all over the world. 142 members currently tracking 7412 currency notes Recently Added Currency
Currency Path - Track Currency Notes - Bank Note Tracking
A Glossary of Gestures for Critical Discussion
Stormtroopers 365 (etc.)