Browsers
Print Friendly & PDF. Pearltrees Search. Internote: Stick Notes To Web Pages. If you love sticky notes for Windows 7 then you might need a more useful version of sticky notes that lives right in your browser.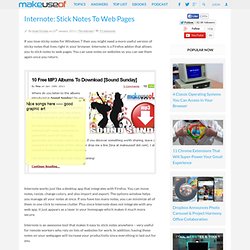 Internote is a Firefox addon that allows you to stick notes to web pages. You can save notes on websites so you can see them again once you return. Internote works just like a desktop app that integrates with Firefox. iZito (5 search angine at once) Home Alles over iZito De kracht van iZito iZito doorzoekt een veel groter deel van de informatie op internet dan de andere afzonderlijke zoekmachines.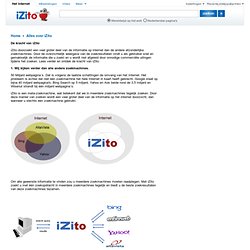 Door de overzichtelijk weergave van de zoekresultaten vindt u als gebruiker snel en gemakkelijk de informatie die u zoekt en u wordt niet afgeleid door onnodige commerciële uitingen tijdens het zoeken. Lees verder en ontdek de kracht van iZito. What Is Cooliris. Cooliris | Discover More. Opera. Chrome - Get a fast new browser. For PC, Mac, and Linux. Chrome. Firefox. Firefox Add-On Collusion Shows Who's Tracking You Online. If you're concerned about advertisers tracking you across the Web, Mozilla can now help you see exactly who's following you online with a new experimental Firefox add-on called Collusion.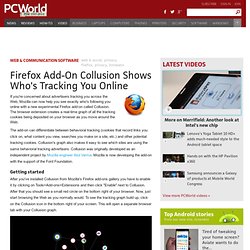 The browser extension creates a real-time graph of all the tracking cookies being deposited on your browser as you move around the Web. The add-on can differentiate between behavioral tracking (cookies that record links you click on, what content you view, searches you make on a site, etc.) and other potential tracking cookies.
---