Theatre
Memorable Movie Monologues | Scoreback | 28 likes | 49 listens
Six Tips to Help You Remember Your Lines | Terry Fox Theatre - StumbleUpon
10 Acting Improv Tips | Made Manual
Inc. - Power Search
Shakespeares Words: List of Words Shakespeare Invented
How to do a Credible French Accent - LearnTheAccent.com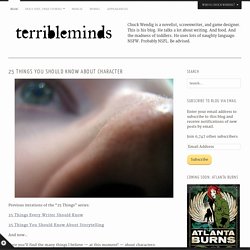 25 Things You Should Know About Character
Previous iterations of the "25 Things" series: 25 Things Every Writer Should Know 25 Things You Should Know About Storytelling And now…
Script Archive: 10 Minute Plays
Tech Theatre Links --{Techie Dictionary}--
ETC | Explore the Source Four | Photometrics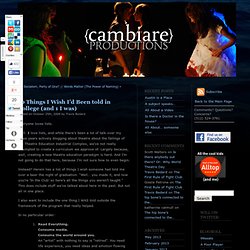 10 Things I Wish I&d Been told in College (and 1 I was) | Cambiare...
Everyone loves lists. Well. I love lists, and while there's been a lot of talk over my three years actively blogging about theatre about the failings of the Theatre Education Industrial Complex, we've not really attempted to create a curriculum we approve of. Largely because, well, creating a new theatre education paradigm is hard. And I'm not going to do that here, because I'm not sure how to even begin.
A 1945 Code of Ethics for Theatre Workers Surfaces | LA STAGE TIMES
Mayor Eric Garcetti "was proud to host the Los Angeles arts community at City Hall to hear ideas about showcasing LA as the Creative Capital of the World," according to his Facebook page. His social media writers were referring to his appearance before a roomful of arts and foundation leaders last week. The Facebook post didn't take note of the other half of Garcetti's message — that he won't provide any additional city money for the arts.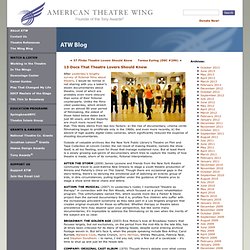 After yesterday's lengthy survey of fictional films about theatre, I would be remiss in not sharing with you a baker's dozen documentaries about theatre, most of which are probably even more obscure than some of their fictional counterparts. Unlike the films cited yesterday, which stretch over an almost 80 year period of filmmaking, the oldest of those listed below dates back just 40 years, and the majority are much more recent than that. This likely stems from two key factors: a) the rise of documentary, cinema verite filmmaking began to proliferate only in the 1960s, and even more recently, b) the advent of high quality digital video cameras, which significantly reduced the expense of shooting documentaries. Outside of valuable archives like the New York Public Library's Theatre on Film and Tape Collection at Lincoln Center, the net result of making theatre, namely the show itself, is all too fleeting, even for those that manage sustained runs.
13 Docs That Theatre Lovers Should Know
The Broadway Musical Home - Urinetown
About the Show A musical satire of the legal system, capitalism, social irresponsibility, populism, bureaucracy, corporate mismanagement, municipal politics and musical theatre itself. Story: In an attempt to regulate water consumption, Urinetown has outlawed the use of private toilets. The citizenry must use public, pay-per-use amenities owned and operated by Urine Good Company, a malevolent corporation run by the corrupt Caldwell B. Cladwell. Cast and Creative Team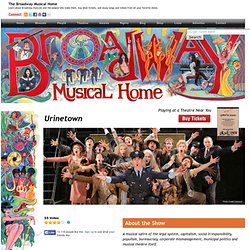 Digital Librarian: Performing Arts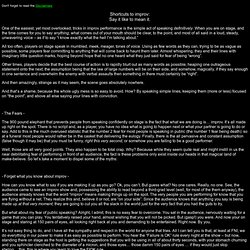 Shortcut ot Improv: Say it like you mean it
Don't forget to read the Disclaimers Shortcuts to improv: Say it like to mean it. One of the easiest, yet most overlooked, tricks in improv performance is the simple act of speaking definitively. When you are on stage, and the time comes for you to say anything, what comes out of your mouth should be clear, to the point, and most of all said in a loud, steady, unwavering voice – as if to say "I know exactly what the hell I'm talking about." All too often, players on stage speak in mumbled, meek, meager, tones of voice.
This week's New/Upcoming Release of CDs, Books, & DVDs Recap - updated 1/14/14 December 26 Regional Reviews: Washington, D.C. Gypsy December 24 Regional Reviews: San Francisco Avenue QRuss Lorenson Christmas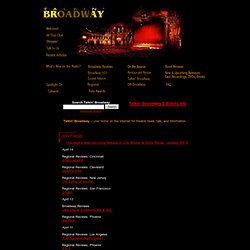 Talkin Broadway - Broadway & Off-Broadway theatre discussion, cast...
TheatreHistory.com
Stageplays.com: The Worlds Largest Collection of Plays and Musicals | Buy...