Pythontools
Stack Exchange sign up | log in | careers 2.0 | Stack Overflow Ask Question Tell me more × Stack Overflow is a question and answer site for professional and enthusiast programmers.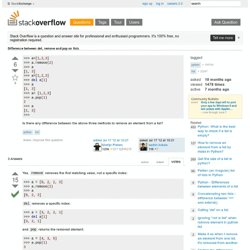 python - Difference between del, remove and pop on lists
sh (previously pbs) is a full-fledged subprocess interface for Python that allows you to call any program as if it were a function: from sh import ifconfigprint(ifconfig("wlan0")) Output: wlan0 Link encap:Ethernet HWaddr 00:00:00:00:00:00 inet addr:192.168.1.100 Bcast:192.168.1.255 Mask:255.255.255.0 inet6 addr: ffff::ffff:ffff:ffff:fff/64 Scope:Link UP BROADCAST RUNNING MULTICAST MTU:1500 Metric:1 RX packets:0 errors:0 dropped:0 overruns:0 frame:0 TX packets:0 errors:0 dropped:0 overruns:0 carrier:0 collisions:0 txqueuelen:1000 RX bytes:0 (0 GB) TX bytes:0 (0 GB)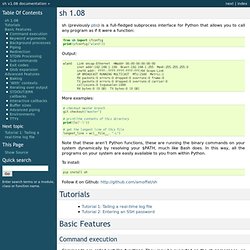 sh 1.02 — sh 1.02 documentation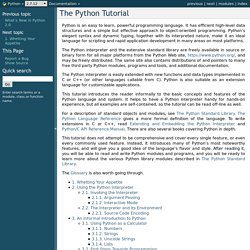 Python is an easy to learn, powerful programming language. It has efficient high-level data structures and a simple but effective approach to object-oriented programming. Python's elegant syntax and dynamic typing, together with its interpreted nature, make it an ideal language for scripting and rapid application development in many areas on most platforms.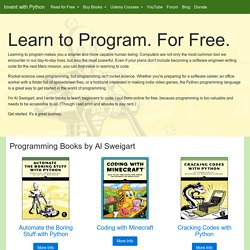 Amazon Reviews and Testimonials "This book is totally appropriate for someone who has never programmed before. Everything is explained, right from the ground up, in a lively, interesting style which doesn't dumb things down." "I am a college professor who occasionally teaches courses for liberal arts students. [...] I offered a game programming course in the Python programming language using Sweigart's book.
Learn Anything | Learnemy
Required tools For the software dependencies needed to execute the program described in this article, please refer to the list from part I of this series of articles. You will also need: For installation and use of Python-Gnome and LibGlade please refer to Part I.
lf266, SoftwareDevelopment: Developing Applications for Gnome with Python (Part 3)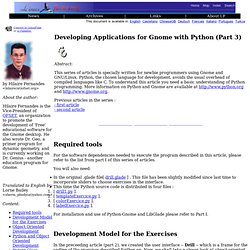 Python Exercises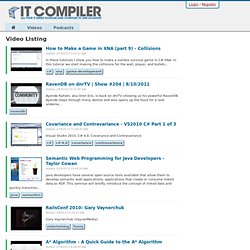 In these tutorials I show you how to make a zombie survival game in C# XNA. In this tutorial we start making the collisions for the wall, player, and bullets... Ayende Rahien, aka Oren Eini, is back on dnrTV showing us his powerful RavenDB. Ayende steps through many demos and also opens up the hood for a look underne... ravendb Visual Studio 2010, C# 4.0, Covariance and Contravariance
Result