PC
Candela (millicandela) to lumen conversion wizard. This calculator allows you to do an approximate conversion between millicandelas (or candelas) and lumens for an LED where you know the beam angle.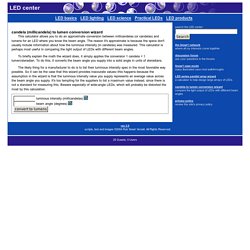 The reason it's approximate is because the specs don't usually include information about how the luminous intensity (in candelas) was measured. This calculator is perhaps most useful in comparing the light output of LEDs with different beam angles. To briefly explain the math the wizard does, it simply applies the conversion 1 candela = 1 lumen/steradian. To do this, it converts the beam angle you supply into a solid angle in units of steradians. The likely thing for a manufacturer to do is to list their luminous intensity spec in the most favorable way possible. AMPOULE A LED 7 COULEURS. La carte mère Mini-ITX Intel G45 ultime, ou presque ! Dernière bombe de chez Intel, la DG45FC est une carte au format Mini-ITX (17 cm de coté) de dernière génération embarquant le chipset G45 avec son circuit graphique DMA X4500 HD.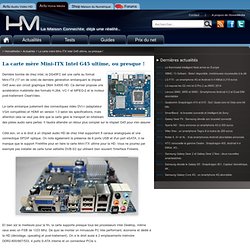 Ce dernier propose une accélération matérielle des formats H.264, VC-1 et MPEG-2 et le moteur post-traitement ClearVideo. La carte embarque justement des connectiques vidéo DVI-I (adaptateur VGA compatible) et HDMI en version 1.3 selon les spécifications, mais attention cela ne veut pas dire que la carte gère le transport en bitstream des pistes audio sans pertes. Il faudra attendre un retour plus complet sur le chipset G45 pour s'en assurer. Jetway - Tech.On The Move - IPC Board - NC81-LF. Jetway J9F2-Extreme (for Core Duo/Core Single) *new* Morum sur mini-ITX et HD. Il y a des alimentation spéciales minuscules de faible puissance, la plus petite étant la pico-PSU (va voir sur cartft.com ou mini-itx.com ) oui, l'adaptateur en question s'appel un convertisseur DC/DC. la pcio-PSU est justement un convertisseur DC/DC. une vrai alim sans bloc externe ?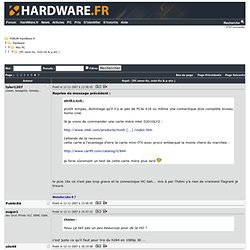 Flex-ATX, démonté. Mini-itx, Mini alimentations, Carte Riser, Racks, Mini Barebones, Avec 3 lan ou +, Avec 4 ports COM, pcmcia, Ecrans, mini-pci, Nano-itx, Panel PC, mini-agp, A encastrer, DOM, SSD, Avec Afficheur, Clie. Tailles cartes meres. FlexATX is a motherboard form factor derived from ATX.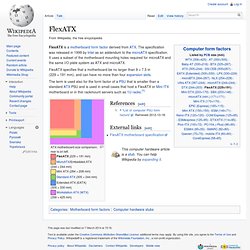 The specification was released in 1999 by Intel as an addendum to the microATX specification. It uses a subset of the motherboard mounting holes required for microATX and the same I/O plate system as ATX and microATX. FlexATX specifies that a motherboard be no larger than 9 × 7.5 in (229 × 191 mm), and can have no more than four expansion slots. ATX motherboard size comparison; rear is on left. FlexATX (229 × 191 mm) Test VIA EPIA EX15000G. Assez discret dans le monde des processeurs et des cartes mères, VIA revient sur la pointe des pieds avec une plateforme au format Mini-ITX dédiée à l'audio/vidéo.
Basé sur le nouveau processeur VIA C7 Esther et le chipset CX700M2, VIA vise clairement le grand public et plus particulièrement le PC Media Center. Avec une taille si réduite, cette nouvelle plateforme dispose-t-elle de suffisamment d'arguments pour séduire les utilisateurs ' C'est ce que nous vous proposons de découvrir dans cet article. GeeXboX, transformer son PC en platine multimédia : Compatibilité du matériel. La GeeXboX est en fait une solution logicielle permettant de créer un lecteur multimédia autonome, qui se veut aussi simple d'utilisation qu'une véritable platine DivX / DVD de salon.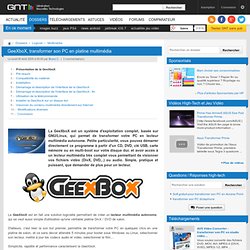 D'ailleurs, c'est bien la son but premier, permettre de transformer votre PC en quelques clics en une platine de salon, et ce sans devoir attendre 5 minutes pour booter sous Windows ou Linux, sélectionner son lecteur, mettre à jour les codecs audio et vidéo, sélectionner le film,... Simplicité, rapidité et performance caractérisent la GeeXboX. Image:Video Standards.svg - Wikipédia. Note: The resolution for PAL is typically listed as 720x576, which is the 1.067 aspect pixel ratio.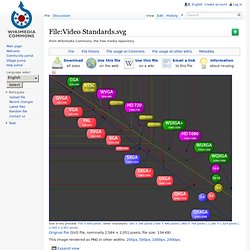 The square APR for PAL is 768x576. Similarly, the resolution for NTSC is typically listed as 720x480; of which the first and last 8 columns are "overscan" to avoid analog transients, and not normally visible. "Square-pixel" NTSC would be 640x480. NTSC and PAL screens are both approximately 4:3. Summary[edit] Store - mini-itx motherboards. Our most powerful dual LAN board!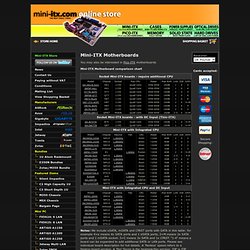 Zotac Z68-ITX-A-E Mini-ITX board supporting Intel 2nd Gen Core FCLGA1155 processors; 7.1-channel Realtek ALC892 Audio; Up to 16GB of DDR3 1333MHz RAM; 2x Realtek 8111E Gigabit LAN; 4 SATA ports: 2x SATA 6Gb/s and 2x SATA 3Gb/s with RAID 0, 1, 0+1, 5; 2x HDMI, Mini DisplayPort graphics outputs; S/PDIF Optical output; 4x USB 3.0 (inc 2 internal); 4x USB 2.0 (inc 2 internal), 802.11b/g/n Mini-PCI Express WiFi Module and Antenna.
Rear Panel Connectors: 4x USB 2.0; 2x Wifi Antenna Connectors (Antennas provided); Clear CMOS Switch; Combined PS2 Mouse/Keyboard port; 2x USB 3.0; 2x Gigabit LAN; 2x HDMI Ports; Mini Display Port (Mini DP to DP adapter provided); 5x 3.5mm audio jacks; Optical S/PDIF Out. Store - Intel Atom Mini-ITX boards. Jetway JNC96-525 Atom motherboard with 12V DC Input.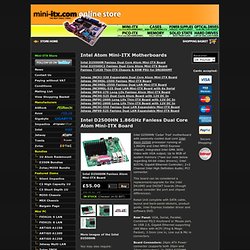 Integrated Fanless 45nm 1.83GHz Intel Atom D525 processor with integrated Intel GMA 3150 Video. Intel NM10 Express Platform Controller Host (PCH) Chipset. Up to 4GB of DDR2 system memory; Realtek 8111DL 1000Base-T Gigabit Ethernet and High Definition Audio. Store - mini-itx motherboards. Mini-ITX Motherboards You may also be interested in Pico-ITX motherboards Mini-ITX Motherboard comparison chart.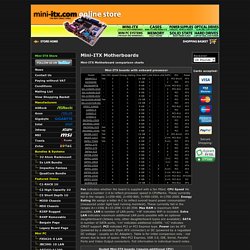 Store - home. Gigabyte GA-C1037UN-EU Fanless Celeron 1037U Mini-ITX Board with Dual LANFeb 10, 2014Fractal Design Node 304 in Black and WhiteNov 28, 20135 Fanless Impactics SystemsJuly 20, 2013 We now offer 5 different systems built with the ultimate fanless chassis from Impactics - starting at just £299 ex VAT. The newest addition to the range fills the gap between the i3-3220T and i7-4765T with a Haswell Core i5-4570T 35W TDP processor. All systems are capable of 1080p playback and are configured to your specification with up to 16GB memory, multiple drives, a blank front panel option and your choice of Operating System. Fanless Impactics Systems C3-RACK Short Depth 1U Mini-ITX Chassis now has rebranding options front and rearJuly 9, 2013. Informations sur le contrôleur graphique Intel® GMA 900. HP Mini Note: il sera disponible en France dès la rentrée - businessMOBILE.fr.
Vendu depuis le mois d'avril aux Etats-Unis, le HP Mini Note 2133 sera commercialisé en France dès la rentrée de septembre 2008. S'inscrivant dans la tendance actuelle des Netbooks, le premier produit de ce type commercialisé par HP semble bénéficier de l'expertise de la marque en matière d'ordinateurs portables. Il est cependant architecturé autour d'un processeur VIA V7-M cadencé 1,6 GHz, ce qui permet à HP d'atteindre un prix de vente et une autonomie corrects, mais qui ne s'avère pas le meilleur choix en termes de performances. HP n'a semble t'il pas eu le temps d'intégrer la plateforme Intel Atom au sein de son nouveau né, ce qui lui aurait pourtant procuré une plus grande célérité. EXCLU EeeBOX : les images, specifications et infos officielles ! » By Pierre Lecourt » asus, détails, disponibilité, eee, eeebox, infos, prix, tarif » Blogeee.net : La communauté Netbook.
Mini-PC Linux : le Linutop 2 dévoilé. Linutop : un PC de la taille d'un disque dur externe. Products - Tools & Software. SAMSUNG10.pdf (application/pdf Object) Make Projects: Small Form Factor PCs | O'Reilly Media. Faire un lecteur vidéo portable!! - Forum Électronique. 93-01-0205PDF.pdf (application/pdf Object)
Edmund Optics - Holographic Diffusers. Select Shipping Country Thank You for Choosing Edmund Optics. Please select your shipping country to get started. This will allow Edmund Optics® to display the most accurate regionalized product, pricing, and contact information for the country to which you are shipping. FresnelLenses.pdf (application/pdf Object) Diffusers. Diffusers are used for a variety of purposes: to hide a light source or to eliminate the image of its filament; to broaden the angular range over which a signal transmitted through the air is detectable; to make the appearance of a viewing screen more uniform; or to spread the light from a source into a defined angle.
Diffusion occurs because of small lenslets or prisms on the surface of a refractive medium. Snell's law can be used to determine the directions in which rays will travel upon leaving the features. Edmund Optics - Lenticular Arrays. :: IzzoTeK.com :: Samsung 10.6 pouces HDMI. Le vidéoprojecteur de Converge. AllInBox - Le site. Réalisation de circuits imprimés pour l' électronique Vente de LED à bas prix.
Etronics boutique réalisation de circuits. Exclusiv-online.com. Lot de 500 Leds blanches 5mm 20.000 mcd + résistances - 59,95€ Super Bright LEDs - LED Prices. Calcule-image. Programmes. LCD Screens. Le tuning debarque dans votre PC ! ALLINBOX.
---