Travel
Reaching Travelers Online. Most Americans are still making their travel plans offline, according to the "Travel and Vacation Services—Summer 2009" report from Ad-ology Research.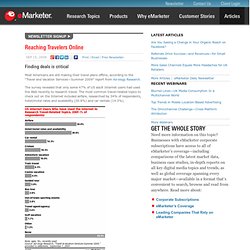 The survey revealed that only some 47% of US adult Internet users had used the Web recently to research travel. The most common travel-related topics to check out on the Internet included airfare, researched by 34% of respondents, hotel/motel rates and availability (30.8%) and car rentals (14.3%). However, 39% of recent travelers said online media influenced their choice of travel services. HOW TO: Use Social Media for Travel Research. Whether you're traveling to another city, state, or continent, putting in a few hours to do your homework can mean the difference between a great vacation and a week full of headaches.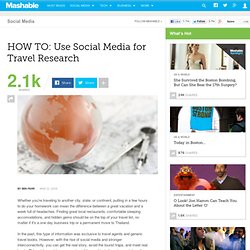 Finding great local restaurants, comfortable sleeping accomodations, and hidden gems should be on the top of your travel list, no matter if it's a one day business trip or a permanent move to Thailand. In the past, this type of information was exclusive to travel agents and generic travel books. However, with the rise of social media and stronger interconnectivity, you can get the real story, avoid the tourist traps, and meet real locals. This guide provides an overview of tips and tools for using social media as a travel research tool.
Blog » Blog Archive » Examples of online communities in the trav. For the next in our series of Online Community Examples we are looking at examples of online communities in the travel industry Online communities in the travel industry The travel industry is one well suited to online communities focused on engagement.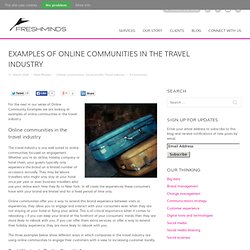 SETTravel Boutique. Online travel itinerary and trip planner. RWW Live: Online Travel - ReadWriteWeb. The latest episode of RWW Live, today at 3.30pm PST, will be focused on online travel applications.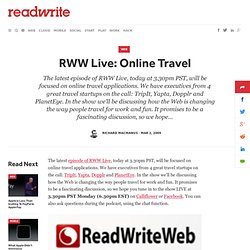 We have executives from 4 great travel startups on the call: TripIt, Yapta, Dopplr and PlanetEye. In the show we'll be discussing how the Web is changing the way people travel for work and fun. Travel 2.0: Social networking takes a useful turn. If you visit Sheraton.com, you will see something completely different from other major hotel websites.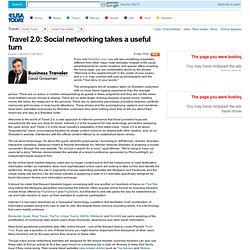 Instead of the usual advertisements for exotic locations and special offers crowding the home page, you are immediately struck by the phrase "Welcome to the neighborhood" in the center of your screen, and a U.S. map covered with pop-up photographs and the words "Your story. In your words. " The photographs are all amateur, taken by Sheraton customers with no more travel logging experience than the average person. There are no actors or models masquerading as guests in these snapshots and they are not the views most hoteliers would choose to display. 50 Best Web 2.0 Travel Tools. 50 Best Web 2.0 Travel Tools Tuesday, May 20, 2008 at 5:01pm by admin Whether you're planning a weekend getaway with your significant other or a less-than-exciting business trip, there's a pretty good chance that you used the Internet to make travel arrangements.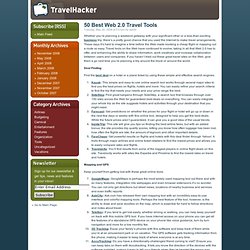 Kid activities, family friendly hotels, travel reviews-Trekaroo. Online Travel Companies Choose Their Targets. Suppliers seem to have won the battle for online leisure and unmanaged business travel market share in the US, according to December 2008 PhoCusWright data.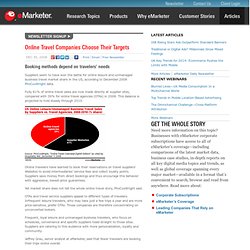 Fully 61% of online travel sales are now made directly at supplier sites, compared with 39% for online travel agencies (OTAs) in 2008. This balance is projected to hold steady through 2010. Online travelers have learned to book their reservations on travel suppliers' Websites to avoid intermediaries' service fees and collect loyalty points. Sympvertising and secrets for business travellers: Airport Haven.
---