Collaboration
Top 10 Apps for Scheduling a Meeting Online - ReadWriteEnterpris. Meetings suck.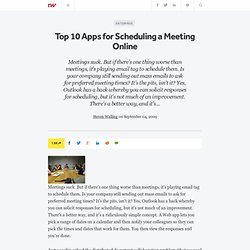 But if there's one thing worse than meetings, it's playing email tag to schedule them. Is your company still sending out mass emails to ask for preferred meeting times? It's the pits, isn't it? Yes, Outlook has a hack whereby you can solicit responses for scheduling, but it's not much of an improvement. Fuze Meeting: Free Web Conferencing & Online Meeting Softwar. PeopleMaps - Home. ClockingIT. Plan your projects, see your schedule, know if you're slipping behind and why.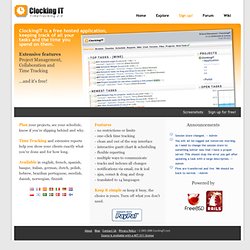 Time Tracking and extensive reports help you show your clients exactly what you've done and for how long. Available in english, french, spanish, basque, italian, german, dutch, polish, hebrew, brazilian portuguese, swedish, danish, norwegian, finnish Features - no restrictions or limits - one-click time tracking - clean and out of the way interface - interactive gantt chart & scheduling - flexible reporting - multiple ways to communicate - tracks and indexes all changes - notifications via email, rss & ical - ajax, comet & drag and drop - translated to 14 languages Keep it simple or keep it busy, the choice is yours.
Open Source Collaborative Networking for Intranets and Extranets. USTREAM, You're On. Free LIVE VIDEO Streaming, Online Broad. Create screencasts and screen recordings the easy way. Dyyno - Instant Sharing. Assessing the Enterprise 2.0 marketplace in 2009: Robust and cro. Social software platforms, including services such as Facebook and Twitter, have become one of the primary channels for communication amongst consumers this year, even eclipsing e-mail in some parts of the developed world.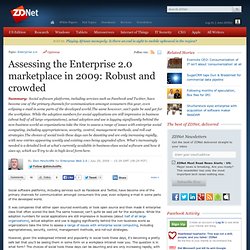 It was companies that either open sourced eventually or took open source and then made it enterprise class that often scored the best.The same however, can't quite be said yet for the workplace. While the adoption numbers for social applications are still impressive in business (about half of all large organizations), actual adoption and use is lagging significantly behind the non-business world as organizations take the time to assess a range of issues with enterprise social computing, including appropriateness, security, control, management methods, and roll-out strategies.
However, given the widespread interest and popularity in social tools these days, it's becoming a pretty safe bet that you'll be seeing them in some form on a workplace intranet near you. Tinychat - Free Chat Rooms & audio video conference. The Four Essential Apps for Distributed Teams - ReadWriteEnterpr. Distributed teams.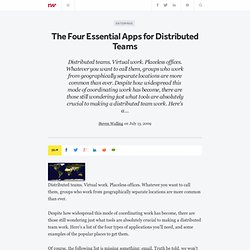 Virtual work. Placeless offices. Whatever you want to call them, groups who work from geographically separate locations are more common than ever. Shareflow: Focused conversations with people that matter | Zenbe. Simple Online Collaboration: Online File Storage, FTP Replacemen. Featurelist.org :: Feature Requests. 27 Free Must-have Online Collaboration Tools : Crazeegeekchick.c.
---