Utilitaire web
Camera clip art
Creative Web Typography Styles
Made especially for the vehicle wraps industry the 2014 edition contains over 5,000 of the most popular vehicle outlines in the market. Art Station Vehicle Templates has the highest quality and detailed vehicle outlines. Graphic designers who expect every detail of their artwork to look as professional as possible choose Art Station Vehicle Templates. Printing companies and designers worldwide choose Art Station Vehicle Templates because of the accuracy, quality and consistency of each template. Our vehicle templates are saved as EPS files which can be imported into almost any vector and cutting program such as CorelDraw and FlexiSign Pro. Templates are created at 1:20th scale and are completely editable.
Art Station Vehicle Templates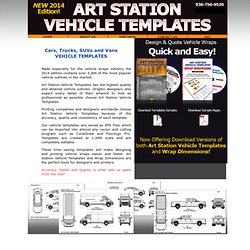 HTML5 is the latest and an emerging version of HTML. HTML 5 has several new features. These features help designers and developers to create spectacular websites. These include the <video>, <audio>, and <canvas> elements, as well as the integration of SVG content. These features are designed to make it easy to include and handle multimedia and graphical content on the web without having to restore the proprietary plugins and APIs.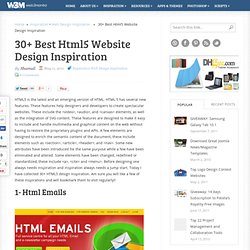 30+ Best Html5 Website Design Inspiration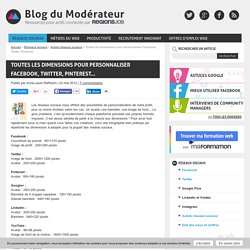 Les réseaux sociaux nous offrent des possibilités de personnalisation de notre profil, plus ou moins limitées selon les cas. Un avatar, une bannière, une image de fond… Le gros problème, c'est qu'évidemment chaque plateforme possède ses propres formats imposés. C'est assez pénible de partir à la chasse aux dimensions ! Pour avoir tout rapidement sous la main quand vous faites vos créations, voici une infographie bien pratique qui répertorie les dimensions à adopter pour la plupart des médias sociaux.
Choose Coupon Type step 1 of 2Online Coupon (for your web shop)step 2 of 2In Store Coupon step 2 of 2 Sign Up & Continue * Please select prefered coupon type !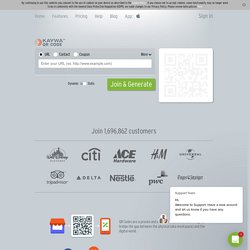 Trouver des nouveaux prospects est un des leitmotiv des entreprises. En effet l'érosion naturelle de sa base de clients impose sans cesse de trouver de nouveaux clients pour remplacer ceux qui disparaissent. Certaines études estiment que les entreprises perdent chaque année environ 10% de leurs clients (choix d'un nouveau fournisseur, fermeture définitive, changement des habitudes de consommation…), ce qui fait qu'au bout de 5 ans si l'on ne fait rien la moitié de ses clients disparaissent… Pour trouver de nouveaux clients, de nombreux outils sont à la disposition des entreprises, voici donc la liste des principaux outils à utiliser pour recruter de nouveaux clients. Il faut noter que ces outils ne sont pas classés par ordre d'importance. Partie 1 : Les outils Marketing traditionnel pour trouver un client.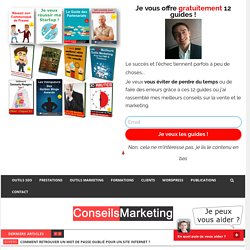 [infographies] Psychologie et Influence des couleurs en Web Design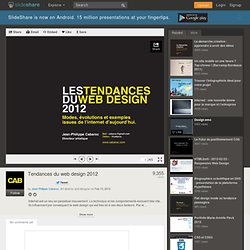 Tendances du web design 2012
8,840 views Internet est un lieu en perpétuel mouvement. La technique et les comportements évoluent très vite, ils influencent par conséquent le web design qui est très lié à ces deux facteurs.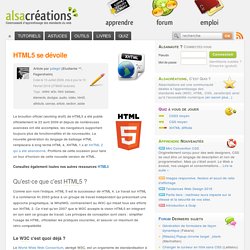 Le brouillon officiel (working draft) de HTML5 a été publié officiellement le 23 avril 2009 et depuis de nombreuses avancées ont été accomplies, les navigateurs supportant toujours plus de fonctionnalités et de nouveautés. La nouvelle génération du langage de balisage HTML remplacera à long terme HTML 4, XHTML 1.x et XHTML 2 qui a été abandonné. Profitons de cette occasion pour faire un tour d'horizon de cette nouvelle version de HTML.
30+ Most Beautiful Powerpoint Templates And Designs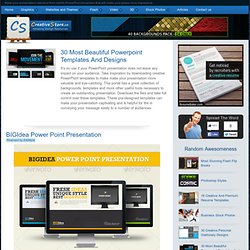 30 Most Beautiful Powerpoint Templates And Designs It's no use if your PowerPoint presentation does not leave any impact on your audience. Take inspiration by downloading creative PowerPoint templates to make make your presentation more valuable and eye-catching. This portal has a great collection of backgrounds, templates and more other useful tools necessary to create an outstanding presentation.
Liens utiles « BOOSTIX – Graphisme et infographie – Saint-Luc secondaire Liège
Le packaging, cours marketing
Démo HTML5, Webmarketing – Comment animer votre page Facebook J'aime avec 3WDOC Studio ? « 3wdoc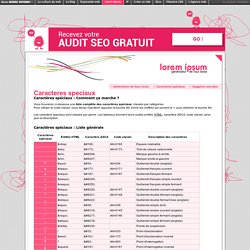 Caractères spéciaux : Comment ça marche ? Vous trouverez ci-dessous une liste complète des caractères spéciaux, classés par catégories. Pour utiliser le code clavier, vous devez maintenir appuyer la touche Alt, écrire les chiffres qui suivent le +, puis relâcher la touche Alt. Les caractere speciaux sont classés par genre. Les tableaux donnent leurs codes entités HTML, caractère ASCII, code clavier, ainsi que la description. Caractères spéciaux : Liste générale